Hiking Dude
Hiking is just Walking with an Attitude
Browse my short 2014 Appalachian Trail trek - I attempted a half-hike in August, 2014. It didn't go well, so we'll try again this year.
Follow my Ice Age Trail trek - I finished on Sept. 28, 2013.
Read about my Superior Hiking Trail trek - I finished on Sept. 28, 2012.
Check out my Arizona Trail trek - I finished the hike on April 28, 2012.
The essence of hiking is to leave life behind, if only for a few hours, and explore the world around you using only the power of your body.
It is feeling your lungs labor, your muscles tighten and relax, and all your senses bringing new information into your brain.
Being a Hiking Dude is being on the move, covering ground, challenging your body, and renewing your soul.
Join me on My Long Hikes around the country, and maybe the world.
If you're in a Scouting group, consider accepting my ScoutStrong Challenge.
Hiking Dude Blog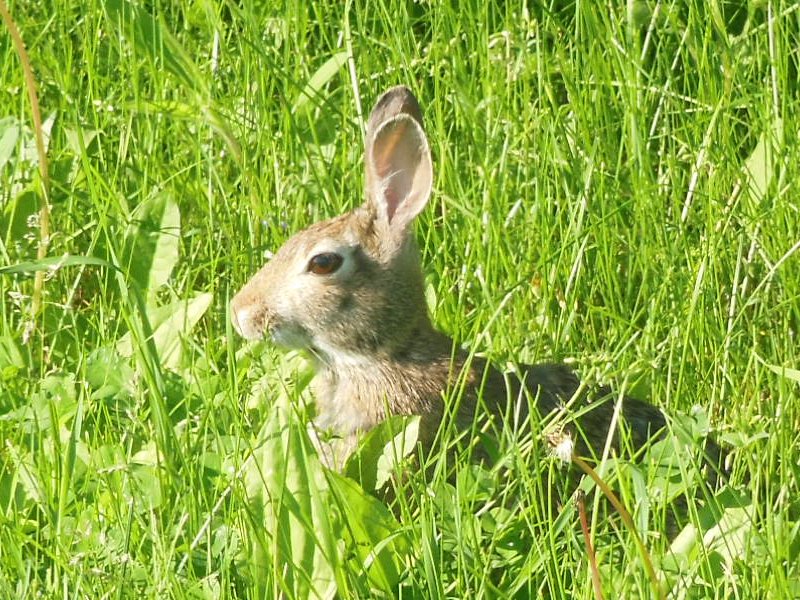 I've accumulated almost 800 miles on my daily walks this year. Hiking pretty much every weekday for 6 to 8 miles in the early morning doesn't sound too interesting to share online, so I've not been blogging. Since it's getting close to time for my next long hike, I figure I need to make sure the blog stuff still works.
It has been fun watching the trail change over the months and I've seen many animals along the way. Here's just a few pictures of my little friends and I'll share some more over the next few days.
Now that it is mid-summer, everything is in full fo
Read More ...
---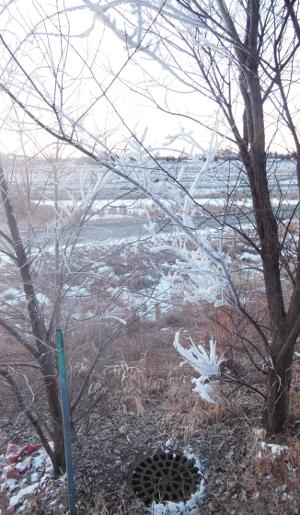 Back home and walking in -15°F yesterday. That's just 80° lower than my last walk down south. ☺
The vacation to
Marco Island
in Florida is over, and was a great time. It ended with a walk through the Edison/Ford Winter Estates in Ft. Myers before catching a plane home. Those two guys were amazing, and left legacies that huge parts of our current way of life are built on. Batteries
Read More ...
---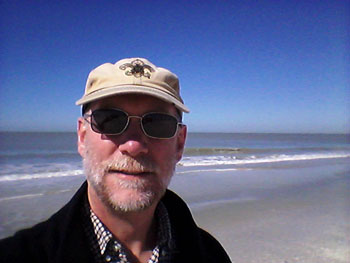 The big arctic cold blast that has been setting record lows around the country even reached this far south the last couple days. Instead of highs in the 80s, it's only been in the 60s - but that's fine with me since there's still been lots of sun! You can see I had a jacket on today.
On this last full day, I got to hike a couple miles on the beach. They call this the 'west coast' even though I'm in one of the states on the Atlantic Ocean. I'm actually on an island just off the west coast of this eastern state, so that's weird.
Read More ...
---
Previous Posts
The number one problem in America is the drop in miles walked per day. The sedentary lifestyle that so many of us now lead (especially people spending too much time making web sites!) is causing us to keel over right and left. Just going for a walk (let's call that a hike) for 30 minutes every day is about the best thing you can do for yourself, and for your family!
Hiking is a sport unto itself. But, it is also the means of locomotion that backpackers use to get around on multi-day adventures. I'm offering information about the art of hiking and all the preparation, skills, problems, and gear used by hiking dudes in moving about from place to place on foot. After learning all about hiking here, please visit the Outdoors Dudes web site for even more great advice about skills for trips and the outdoors.
If you've been surfing the web to find out something about hiking, then please check out my Beginner Hiker Plan to learn how to get ready to start hiking.
---
Comments:
Feb 26, 2012 - Lynn
Love your page. I have wanted to take up hiking for well over 20 years, but life got in the way. So now I find it is time to take this challenge up and proceed forward. Thank you so much for all the great information I will continue to reference your page often.
---
Mar 26, 2012 - Tom Ryan
It sounds like you off to a great start. We at T370 in E.P. are monitoring your progress and wish you great success!
---
Mar 27, 2012 - george petros
Hey Dude! Thought I'd check up on you. Snicker's are Gods' & Hikers' Favorite Food! Have some fun! -George-
---
Mar 28, 2012 - Mom
Hi Paul - wish I was hiking with you.
---
Mar 28, 2012 - Mom
That message was from Karl not me. He is following your progress too.
---
Apr 02, 2012 - scott
preparing for a 7-day appalacian trail hike. your site has been a fantastic tool and a wealth of information. you've helped me a lot! now, if you could just do something about the black bears in the smokey mountains ... haha. thanks again! scott
---
Apr 10, 2012 - Bill Hunter
Stumbled upon your sight. It's great to find a sight full of info and not trying to sell something. Thanks. Never thought about a hike like the ones you are doing, you've given me something to think about. The pictures are great.
---
Apr 16, 2012 - Anne
I will be hiking the AZT in May, from Telephone Hill to Utah. Maybe we will see you, or maybe not!
---
Apr 16, 2012 - Hiking Dude
Anne - I hope to be finished by the first week in May, but we'll see. There should be plenty of water on the north end of the trail then.
---
Apr 16, 2012 - Greg
While you are in Flagstaff this week you and your hiking friend are welcome to spend some freshen up time at my home, and get the feel of home comfort again.
---
May 14, 2012 - Cindy Bellinger
Thanks for being so generous with information. Lots of useful stuff here.
---
Sep 22, 2012 - Sharon Barker
You have visited some of our favorite spots on the North Shore. Great pics. Glad to hear you have had a couple of nights out of the cold. Good luck next week.
---
Sep 24, 2012 - Mike Wagner
Greetings Hiking Dude; Just read your story in the Eden Prairie news and by chance will be heading to Lutsen tomorrow (9-25-12) with my wife. Planning on doing a couple hikes Tuesday and Wednesday and if you've got a recommendation please feel free to share. Enjoy the day! Mike & Aimee
---
Sep 30, 2012 - Ompa
Wondered what happened to you on Friday. Saw the big distances between spots from your sender. Thought a bear was chasing you as fast as you were moving. Glad you updated us as to the hitching rides on roads. Will be watching for your next trip. Good hiking is healthy.
---
Jan 07, 2013 - Janusz Zak
just checked out your web site.looks good to me. Mine is neglected for about a year. I have your e-mail writen in my litle diary which is yet to be found in a pile of papers. Inspired by you I'v looked at your Arizona Trail treck and wanna do it maybe in April or so. We've met at Rainbow Lake viewpoint (lots of benches there). My website is januszhiker.webs.com
---
Feb 01, 2013 - Redzuan Rasul
Hiking is purposed to enjoying the nature. I'm very glad if my partner or groups is walking at the same time in group. Not rushing to the summit and rushing to going back. If they lost from your eye, That is horroble!
---
May 09, 2013 - Mark Elwood
Hi love the website. I bookmarked it and its my go to for all things hiking. I'm fortunate that I live two hours from the Canadian Rockies. I love the solitude and feeling that being out in the woods and nature brings and although I'm just starting to get into hiking I'm looking forward to it and think about it constantly as it is my escape from everything. Thanks for all the info, your site is down to earth and easy to use. Take care and happy hiking.
---
May 11, 2013 - ESol
Hello hiking dude. I've only done hikes locally around the San Jose, CA bay area. Quick Silver, Alum Rock, along with some others. Most recently with my hound dog Sasha.. She loves long hikes and it's great bonding. Planning a over night hike with friends in Arizona, Grand Canyon in Sept. Thank you for all the information on this site! You really could save a life preparing someone who was possibly quite unprepared for a long hike.
---
Sep 08, 2013 - Tim
Your site is very helpful.I'm new to hiking.Like to see and enjoy more of this world walking through it.Will be following this site.Thanks
---
Oct 15, 2013 - Wendy
Hello Hiking Dude! Enjoying your web-site. Started hiking/backpacking a few years ago after a visit to GSMNP ... been hooked ever sincer. Just moved from St. Louis to MN so have enjoyed a few miles on the SHT but being Mom to school aged kids makes it tough to do a thru hike. Plan on doing at least from Finland to Gooseberry next fall if I can get Gma and Gpa to stay with the kids. Hope to hike the AT GSMNP section this July. Looking for other middle-aged women to take trips with is a challenge, though being alone on the trail has its benefits. My son is a Weebelo Scout and hopefully in another few years I'll have the perfect hiking buddy! I look forward to watching your progress on your other planned hikes. Thanks for all the info.
---
Oct 23, 2013 - Hiking Dude
@Wendy - welcome to MN! The SHT is a great trail for older scouts. If you have questions as you start planning your trek, feel free to holler.
---
Dec 26, 2013 - Jennifer Lucio
Just found your blog and using your list as a guide for what were planning as our first hiking smart season. We've done start park trails on a whim but now we are investing in gear so we can begin to tackle new adventures!
---
Mar 19, 2014 - Zak
If you had to pick just one of the suggested backpacking excursions, which one would you choose?
---
Mar 19, 2014 - Hiking Dude
@Zak - Asking about the SHT treks on shta.org/Trail/TrailRecTrips.php I would do the 2nd one, from Cascade River to Oberg Mountain. It includes Poplar River, Lake Agnes, and view of Lake Superior.
---
Mar 25, 2014 - sam
I ran into this website a year or so back; a seed that was planted years ago (while trying to learn about hiking info to pass on to my mother. Your website allowed me to pass on with confidence information about supplies she may want to consider. Thank you for this help. I have been interested in hiking since I took my college orientation trip (Baron Chairback A! WOOOOOOOO HOOOOOOOO-YAAAAAAA!! ) and did enjoy it. The people around me, kept my spirits up while I was in uncharted apparel. Now, I am finally taking actions to get back into hiking. I can't thank you enough for your words of wisdom and encouragement. Your website is thorough, and fun to read. I keep it handy, and is a bedrock of my belief that I am a hiker too. Sincerely, Love, Sam
---
Jun 08, 2014 - Jerry Harp
Thanks a bunch Hiking Dude for the time and effort you've put into this simple, encouraging site. Great job! I started moving seriously about 14 years ago on a bicycle. Crossed the US twice on two wheels. Lately getting into long distance walking. Goal is fun and mobility 'til I drop dead. Keep movin' folks.
---
Aug 13, 2014 - Adam
The articles on preparation, food, and especially how to avoid blisters, really saved me on my 4-day trip through the rockies. It rained the whole time and I was soaked but I was comfortable, thanks to you. I can't thank you enough for taking the time and effort to put up all this great info. You rock!
---
Aug 16, 2014 - Adam (Anvil)
That's a lot of distance in 3 days! I was looking at the map and if you keep it up, you'll be in NYC by November :)
---
Nov 07, 2014 - Dave [Zarem]
Have you ever considered hiking Hayduke Trail?
---
Jan 30, 2015 - Karen Cote
I want to thank you for this wonderful website, the most comprehensive I've seen. My husband and I are going to hike the Long Trail in Vermont. Are you familiar with this trail and do you have any specific words of wisdom about our undertaking? We start on July 1st and have taken the whole month off work giving us 31 days, if needed. Thanks for any advice you have.
---
Feb 03, 2015 - Hiking Dude
@Karen - I've not hiked the Long Trail yet. There are lots of journals about it online - start with
this one
. That time of year, my biggest concerns would be rain, humidity, and insects. Other than that, I'd expect you'll have a great time since you are setting aside plenty of time and there are many shelters.
---
---
Ask a Question
---


Find more Hiking Resources at www.HikingDude.com
Follow Me