Hiking Dude Blog
Archives:
2017 -
Jul
Jun
May
Apr
Mar
Jan
2016
2015
2014
2013
2012
2011
07/23/2017
Done Hiking Today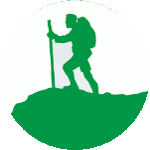 I finished hiking for today. You can check out my
current location
on the map and I'll post about my day when I am in coverage.
---
07/22/2017
Done Hiking Today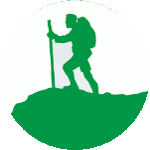 I finished hiking for today. You can check out my
current location
on the map and I'll post about my day when I am in coverage.
---
07/20/2017
Day 8: Eureka!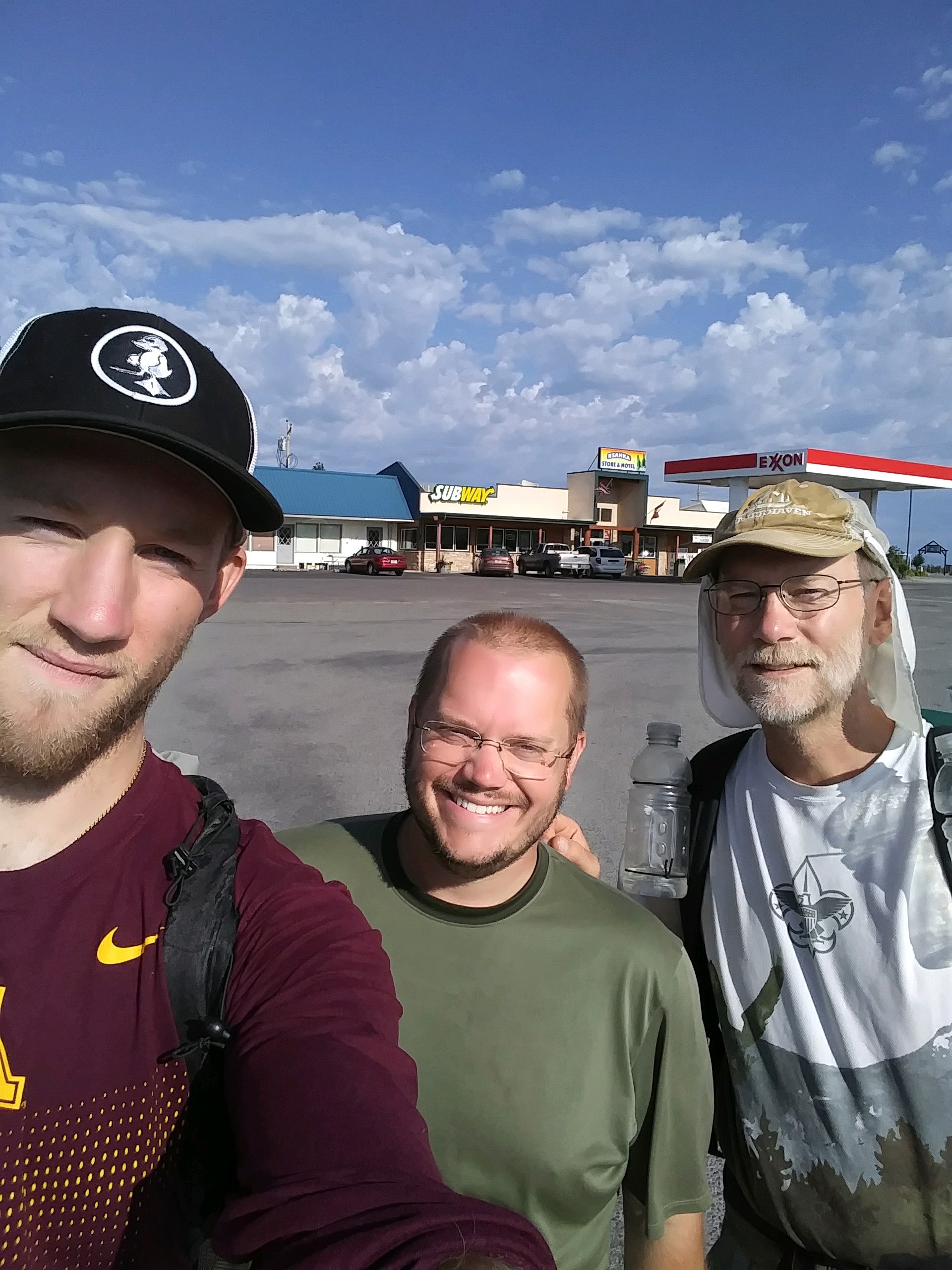 Walking 7 miles of country road followed by 4 miles of fast highway traffic isn't a great morning hike but we did it. The day turned into a great relaxing break meeting a bunch of fun folks. First off, I emailed a listed trail angel named Nikki letting her know we were heading into town. Then, we walked. We passed a pizza place with buffet but didn't open until 11 - it's only 9:30. As we passed a gas station across the road, a guy waved at us and hollered so we crossed over to see what was up. This guy is hiking the PNT also and had Melanie McManus' book 'Thousand Miler' about the Ice Age Trail and had just read about me in it, checked out hikingdude.com and saw our live map showing that we were walking his way. How weird! Besides that, his trail name is 'Parks' that we saw in the registry awhile back. He hiked out today so we'll probably see him on trail again. After meeting Parks, we got a snack at Steins grocery just down the road to sit and figure out where to stay and resupply since I had no reply from Nikki yet. Just as we sat on the demo patio chairs outside the store, Nikki replied and was there 5 minutes later taking us to her home where we are tenting for the night! Another traveler named Lars from Sweden is here tonight on his way bicycling around America. Showers, food purchase, laundry, and loitering around town took the rest of the day. Nikki's husband, Jeremy, made dinner and a friend named Bob came by to visit. So, it was a nice time chatting with new friends about 'stuff'. We're loaded with food for our push to Idaho and I hope some water flavoring and a couple new food choices will help my appetite. Tomorrow has a big climb up Mt. Webb right after I walked 17490 steps on the trail today.
I traveled about 11 miles today.
a long roadwalk.
---
07/19/2017
Day 7: Trail Angels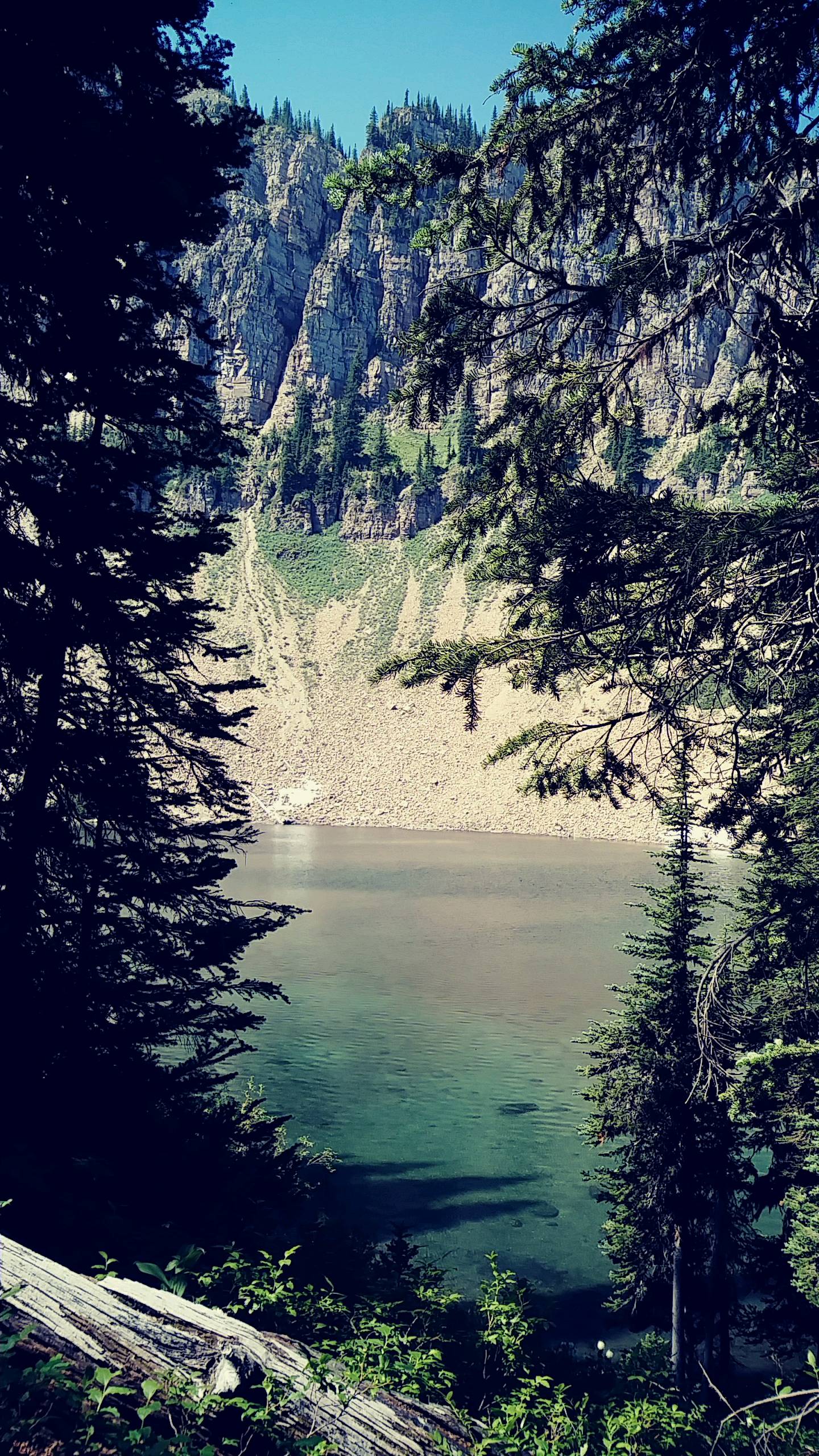 Enjoyed a peaceful night's rest along the trail right by a bridge over a cascading stream. Our Ursack bags have been keeping the food safe - but there have been no attempts anyway. The trail had another long stretch of high ridge hiking with no water. With very high temps and very low humidity, water has been at the top of my priorities. We took our first unintentional detour offtrail today heading up Mt. Wam. I just happened to check the avenza map on my phone at the start up the mountain and the red line showed we were on the old alternate path. We stopped and dutifully followed the red line straight up a slope, and fortunately ran into the trail about 30 minutes later. Visited a couple high mountain lakes, watched a couple Canadians fish, and hit our northern most of the trail - standing on the border at the 40th parallel clear cut. Highlight of the day was meeting trail angels Stan and Betty from Eureka - out hiking on the Trail with their kin. Nice little chat with a nice family. The views were great, the mountains were tough, and I finally felt like I got enough food in me today. Tonight, we found a flat spot on an earthen fan of a small reservoir about a dozen milI walked 62190 steps on the trail today.
I traveled about 27 miles today.
es from Eureka. Real food again tomorrow!
---
Day 6: We Walked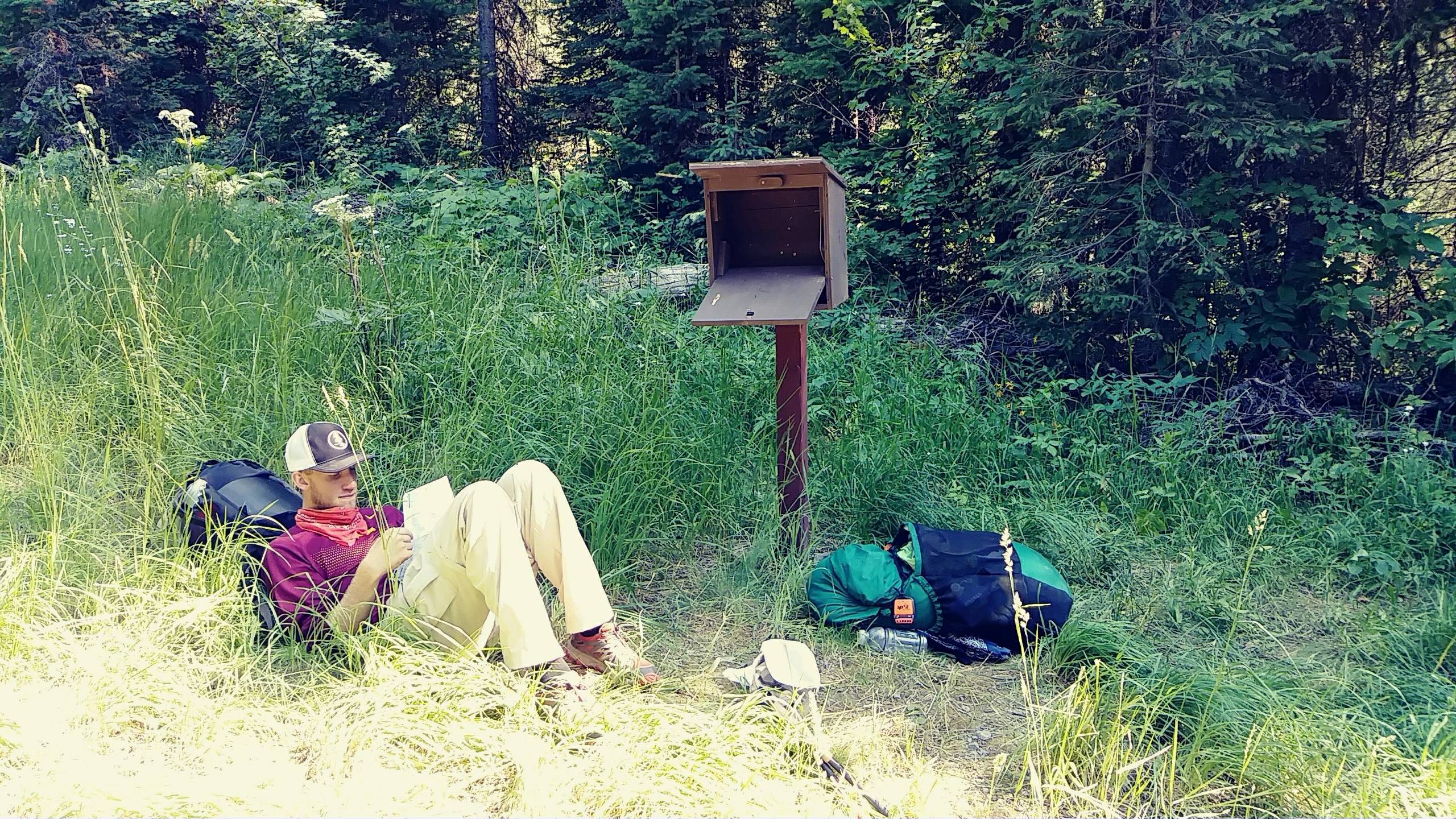 I walked 63358 steps on the trail today.
I traveled about 26 miles today.
38 degrees when we got up at 5:30 this morning and there was fog rolling off the little lake.  We were on the trail by 6:05 with full water and rested bodies, and it's a good thing!  This12 mile section had no water at all and, even though it looks like a nice ridge walk on the map, was up and down STEEP peaks and saddles all morning.  The first fresh spring on the trail at 6000 feet after dropping into the Blue Sky Creek drainage was beautiful to see. Mt. Locke was a killer climb. From the spring on, the trail was relatively easy all day so we added some extra miles of roadwalk on at the end. We saw our first PNT trail registry out here and signed it - a map page someone no longer needed in a box.  Saw that 'Parks' signed it today before us so maybe we'll find him on trail.  Other than that, all entries were days or weeks old. So, today we walked. And had great views of the mountains!
---
Day 5: A Little Rest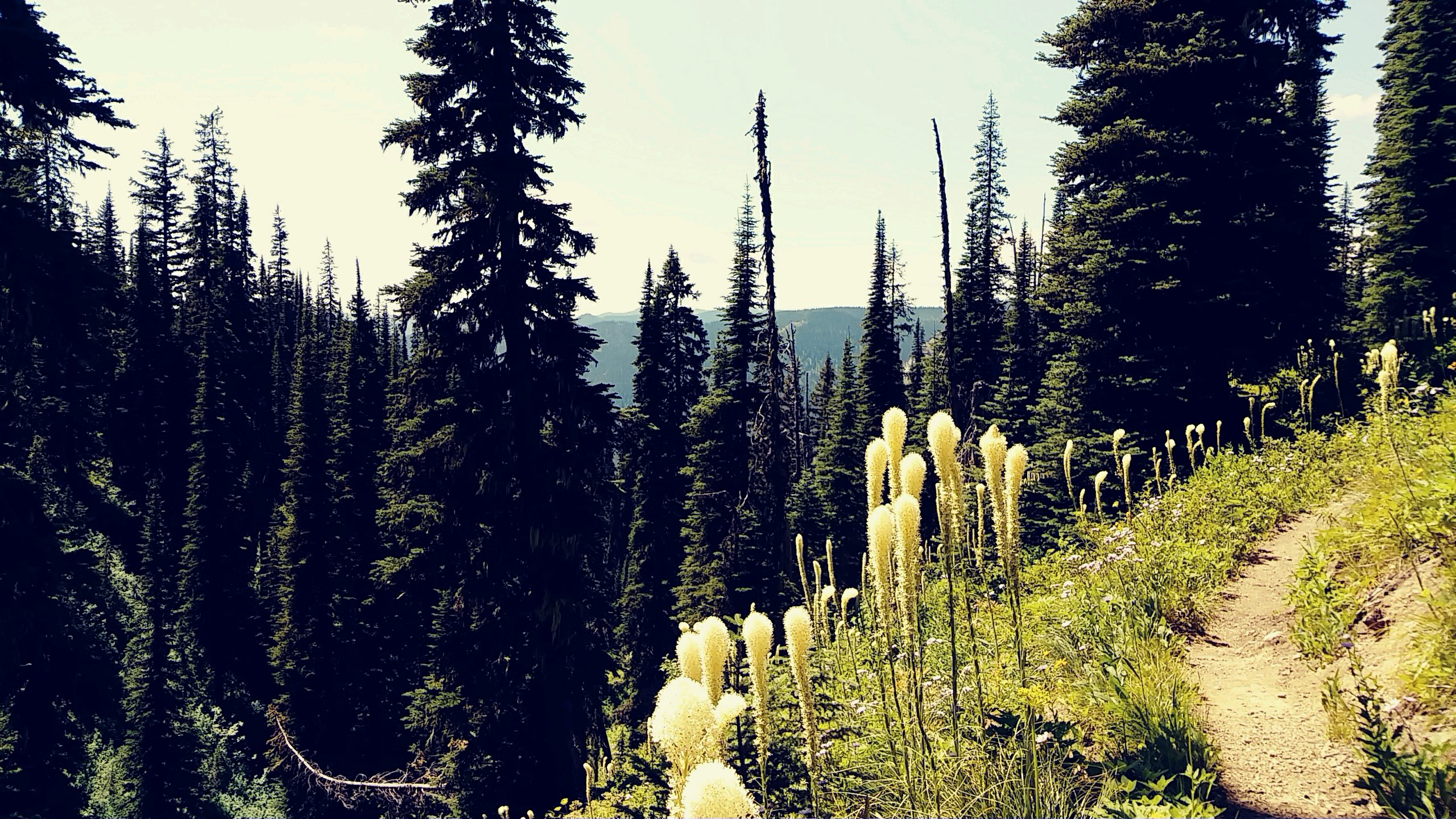 I walked 34840 steps on the trail today.
I traveled about 15 miles today.
With sore legs and feet from the long dusty roadwalk yesterday, we planned to have a short day today and rest a bit.  Another reason our day was short is because there is supposedly a 14mile stretch with no water just ahead and we didn't really want to do 30 miles, or carry enough water for the distance plus an overnight. Bear grass is in full bloom and the pollen is thick. We brush past it much of the day and are covered at times, but it is beautiful. So, here we are spending a very relaxing afternoon and evening at Red Meadow Lake campground.  The lake is wonderful and I spent a long time swatting flies and throwing them in for the trout to eat. A pit toilet, easy water, and towering mountain view make this a great spot to rest. The trail here today was uneventful.  A very long steady climb up old logging roads followed by a short stretch of recently maintained Trail 26 was the day.  Whoever maintains this section did a ton of work this summer digging tread and even pounding rocks. We met a few mountain bikers at the campground who are riding an approximate continental divide route.  Then at the end of the day, Alex from Australia rode in.  He started in Banff and is heading south along the same route. It was nice to talk with him a bit.  We met no one on the trail today - but it is Monday I guess.
---
Older Posts
Newer Posts
Site Disclosure Statement


Find more Hiking Resources at www.HikingDude.com