Hiking Dude Blog
Archives:
2023
2022
2021
2020
2019
2018
2017
2016 -
Dec
Nov
Oct
Aug
Jul
Jun
May
Apr
Mar
Feb
Jan
2015
2014
2013
2012
2011
01/31/2016
Home Again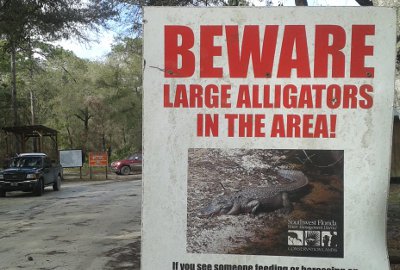 I can relax and not worry about this sign for quite awhile now. :-) I enjoyed a day off the trail in Ocala playing with new friends and doing a couple presentations to scout troops. Then, a quick flight on Friday got me home to Minnesota for a day of recuperating yesterday.
Now comes the fun chore of piecing together tracker pings, pictures, and blog posts into my journal. I hope to have that finished midweek so I can tell you my story.
Looking back at the pictures, I was blessed to explore some wonderful environments, meet some special people, and observe wildlife I'll most likely not encounter again.
Thank you, Florida!
---
01/27/2016
Last Hiking Day
I traveled about 18 miles today.
Rain all night and then it stopped at 7:30am so I packed up in the lull. The lull wound up laying all day so I had a wonderful last day on the trail, ending my Florida hike at the Santos campground east of Ocala. The hike was much like yesterday with similar forest and few animals. The most angelic of trail angels, Sue, and her son Chris, picked me up. Sue is the scoutmaster of Chris's special needs troop. We've been having a wonderful visit and I got to have a potluck dinner with their while troop. They made me an honorary member of their troop and gave me a troop shirt. All the guys are good scouts and their parents offer wonderful support.
---
01/26/2016
Trail Journal
I traveled about 30 miles today.
I finally got a 30 miles day. The paved bike path north from Inverness was a pleasant walk for many miles even though it is very busy. After crossing the beautiful Wthlacoochee River at Dunnellon, the trail braided with horse and bike paths through sand and pines. Today, I met only the second person on this trip that was not a joy to chat with. A surly convenience store guy in Holder, FL. So, after leaving his shop, I purposefully stopped at a small produce place called Snows Country Market and bought some really great fruit. The staff there was great and I got to chat about my hike with them. I took a blue blazed side trail tonight to the Ross Prairie trailhead where I'm tenting in the ' scout camp area ' back in the trees. The bathroom has hot shower and cold potable water so this place rocks. Rain is expected tonight and all day tomorrow so my last hiking day looks soggy just like my first day.
---
01/25/2016
Trail Journal
I traveled about 22 miles today.
Cold enough last night to have my water bottles freeze! I thought I was hiking in Florida. Thinking ahead, I kept my water filter close to me all night so it didn't freeze. It was a chilly start and I was misled by my Florida Trail app, but then i got to hike 15 miles with my cousin's son (anyone know what that makes us? ) and it was nice chatting with him since we just met. Clear sky, very dry burned out pine forest, and smoke in the air made for a very different hike than past days. Tonight, I met troops 302 and 459 in Inverness. I presented a bit about my hiking and am resting at their very nice scout hut. The scouts were a great audience, asking questions and being polite.
---
01/24/2016
Trail Journal

My tracker battery died. The map won't be updated until I find a store to buy new ones.

---
01/23/2016
Done Hiking Today
I finished hiking for today. You can check out my
current location
on the map and I'll post about my day when I am in coverage.
---
Older Posts
Newer Posts
Site Disclosure Statement
---
All Comments:
Feb 13, 2020 - Jason Berklund
Hey hiking dude I have several questions planning my first north to south trip from 270 all the way down. I kind a know what to wear what to eat all that important jive. I am in relatively good shape definitely Not concerned about where in tear. 45 years old going with a 21-year-old nephew. My question is I have friends in Duluth that I don't want to burden with driving me what's the best way to get up to otter Lake Road that's not gonna cost a crap ton. We were thinking 15 miles a day. We were also thinking hammocks. Let me know what you think please. I have read so much and look at so much and heard so many opinions but You seem to be very realistic on your comments. Thank you
---
Feb 13, 2020 - Hiking Dude
@Jason - Hammocks work fine - most campsites have lots of trees. 15MPD is realistic, and you'll probably do more than that many days.
Getting to the northern terminus is expensive (in my mind). If you can schedule correctly,
Arrowhead Transit
is cheapest to Grand Marais, but then
Harriet Quarles
is the only shuttle I know of. You might find a good ol' boy in Grand Marais willing to drive you the 35 miles to the end for a few $$$.
It's a 3 hour drive from Duluth - that's 6 hours and 300 miles round-trip. Maybe your friend would like to drive up the north shore for a day.
---
---
Ask a Question
---


Find more Hiking Resources at www.HikingDude.com
Follow Me