Hiking Dude Blog
Archives:
2023
2022
2021 -
Oct
Sep
Aug
Jul
Jun
Mar
Jan
2020
2019
2018
2017
2016
2015
2014
2013
2012
2011
03/26/2021
Down Blanket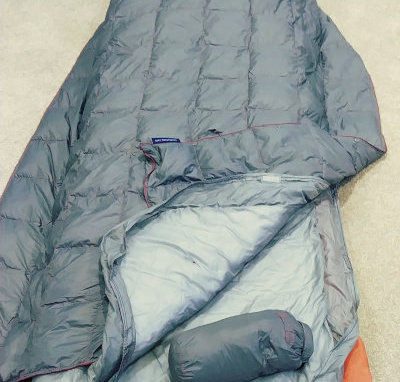 I enjoy making my own backpacking gear. I've sewn a couple packs, a shelter, a hat, and a couple quilts. I've also made a food cozy, water pre-filter, water bottle holders, and many other little things that just make long distance hiking more efficient and light.
My quilt (shown above) has served me well since I made it for my Arizona Trail thru-hike in 2012. I'm usually plenty warm in it, but there have been a few nights over the years when I would have appreciated a bit more loft to keep me warm. Since I'm lazy, I don't want to carry a thicker quilt all the time when it's not needed.
Thanks to Get Out Gear, I now have a 1 pound down puffy blanket that I can take with me only when needed for just that extra oomph of insulation. It's very similar to a down puffy jacket in weight and material, and I'm looking forward to trying it out in the Wyoming mountains this summer where I expect to have some below freezing nights.
You can check out my Blanket Review for details, or use hikingdude10 code to get one yourself, & save 10%, & get free shipping by clicking this:
Hike On!
---
03/19/2021
Hiking Into Spring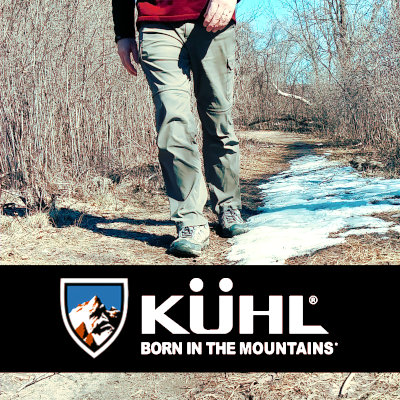 With most snow from Monday's storm off the trail, I got another morning hike in while testing out my cool KÜHL pants and pull-over. I've had the pull-over for a year and KÜHL sent me a pair of Renegade Cargo zip-off pants to destroy and review. For details of how they're holding up for the first two months, see my
KÜHL pants review
page. In a nutshell, they're sturdy, comfortable, and working as advertised. I've put on 150 miles and they're doing great.
From a March blizzard to extreme wildfire danger in 5 days - things change fast in March in Minnesota! If you're going for an early spring, or late winter, outing this weekend, please be extra vigilant with any campfire, stove, or other flame you use. Sun, wind, low humidity, and dead vegetation from winter create a prime mix for fire out there. The trails may be muddy, but the woods are dry.
Saturday is officially the first day of Spring, or the Vernal Equinox, which means the good ol' Sun is back in our court for the next six months - thanks for keeping it moving, Australia! The farther from the equator you are the bigger impact this whole summer/winter thing has on your world. When I hiked the Florida Trail in January, daylight was 90 minutes longer there than in Minnesota. But, by the end of June, Minnesota will have 2 hours more daylight than Florida!
Right now, all around the world, we're all just about even with 12 hours of daylight - so enjoy your day, wherever you are.
Hike On!
---
03/17/2021
March Snow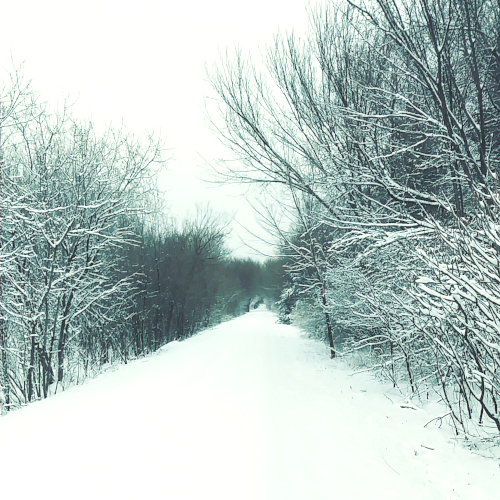 I've said it before, and I'll say it again - 'March Snow is about as useful as a screen door on a submarine.'
March Snow covers everything with a beautiful blanket of fresh white, covering the mud, trash, and dog poop that has emerged during a few nice, warm, sunny days. We are immediately transported back a couple months to bundling up for a brisk winter hike, enjoying the snow-covered branches, muffled quiet, fresh animal tracks, and easy-to-find deer bedded down under bare trees. We envision more days of skiing, icefishing, and snowshoeing.
But, we all know the truth about March Snow - it is a mirage, an illusion, a trick of nature. It will be gone by the weekend, leaving behind squishy trails and mud puddles, once again exposing the decay and debris of dying winter, and raising our naive hopes for the early arrival of true Spring. And, then, it will happen again, and again, and yet again.
We know better. We've seen it before, many times. Even though we try to forget it, we have recollection of the 26 inches of snow we received in April, only 3 short years ago. We know that, even though southern friends may share pictures of flowers and green forests, we still must wait. As this current blanket of snow retreats, we all know there will be more.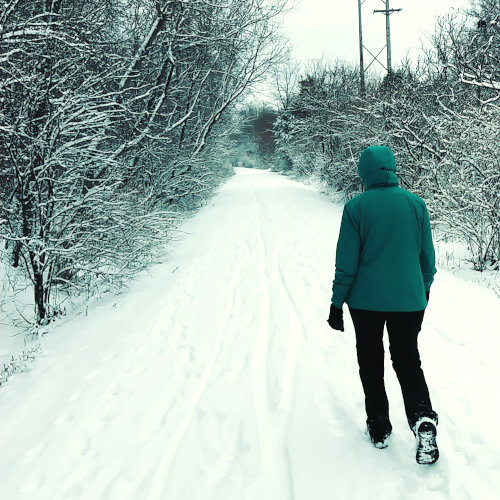 So, even though March Snow is as useful as a glass hammer, wooden frying pan, or chocolate teapot, and we know it will disappear quickly without providing days of winter fun like its November cousin, we still anticipate its forecast. Maybe this snow will be The Big One that we remember for years, or maybe this snow will miss us completely and the crocuses will be blooming soon.
Whatever comes, we can find either enjoyment or misery in the short disruption it brings to the onward push towards summer - just keep your boots and shovel handy for a few more weeks.
Hike On!
---
01/22/2021
Bernie and Me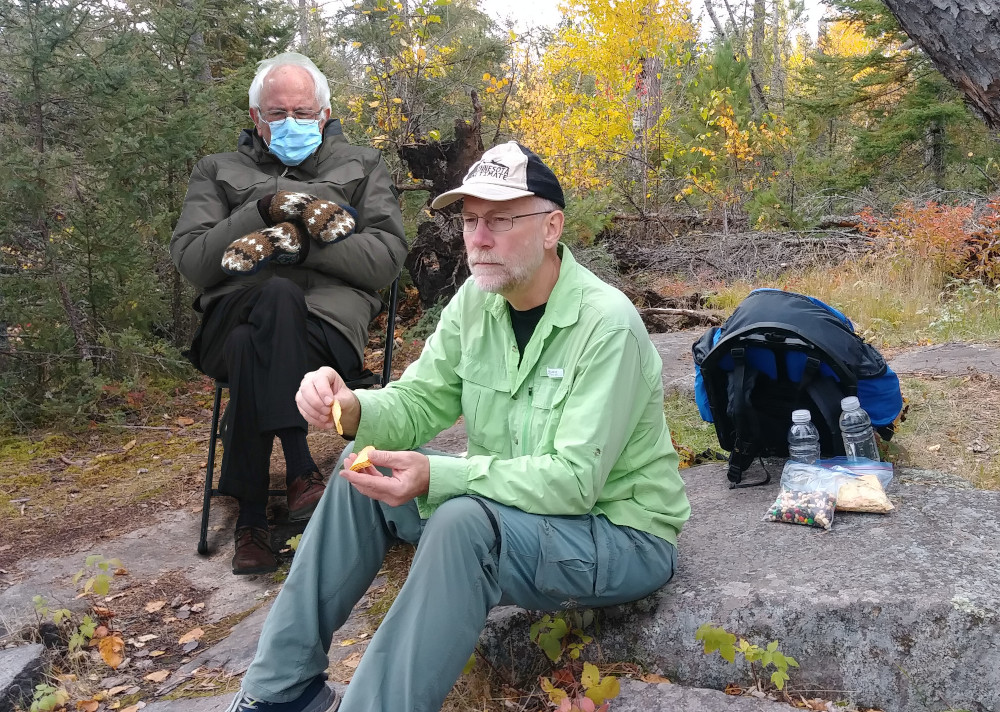 The past couple years, I've had a hiking buddy on my big trips but I had no idea he was so popular! I thought he was just another old guy like me that liked to walk.
He didn't talk much but was always prepared for bad weather. Here's some of our favorite hikes from our recent adventures, starting with the one above which is Bernie and Me contemplating life on the Kekekabic Trail.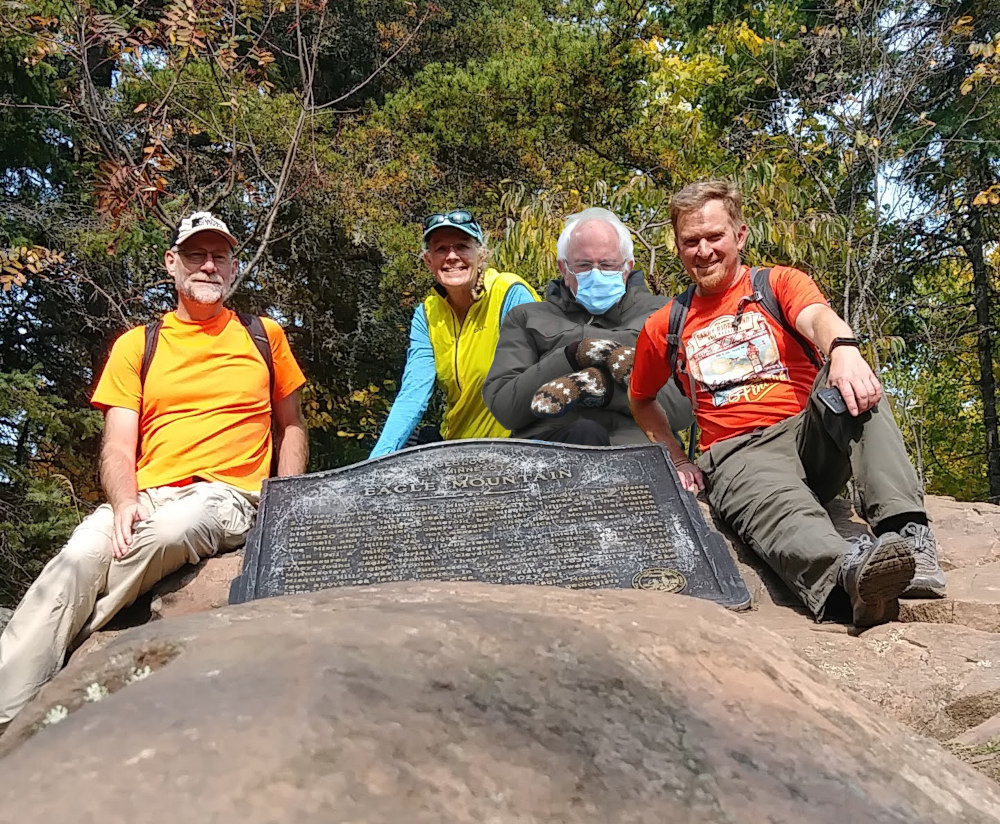 Summit of Eagle Mountain in Minnesota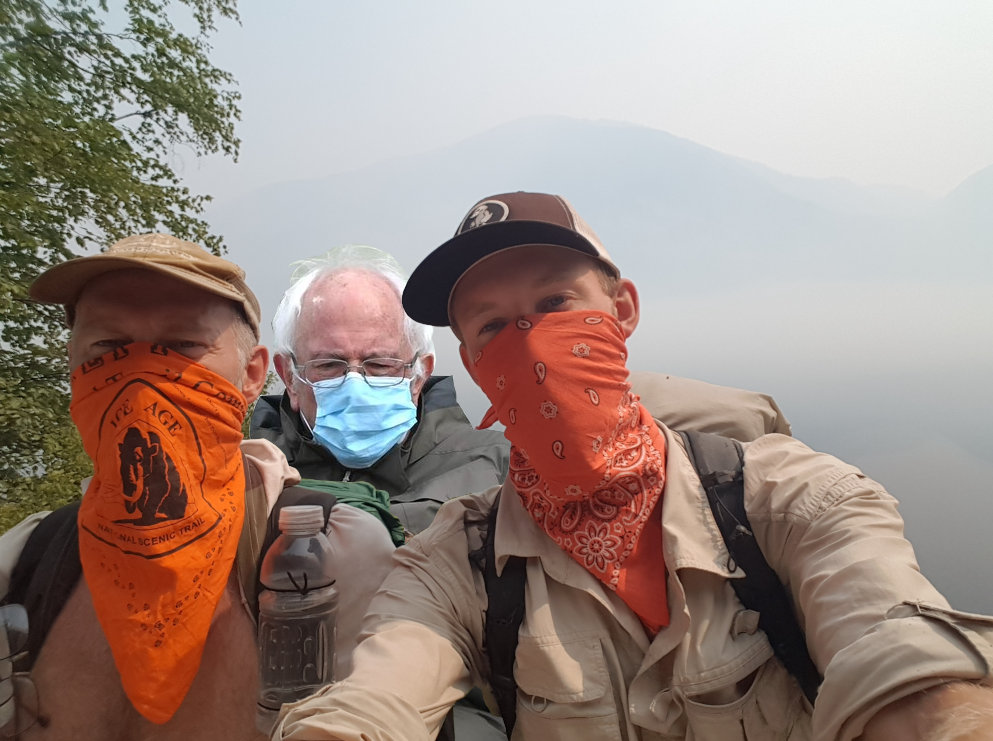 On the Pacific Northwest Trail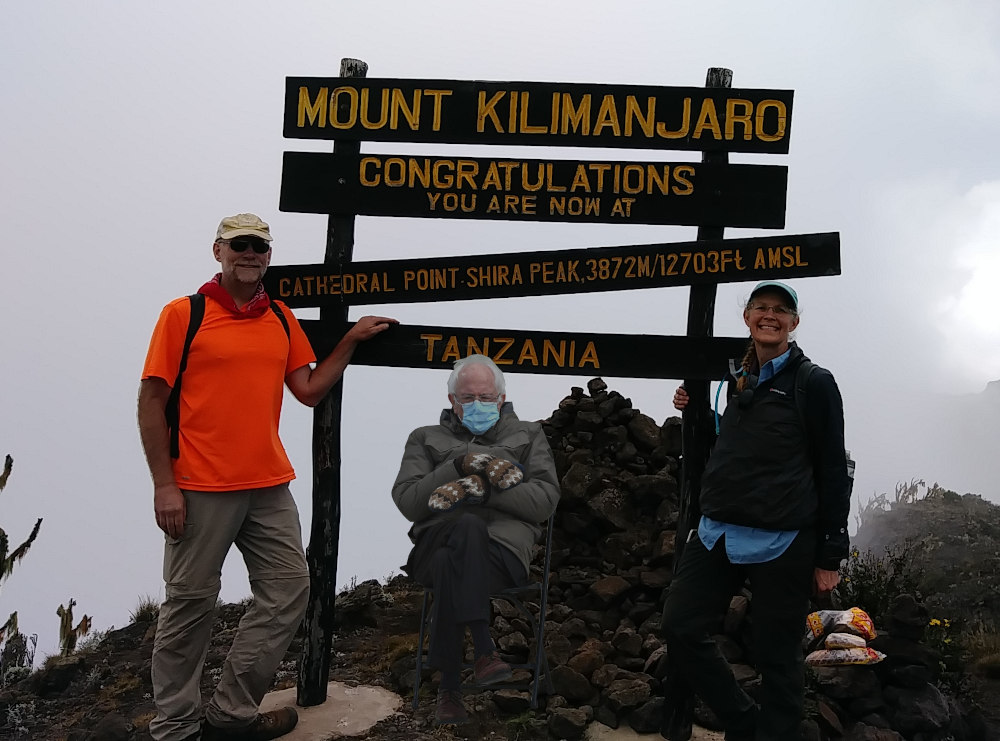 Climbing Kilimanjaro in Tanzania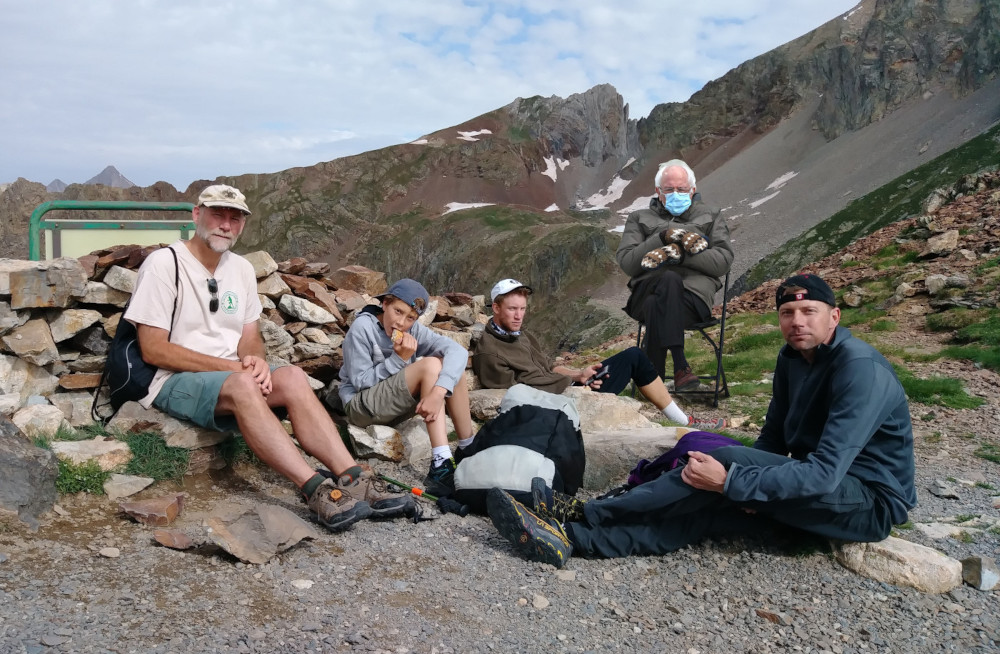 On the France/Spain border in the Pyrenees
Hike On!
---
01/11/2021
2020 Recap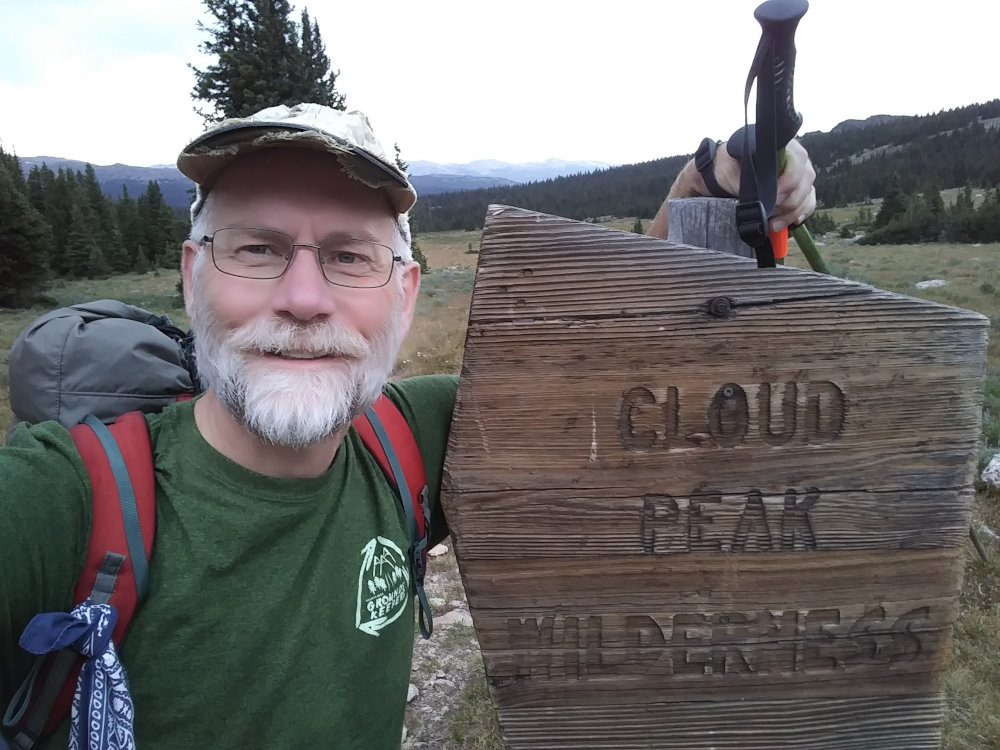 So, what did Hiking Dude accomplish in 2020?
Earned my Hike 100 NCT patch by hiking over 100 miles on the North Country trail. You can Join the 2021 Challenge.
Hiked over 1,000 miles on my almost-daily morning local hikes. Most days, I hiked 5 to 6 miles.
Hiked 62 miles, circling the Cloud Peak Wilderness on the Solitude Loop trail in Wyoming.
Yo-yoed the Kekekabic Trail in the Boundary Waters Canoe Area Wilderness for an 81-mile trip.
Picked up and disposed of or recycled over 600 pounds of trash and litter on my hikes.

This map shows the hundreds of miles I covered just around town on daily walks.
As a participant in the 2020 Groundskeepers program put on my Granite Gear, I got to try out some new gear while I was out on the trails. There were 30 of us in the program and we removed around 7,000 pounds of trash in total. If you love the outdoors and would like to do a bit more in 2022, keep an eye on TheGroundsKeepers.org for your chance to apply in the fall.
I hope you got out into the wilds during this past year, and are preparing for an adventurous 2021.
Hike On!
PS: I'm working on my 3rd book, but since it isn't finished, I can't really claim it as an accomplishment. :-) I really think it will be a fun, useful read for all my hiking friends and you can be sure I'll be mentioning it more when the publication date gets closer.
---
Older Posts
Newer Posts
Site Disclosure Statement
---
All Comments:
Feb 13, 2020 - Jason Berklund
Hey hiking dude I have several questions planning my first north to south trip from 270 all the way down. I kind a know what to wear what to eat all that important jive. I am in relatively good shape definitely Not concerned about where in tear. 45 years old going with a 21-year-old nephew. My question is I have friends in Duluth that I don't want to burden with driving me what's the best way to get up to otter Lake Road that's not gonna cost a crap ton. We were thinking 15 miles a day. We were also thinking hammocks. Let me know what you think please. I have read so much and look at so much and heard so many opinions but You seem to be very realistic on your comments. Thank you
---
Feb 13, 2020 - Hiking Dude
@Jason - Hammocks work fine - most campsites have lots of trees. 15MPD is realistic, and you'll probably do more than that many days.
Getting to the northern terminus is expensive (in my mind). If you can schedule correctly,
Arrowhead Transit
is cheapest to Grand Marais, but then
Harriet Quarles
is the only shuttle I know of. You might find a good ol' boy in Grand Marais willing to drive you the 35 miles to the end for a few $$$.
It's a 3 hour drive from Duluth - that's 6 hours and 300 miles round-trip. Maybe your friend would like to drive up the north shore for a day.
---
---
Ask a Question
---


Find more Hiking Resources at www.HikingDude.com
Follow Me