Steep Trails Post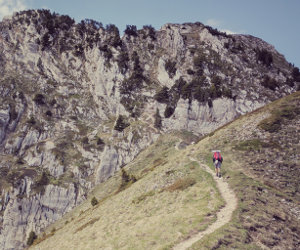 Does this trail look steep to you?
It looks steep to me! And I expect I would be walking up it slow and steady.
So, what do you think the grade is? 10 degrees? 20 degree?
When you look at the numbers, it's a bit disappointing. It's not really too impressive to think 'Hey, I just hiked a 9 degree hill for 2 miles!' but that's actually a steep trail. Really.
The Bright Angel Trail in the Grand Canyon, at its steepest, is less than 16 degree grade.
The North Kaibab Trail, over its length, averages less than 12 degree grade.
A few steepness examples:
5 - wheelchair ramp
30 - a steep ski slope
40 - home staircase
75 - ladder
80 - cliff face
Having hiked quite a few miles across the flats of Florida, hills of Minnesota and Wisconsin, and the steeps of the Appalachian and Rocky Mountains, I've found the grade of the trail makes a huge impact on my happiness while hiking. It's not just me - there are serious governing documents written about trail building that give great guidelines. Many of the guidelines are to prevent erosion and improve maintainability, but the experience of the visitor is also considered. A trail that is flat and straight is no better experience to a hiker than one that is steep and straight, possibly even a worse experience.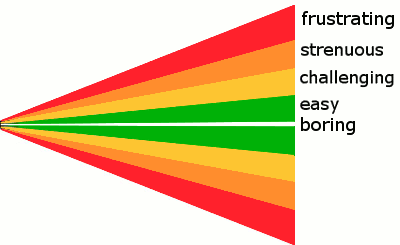 Everyone has their own 'Preferred Grade' graph like this one. When I can cruise along over
easy
low hills and shallow dips, I feel like I can walk all day. There is interest in finding out what is over the next rise.
I can still cover miles over
challenging
terrain that is a bit steeper, but my pace drops a little and my legs get tired after a few hours. Bends in the trail, tumbling creeks, varying plant life, and some higher views keep me motivated to hike on.
At some point, the trail turns
strenuous
. Now, my muscles are working and I need to slow my pace, take more breaks, and breathe more. My knees bother me on the downhill sections, but hiking poles help me along. The extra effort is worth it to see waterfalls, rocky outcrops, and far away landscapes from high on the side of a mountain.
When the trail is so steep I can envision a ladder working better than boots, and every downhill step jars my legs, then it is
frustrating
for me. It just stopped being any fun at all.
On the other hand, a flat, straight trail becomes
boring
quickly. You may cover ground quickly, but seeing where you're headed for hour after hour is monotonous.
From my experience, the Ice Age Trail is Easy with a few Challenging stretches. The Arizona Trail is Challenging with a couple Strenuous spots. The Appalachian Trail is Strenuous and sometimes Frustrating. The Florida Trail is Easy with some parts being Boring, especially roadwalks and levees.
Notice there are no numbers on the graph - the divisions are different for each person. Knowing what you prefer will help your hikes be more enjoyable. If a topographic map of a trail shows ups and downs with hundreds of feet of elevation change, realize that will require more effort and a slower pace. If the terrain is all forest, even the trail high points, your effort to climb up there may not reward you with any view.
The same graph can be used with a title of 'People I Meet on Trail'. You might prefer to have the trail completely to yourself and see no one for a week. Most people like to run into a few other people, but some like to have another group around at every campsite to feel safe. I like to cross paths with one or two people each day, and having others in a campsite once in awhile is fine. But, seeing people ahead and behind on the trail all day, hearing dogs and people and music at stops, and sharing a site every night with new people puts me up in the 'frustrating' area.
Knowing how much human interaction I prefer helps me determine what trail to hike, the time of year to hike it, and if I would be better off with a companion or alone.
Posted: 12:31 12-27-2016 1313


Find more Hiking Resources at www.HikingDude.com
Follow Me