Day 36: Ice in the Water Post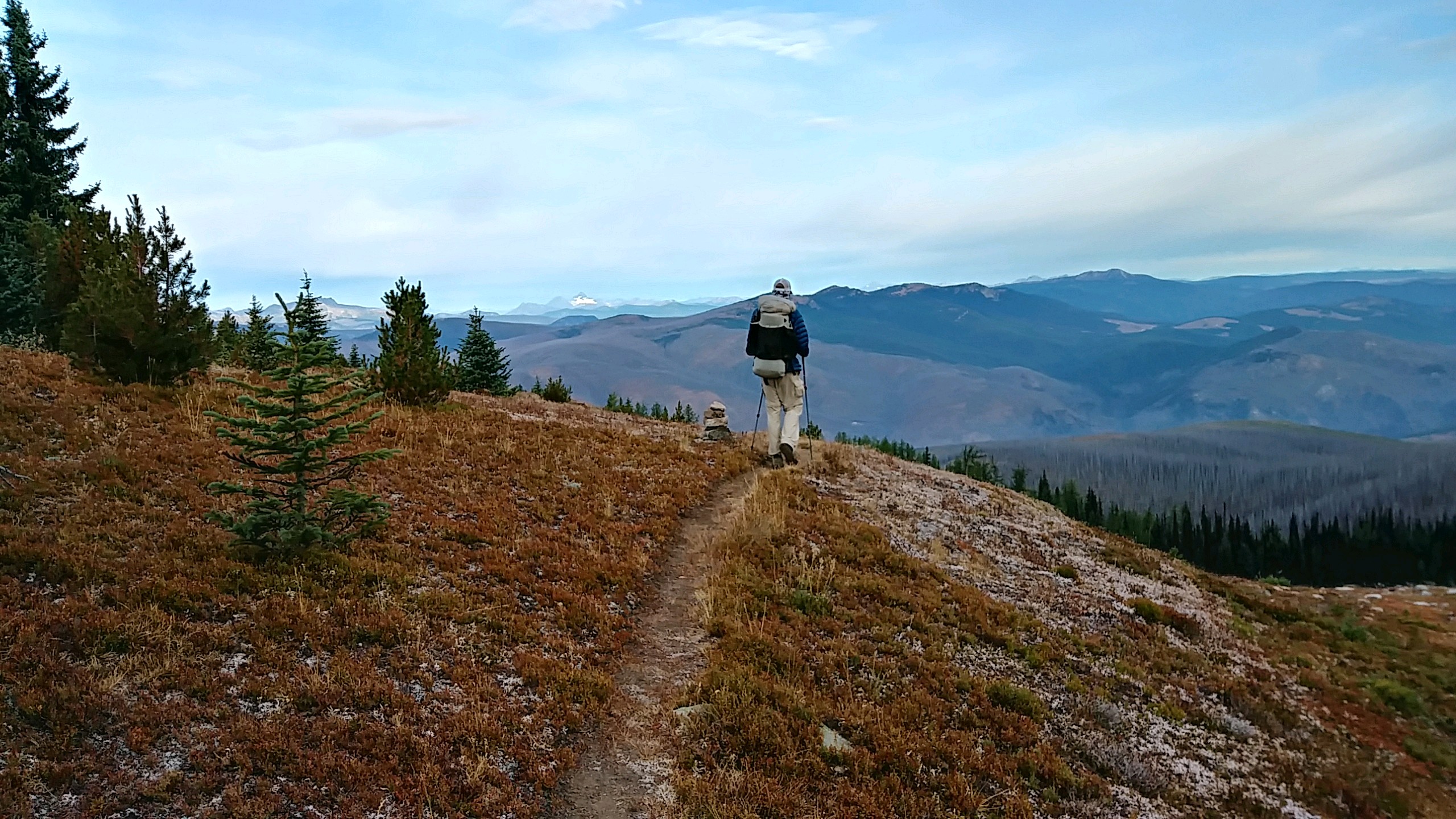 I walked 45650 steps on the trail today.
I traveled about 18 miles today.
8/25/17 I made two lightweight camping quilts for my long hikes.  One has half the insulation as the other.  Josh has been using the lighter one but last night we swapped because it was cold and I stay warmer sleeping.  I didn't sleep well. It got cold.  We had ice in our water bottles this morning!  So, we broke camp quickly and started hiking even before eating.  A vigorous climb up Bunker Hill warmed us up and gave us wonderful views in all directions. Down the other side, we entered a large burn area of nothing but dead snags and down trees.  The trees seemed to do their best to land on the trail when they fell.  I counted 158 that we had to climb over in 1/2 mile and then stopped counting.   But, future PNT Hikers don't need to worry because we met a trail crew working their way from the Pasayten River up Bunker Hill clearing out logs from the trail.  The four of them each got a hiking dude sticker. We passed Thumbalina this morning.  We had another nice but short chat and may see her again down the trail.  She had hiked through some wild areas all on her own. After crossing the Pasayten River on a convenient log, we hiked through the burned forest another 6 miles until the trail headed up a new draw to the west.  This live forest was green, fresh, cool, and very pleasant to travel through on our way up to our campsite at Chuchuwanteen Creek.  We're much lower tonight so I hope to stay warmer.  I'm looking forward to the wonders that come our way tomorrow. We did see one beautiful deer with velvet antlers today.
Posted: 17:30 08-28-2017 1402
---
Comments:
Aug 29, 2017 - Abrahm
I've been following your PNT hike and I'm glad you're having a great experience! I found you thanks to your SHT thru-hike log. You've helped inspire me to backpack, get out on the SHT and even make plans to make some of my own gear! Thanks for this bit of outreach that you do. I hope to see you some day on the SHT.
---
Aug 29, 2017 - Nola Barz
Glad to see you've made it to the Pasayten. If you run into a female horse packer supporting the trail crews say hi. It's probably my niece Amber. Also, a climbing ranger named Zach. He's her boyfriend. Both great people. He was the one who spoke of all the down trees on the trail of which you spoke earlier. Blessings. Nola
---
Aug 29, 2017 - Nola Barz
Oh, I see you're now in the North Cascades now. Get ready to see GORGEOUS country. It's crazy in there. Tough at times, but totally worth it.
---
Aug 29, 2017 - Sloper
Congratulations on your accomplishments! That is a lot of steps!!! I just got back from doing a section of the SHT, cut short due to rain and a floor less tarp, and I am wondering how the bear Paw Designs Nest/Tarp combo is holding out for you and if you ever got to use it on the SHT yourself and how it faired as I have heard mixed reviews and am thinking about getting one myself. Though in a couple of weeks that might not matter anymore as I will have cold to face instead.

---
Sep 17, 2017 - Hiking Dude
@Sloper - The BWWD tarp and bug net has been excellent for my wife and I, and now my son and I on this trip. I have no complaints.
---
---
Ask a Question
Bike
---


Find more Hiking Resources at www.HikingDude.com
Follow Me