Day 40: Old Growth Post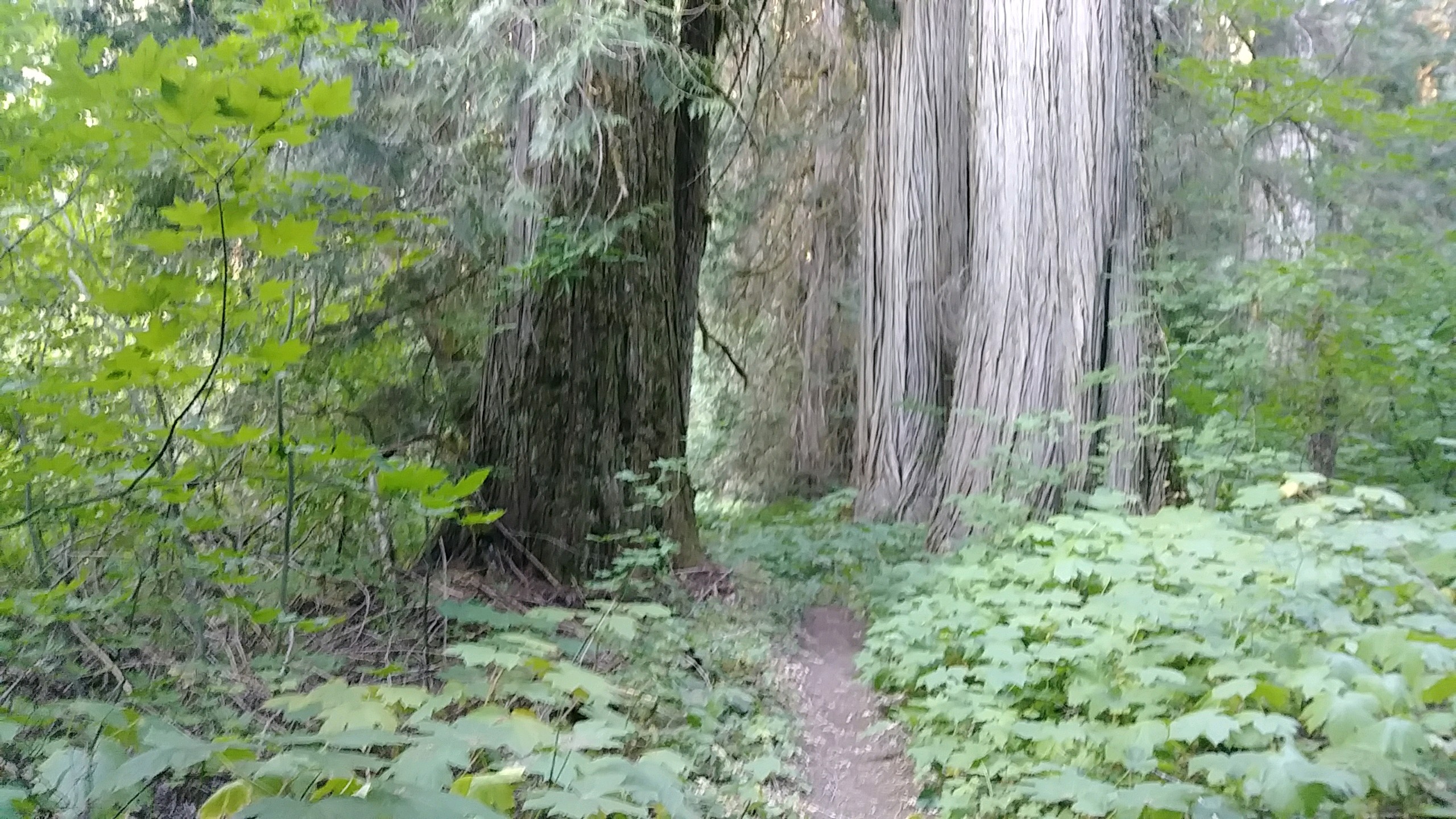 I walked 43340 steps on the trail today.
I traveled about 18 miles today.
8/29/17 We hiked from the lake up the Big Beaver Creek valley, over Beaver Pass, and down into Little Beaver Creek valley.  Then, we walked up this valley to our campsite.  All of this was in shaded, damp old growth cedar and pine forest.  Some of the trees were massive and much of our walk felt like dinosaurs should be roaming around. All we saw were some toads and tons of flies and mosquitoes.  We wore our bug pants all day.  We did cross paths with two big groups of backpackers but they didn't stop to talk.  And, we woke a couple in their tent at 2:30 when we walked past.  They thought we were a bear. Since we were in forest all day, there were no mountain views to be had but the smoke in the air would have prevented them anyway. Today was pretty rough for my body.  My left shin started aching and just got worse through the day. I wrapped it while hiking in the afternoon, put it in the icy creek tonight, have it elevated, and took some pain relief.  It is quite swollen in one spot so I'm a bit worried.  Nothing to do but forge ahead at this point.  Also, at the campsite, a sharp stick poked the inside of my left foot above the heel and blood started pouring out - more than I'd expect from a little stick. This was on the way to the creek to soak our legs so that helped stop the bleeding.  When I looked closer, the prick was right into a blood vessel there which is probably why it bled so much. Well, at least we have way too much food!  Two big passes to cross tomorrow so that's lots of up and down.
Posted: 13:23 08-31-2017 1408
---
Comments:
Aug 31, 2017 - Karen
Read about hiking inflammation. You did everything right. Hold in a cold stream and take ibruprofen. You have to hike less each day. And take care of it or it can become chronic. Watch for any red line going up your leg from the stick stabbing you. If you do have a red line you need immediate medical care. Karl had that once - blood poisoning from a sliver. Hope you are better tomorrow.
---
---
Ask a Question
Bike
---


Find more Hiking Resources at www.HikingDude.com
Follow Me