TWiG Safety on Trail Post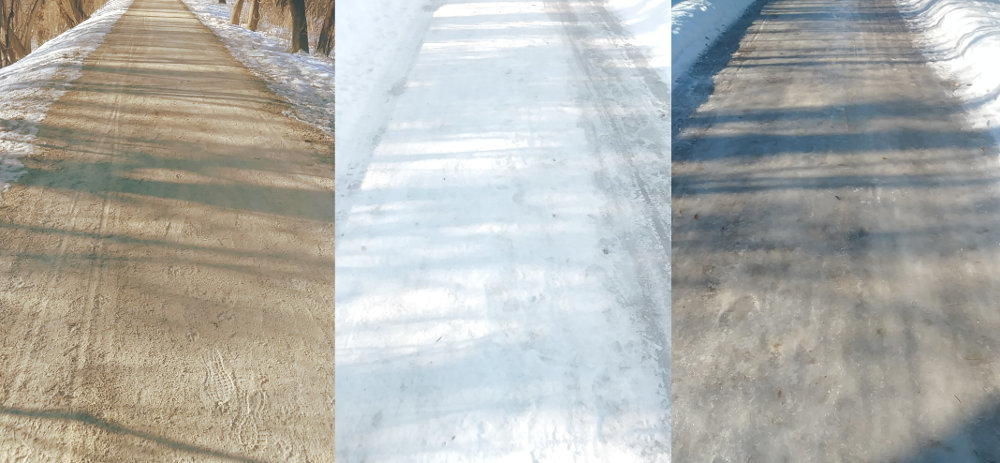 It's treacherous on the trails this time of year, for sure. We're in the midst of days warming up but nights still being freezing cold. This freeze - thaw - freeze - thaw daily cycle creates dangerous terrain on trails, paths, and sidewalks. Now, my friend Bren in Alabama can ignore this post (Hi, Bren!), but this bit of advice might help keep the rest of you upright and out of the doctor's office.
I noticed that:
During the spring, summer, and fall, trails can be wet and muddy, or dry and dusty, but the risk of slipping is slim when the trail is tan.
During deep winter, all trails are white - completely covered with snow and not very slippery. The snow makes going tougher, but actually slipping, falling, and getting hurt is not a big concern.
It's the early spring or late winter that is especially slippery and risky to be out walking. Daytime sun melts snow enough to flow water over the trail, but not enough to dry it out. Once the sun gets low enough for the trail to be in shade, the cold air and subterranean ice work to freeze the new water into a shiney, smooth, slick surface of gray ice suitable for iceskating.
If you're like me, you can't sit at home and not hike just because the trail is a bit menacing. We go out and we take our chances, probably pussyfooting along not really enjoying the walk. Well, today I realized that I've developed an easy-to-remember method for picking my safest way along a trail this time of year. I'm calling it the TWiG Safety method.
TWiG is how to remember the relative safety of the different colors of trail you may need to walk on. It goes like this:
Tan - dirt, gravel, leaves are all tan or brown and tend to have friction and are the safest.
White - snow is the next best. It can be packed and slick, but usually has some grit to it.
Gray - the most dangerous because it is ice and probably very slick.
So, while briskly hiking down the trail, I scan ahead to see what colors are there. All Tan and I'm good to go, some White and I avoid it, but as Gray shows up I use the white snow and avoid the ice. If there's no option but gray ice, then I slow down and take no chances by slow stepping as needed.
Just Remember TWiG - Tan, White, Gray for safety and your hikes will be safer and more enjoyable.
Hike On!
Posted: 13:12 02-28-2020 1499
---
All Comments:
Feb 28, 2020 - Douglas Johnson
Good advice. I would add that in Minnesota, grippers for hiking shoes are an essential. They won't keep you upright on pure ice, but they are very helpful for most other situations. Keep hiking, dude! Enjoy your blog.
---
Mar 01, 2020 - Sarah Kermode
Great acronym...TWiG! Thanks for the awesome article. The trails are rough this time of year but that won't stop the outdoor enthusiasts!!
---
Mar 02, 2020 - Hiking Dude
@Douglas - my wife and I both wear Slip-Nots from Yukon Charlie when we hike hills around here. They are a huge assist, and DO even keep us upright on solid ice. I'll have to post about them later.

@Sarah - Thanks, enjoy your trails!
---
---
Ask a Question
---


Find more Hiking Resources at www.HikingDude.com
Follow Me