Deer Post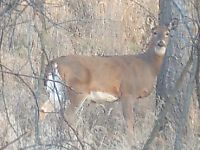 I was planning on hiking 6 miles this morning, but when I hit 3 miles it just seemed like I needed to go further. I'm glad I did.
Click the image to see a short video of the three deer I saw, plus one. They were beautiful. And, they were at about 7 miles of my 11-mile hike.
This week I've been trying to identify at least 10 animals on each hike. Today, I got eight - deer, crow, goose, duck, red squirrel, grey squirrel, cardinal, robin. We've had exceptionally nice weather since summer, but that's due to end tomorrow with rain/snow right around 35° all day. But then we're right back to sun for another week.
So, it's not too late to invite some folks out on a hike and stretch your legs.
Hike On
Posted: 15:48 11-18-2011 708


Find more Hiking Resources at www.HikingDude.com
Follow Me