Border Route Trail 2022 Journal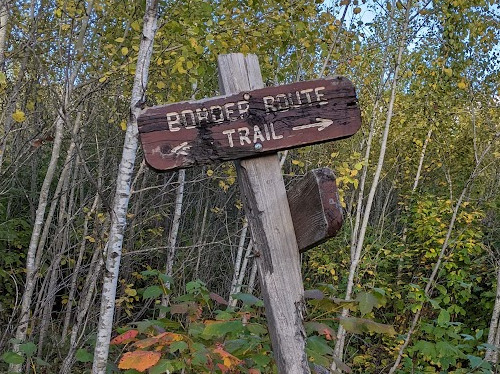 Back to Border Route Trail Info page.
For three years, my wife and I have been planning a Border Route Trail thru-hike. A pandemic, a cold, and a storm delayed our hike until this year. We finally did it!
We took 5 and a half days to cove the 65 miles and then another 4 days to hike 50+ miles down the Superior Hiking Trail to Grand Marais, MN.
Here is my hike report. To see a track of our route, you can visit my Trail Map page. If you have any questions, just ask - every trek is different, but our experience will hopefully help you prepare for your journey.
---
Day0
Day1
Day2
Day3
Day4
Day5
Day6
Days6-10
---
Tue - 09/20/2022
Day 0: Up North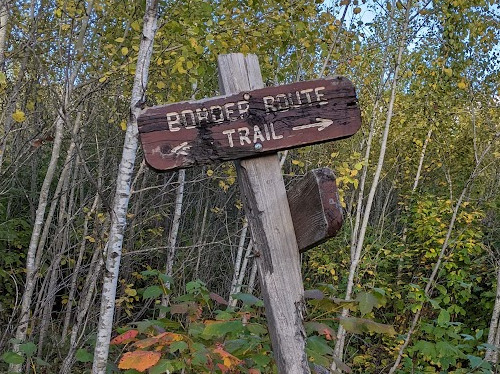 After wrapping up phone calls, emails, and last minute texts, we drove the 5 hours up through Duluth and along the North Shore to Grand Marais. We had plenty of time and enjoyed an early dinner at the Voyageur Brewing Company.
At 5pm, we left our car in the Pincushion Mountain parking lot right on the Superior Hiking Trail high above Grand Marais and piled our backpacks into the back of Carl's pick-up for the hour ride up the Gunflint Trail to Rockwood Outfitters to spend the night.
Carl is the owner of Rockwood Outfitters and they offer great service for both canoeists and hikers visiting the Boundary Waters Canoe Area Wilderness. They rent complete canoe packages, food, and camping equipment. My wife has been using them for the past few years when organizing a women's canoe adventure in the BWCA.
This time, we just used them for a shuttle ride from Grand Marais to their place where we spent the night in their bunkhouse - our own room with beds, bathroom, and shower. Then, Carl shuttled us to the BRT west trailhead the next morning. This allowed us to leave our car at the end of our trek where we could hop in and leave whenever we finished.
---
Wed - 09/21/2022
Day 1: Early Start, Long Day
From: Gunflint Trail To: Topper Lake
Distance: 17 miles
Trail Time: 10:00 (8:30am to 6:30pm)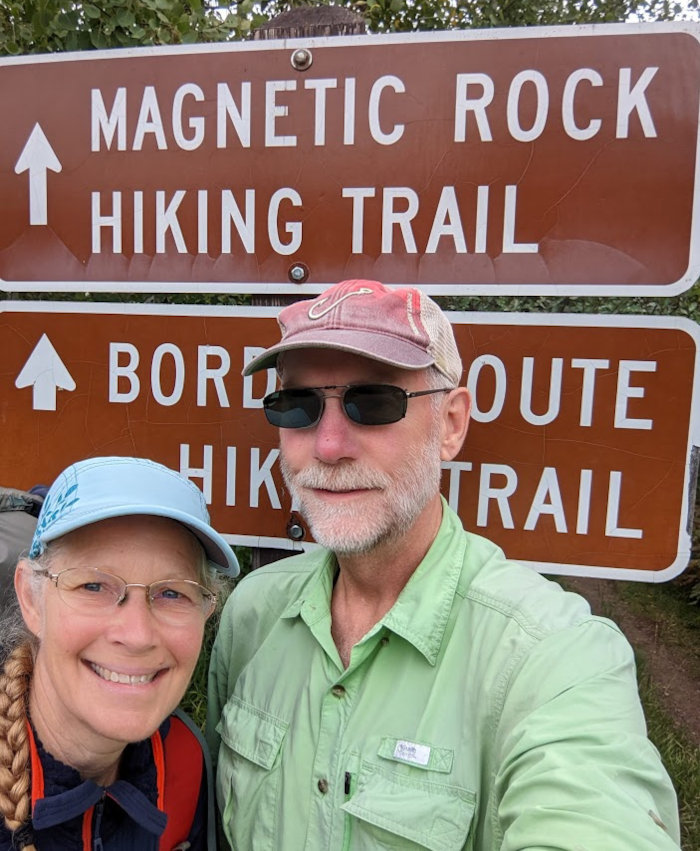 Since our lodging at Rockwood was far up the Gunflint Trail, we had a very short shuttle from there to the trailhead. That resulted in an early 8:30am start of our hike. Carl dropped us off and we were on our own to find our way 120 miles back to our car.
There is currently a quota limit on permits for hiking the BRT. This summer, only 1 permit was issued per day from the west and 3 from the east. I have no idea why the difference. This means you will not see many people on trail, even during the busiest times. You are reliant on your own group for support, aid, or assistance.
When I bought our permit online yesterday, I put today's date as our entry date. That means that we officially should cross the BWCA border today. The closest campsite is on Loon Lake just 8 miles from the trailhead, while the second campsite is on Topper Lake 18 miles away. The actual crossing of the BWCA border is about 15.5 miles east of the trailhead. So, we need to do an 18 mile day in order to comply with our permit, or cut it short and enter the BWCA a day late.
Many BRT hikers do a short first (or last) day and stay at one of the lodges on Gunflint Lake close to the trail, or stop at Loon Lake campsite. If you do that, then put the 2nd day of your trip as your BWCA entry date on your permit. We didn't know how far we could hike due to weather, trail conditions, and start time so I just chose a date.
Since this trail gets such little traffic, I doubt anyone would really care much if you were off by a day.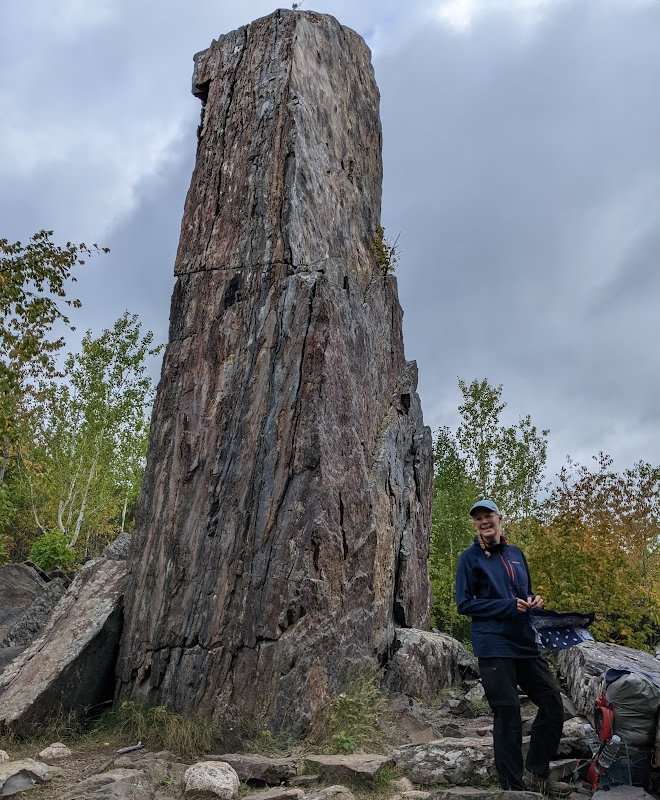 The first mile and a half of the Border Route Trail is highly trafficked and easy. From the Gunflint Trail parking area (which holds about 8 cars), many people walk in to see the Magnetic Rock monolith towering above the landscape. It's a great spot for a first break before starting down the path less traveled.
We were blessed with cool, cloudy skies so it was a nice walk in.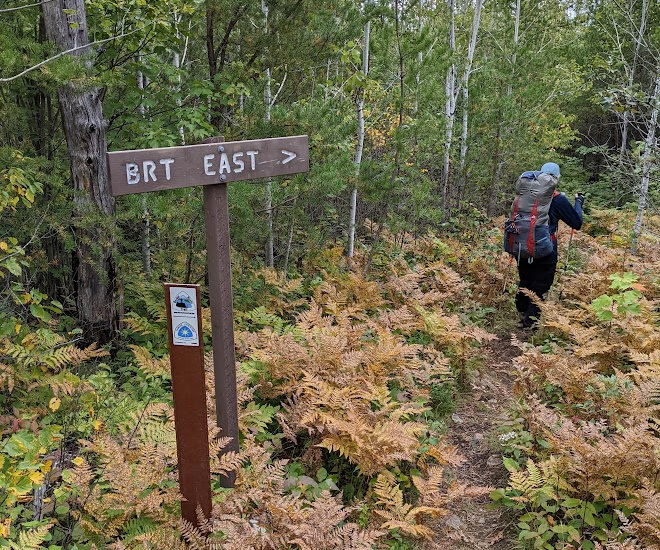 A nice, big sign and trail post declaring that you are indeed on the Border Route Trail, as well as the much longer North Country National Scenic Trail, gives the impression that this will be well-marked and maintained. Within 100 yards of leaving Magnetic Rock, you realize that is not true. In mid-September, the ferns were dying back, but there were still plenty of bushes, weeds, grasses, and limbs live and green to obscure the trail.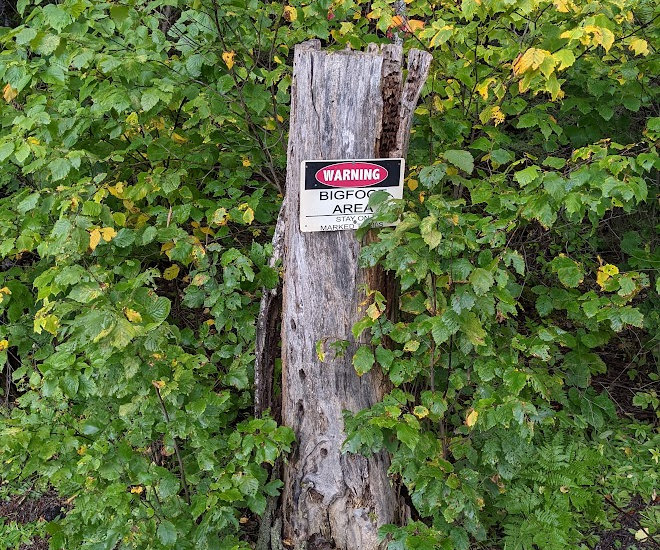 A couple miles of walking brings you to a short roadwalk over a bridge crossing the Cross River with the first view out over Gunflint Lake to Canada. The trail immediately cuts back to the west, but we extended the roadwalk a quarter mile and picked up the trail when it crossed again. A couple cabins along the road had humorous decorations out.
The back and forth meanderings of the trail on the map for the next couple miles followed wide, maintained ski trails. Fortunately, a keen eye can spot bits of blue ribbon marking trail cut-offs in two spots that straighten the trail and reduce over a half mile of wandering.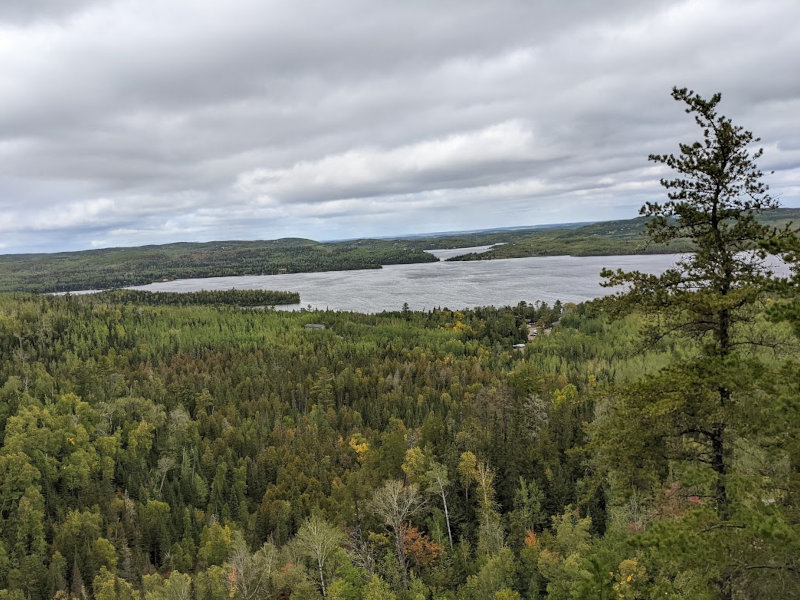 After crossing the South Gunflint Lake road, the trail rises above the lake to 1800 feet, but is still in deep forest. At about the 7 mile mark, just after passing the Loon Lake spur trail and rising to over 1900 feet, the first of many vistas give a nice view across Gunflint to Cannada. Get used to these views because they become more frequent over the next few days. For the next 3 miles, the trail rides the ridge south of Gunflint Lake on a fairly flat route until finally diving down 150 feet to Loon Lake to the south.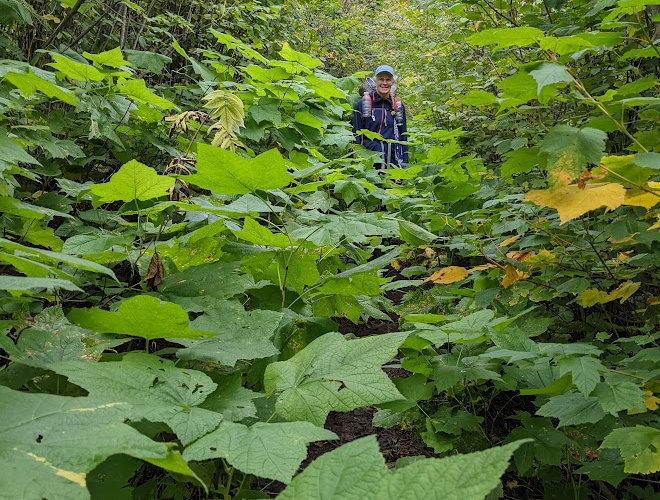 These lower areas tend to be more protected, moist, and overgrown than the higher ridges. Using hiking poles to push through the foliage became more common as the bushes closed in. The trail rises and falls as the terrain dictates, but stays generally between 1600 and 2000 feet with climbs of more than 200 feet very rare. So, like other northern Minnesota trails, quite a bit of elevation accumulates, but it is all in bite-sized bits that don't require long, sustained effort.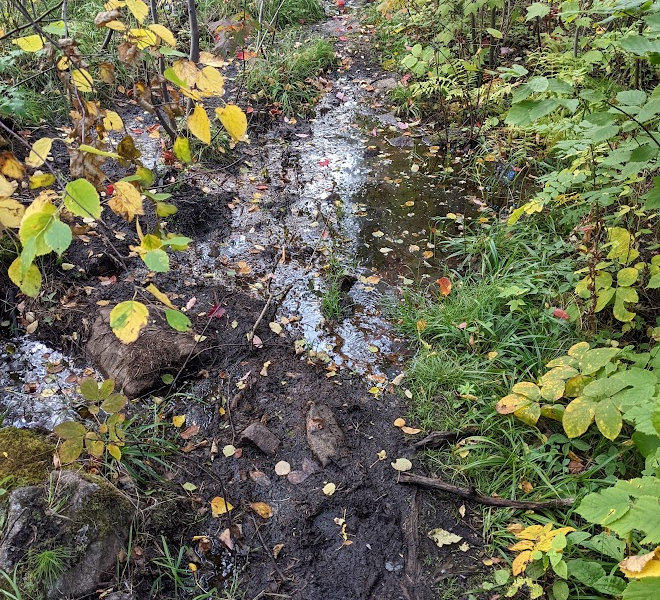 We passed by Bridal Veil Falls in the late afternoon, just outside the BWCA boundary. I looked around, but saw no place camp worthy, so we pressed on to Topper Lake. We had considered stopping for the day here, if possible. At this time, it felt like we did not have time to explore the falls and still get to camp before night. Not hiking the spur to the falls is the only part of the trail where I feel like I missed something. Oh well, we got plenty of water right in the trail since there were many short, wet areas.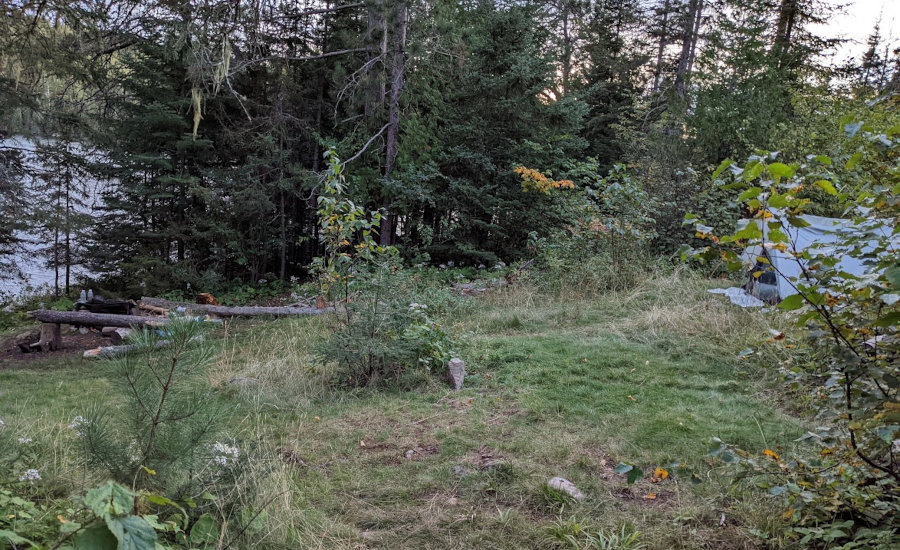 We had no problem finding the campsite spur on Topper Lake. After 10 hours on trail, and with the sky darkening, we set up camp and had our first hot meal on trail. Like all BWCA campsites, this one has a dug latrine, metal fire grate, and a spot or two for tents.
As night came on, the skies cleared with stars galore. For wildlife today, as every subsequent day would repeat, we saw a handful of grouse and a few red squirrels - and lots of moose poop.
---
Thu - 09/22/2022
Day 2: Slow Vistas
From: Topper Lake To: Rose Lake East
Distance: 10 miles
Trail Time: 8:00 (9:00am to 5:00pm)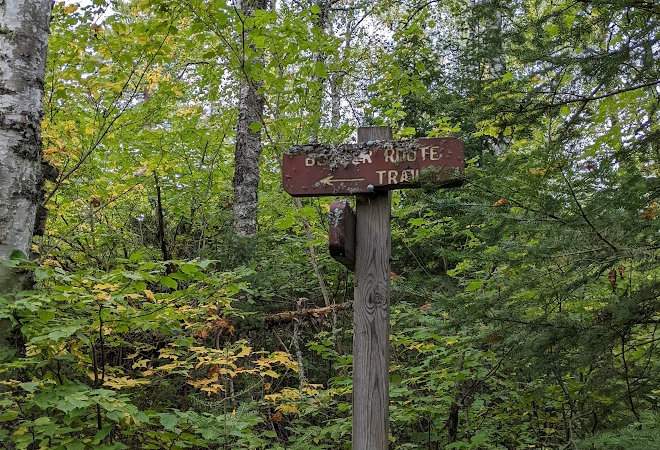 Now that we're inside the wilderness, the trail is much slower. Intersections with othe trails have old signs like this one, but that is all the signage to be found. The trail itself is still fairly easy to find and follow, but a very occasional bit of blue plastic ribbon hanging from a branch or laying on the ground is the only indication this is the BRT and NCT.
We did manage to lose the trail for a minute or two a couple times. This happened when the path we were following emptied out onto a bare bedrock surface. Well-used trails wear off the lichen and moss on bedrock so the path can still be seen, but there are few enough feet pounding the BRT that this is not the case. By guestimating where the trail should go, and then exploring the edges of the bare areas, we eventually found a faint path or bit of ribbon and were back on trail. These micro-adventures slowed us down a bit.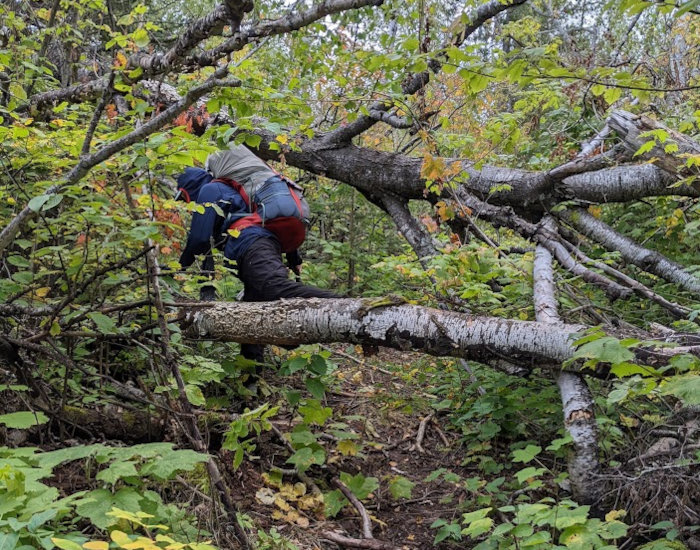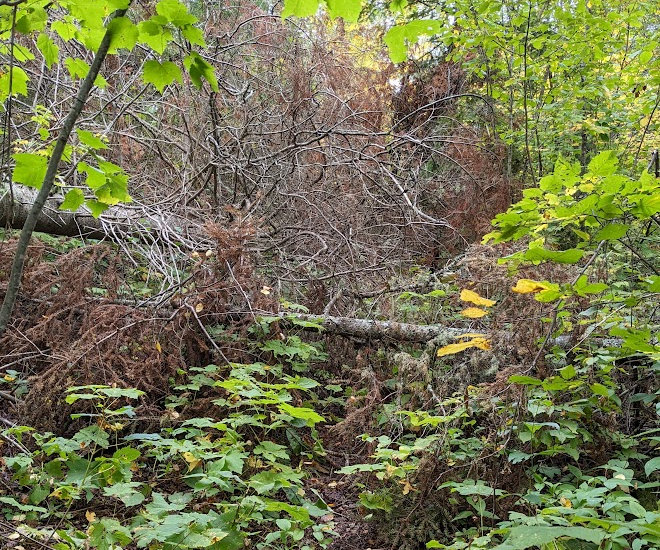 The main reason we only averaged 1.25MPH today was all the down trees. I estimate about 10 trees per mile that hikers need to work their way under, over, or around. That isn't a big deal, but it just adds a few minutes to cover each mile which adds up over a day.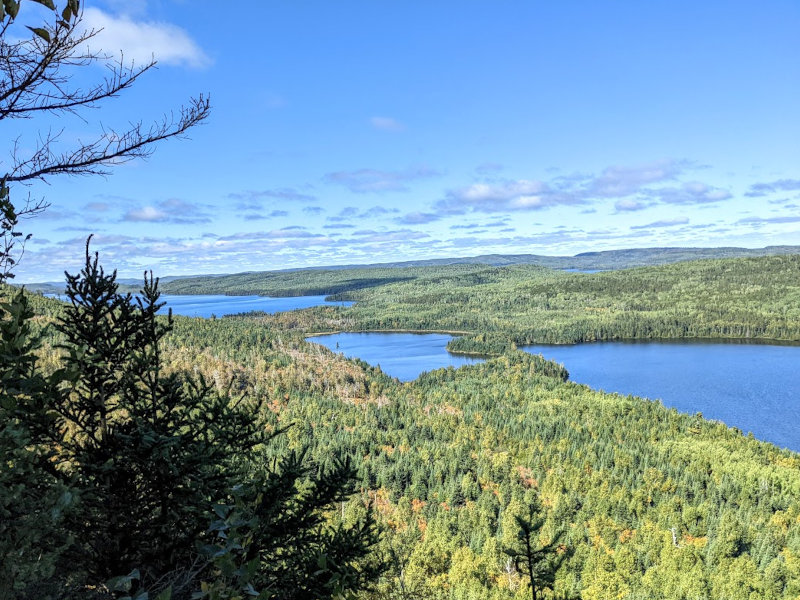 The Vistas were another cause of slow going. We took a few more breaks than normal to admire the vast views off to the great Canadian woods in the north. Most of the day followed a high ridge just to the south of South Lake, Rat Lake, and Rose Lake. Those lakes are also the Canadian boundary.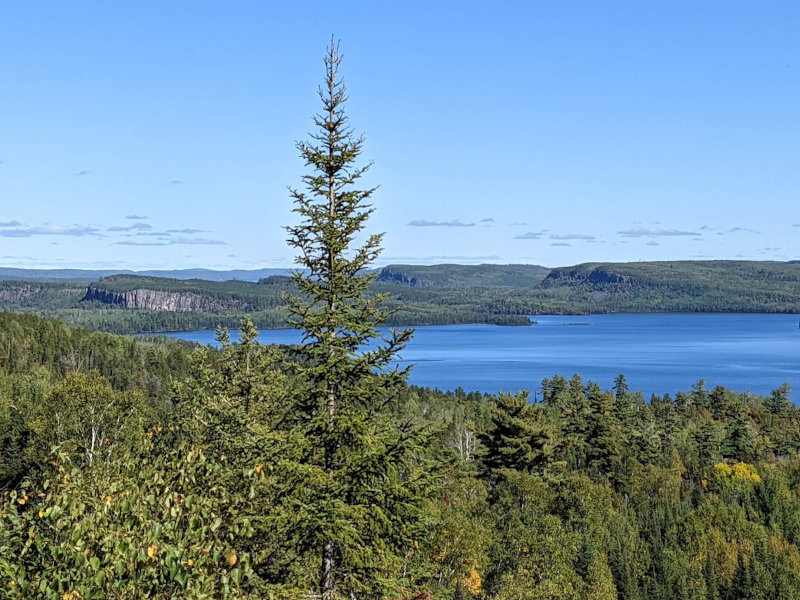 I enjoyed seeing how the terrain rises up from the south and drops off as cliffs to the north throughout this whole area. This view over Rose Lake shows it pretty well. This land feature is why the BRT has such high vista views to the north.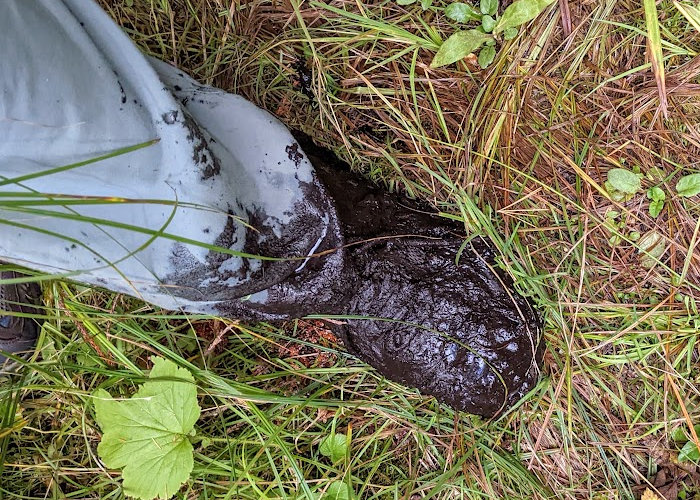 We managed to stay fairly dry today, except for one mis-step on a beaver dam. The dam is the actual trail and it can be a little soft in places.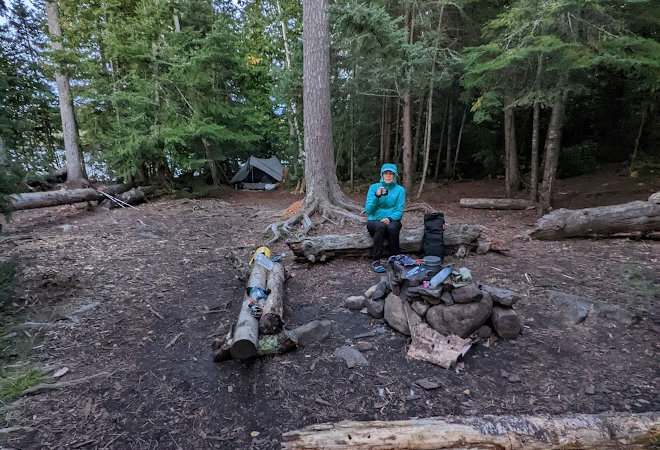 We arrived at the beautiful Rose Lake East campsite with plenty of daylight left. The sun was out all day today, but the air did not warm up much - a perfect hiking day. This campsite had plenty of nice places for tents. It is well-worn from constant use by canoeists. All the BRT campsites are also canoe campsites except Pine Ridge, so you may find yourself sharing a site with paddlers. We saw none. The only other people we saw on the BRT was a group of 4 that had canoed to a portage and were dayhiking a short way to a viewpoint.
Since this campsite is the only one on the north side of a hill, we were hoping to see some northern lights. Unfortunately, we slept way too well and don't know if any occurred.
---
Fri - 09/23/2022
Day 3: More Vistas
From: Rose lake East To: Gogebic Lake
Distance: 11.5 miles
Trail Time: 8:00 (8:30am to 4:30pm)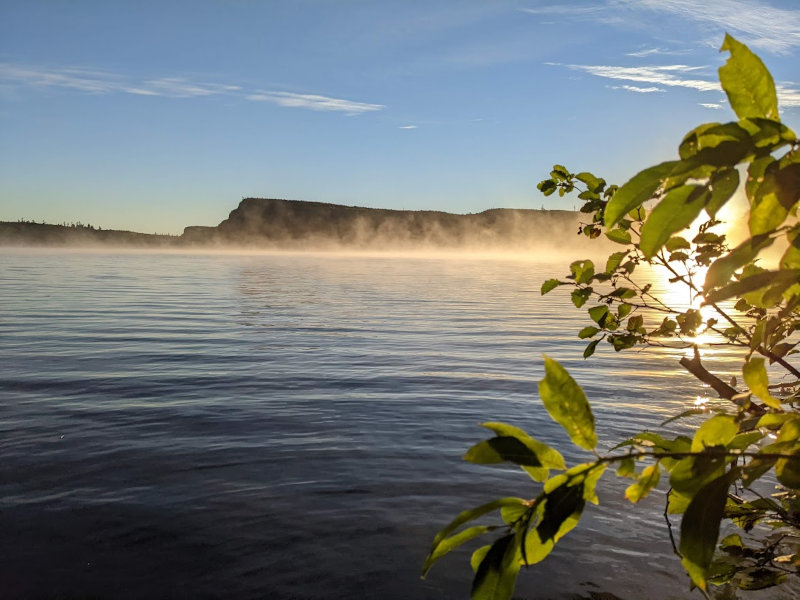 Our day started crisp and sunny, and stayed that way until late in the afternoon. A leisurely packing up of camp while the mist burned off of Rose Lake.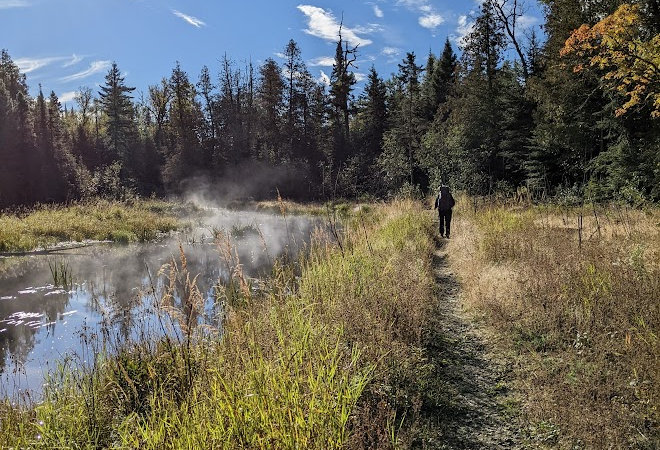 A mile of beautiful scenery as we walked up the Long Portage along the Arrow River with Canada just a rock toss away on the other side. This was definitely the easiest mile of the BRT - almost like a roadwalk. Until we go to the beavers.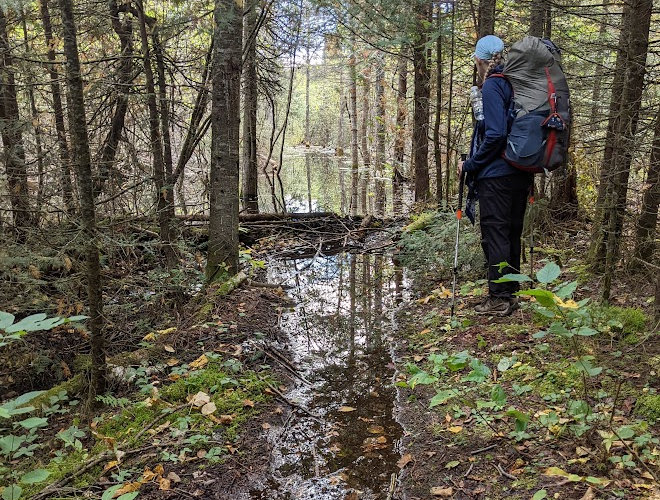 The trail ahead was completely blocked by an active beaver dam. Rather than wading on this cold morning, we bushwhacked around the flooded area for a hundred yards or so until we could return to the trail. A bit farther and the trail was flooded again. Back into the forest one more time. It was slow, but not difficult to just keep the standing water on our left.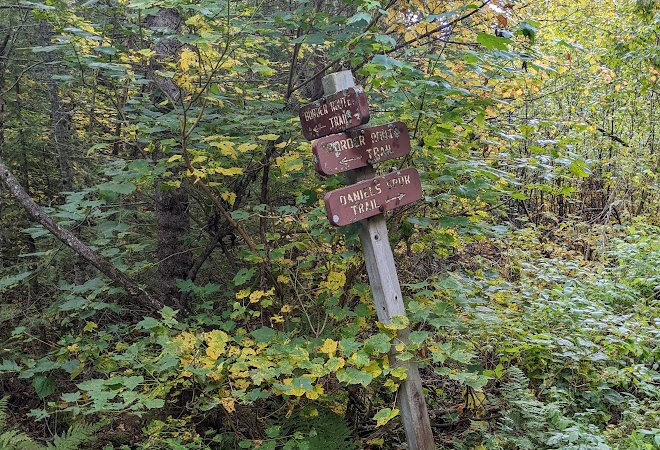 Once we passed the Daniels Lake spur trail, which can be used as a bail-out point, the trail dried out as it hugged the south shore of Rove Lake for a mile. In typical fashion, Canada was just on the other side of the lake.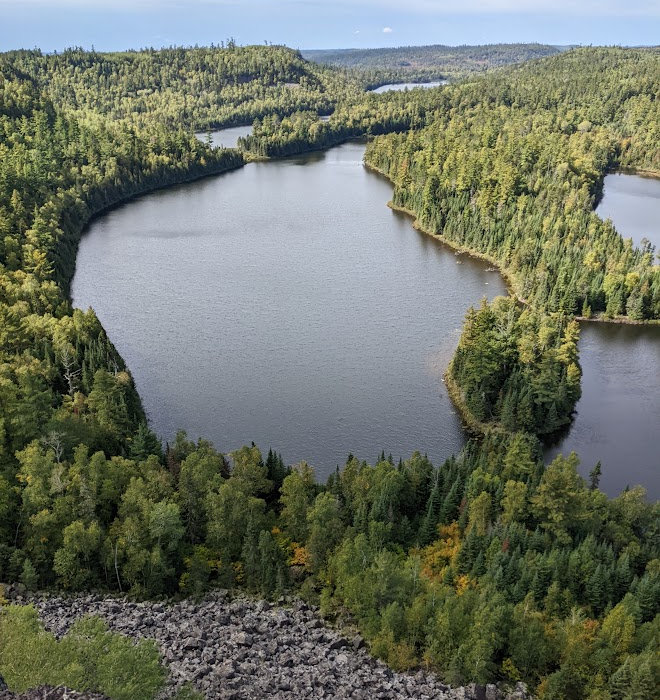 Soon enough, it was time for another climb up to the ridge top for more vistas! The next 5 miles kept the trail on the top of the hills with vistas every quarte mile or so. A vista being a spot where trees give way to bare rock outcrops with nothing to keep you from tumbling 100 feet or more if you aren't careful. Be careful!
If you're a tech user, we had T-Mobile and got coverage in most places where the trail rose above 1850 feet. We hadn't even checked the first 2 days, so I expect the same would be true. It was coverage from Canada, so your plan may not allow international.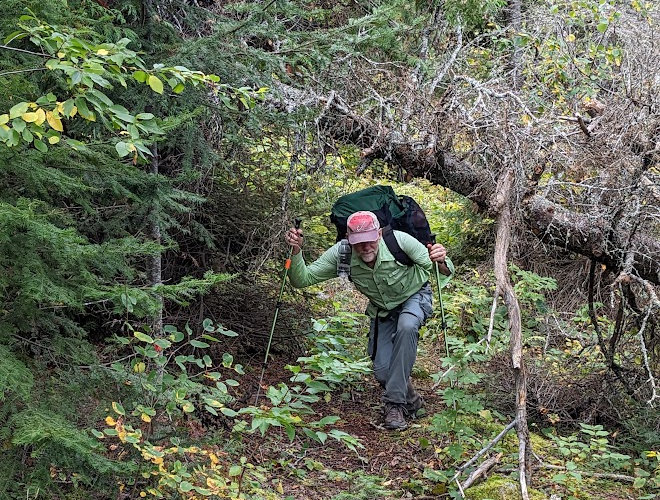 The trail continued to have down trees, mud, roots, rocks, and all the fun. It is just the expectation of a trail 30 miles into the wilderness.
One particularly bad spot is the hillside west of the portage between Clearwater Lake and Mountain Lake at about mile 34. A tornado tore through here last year and laid all the trees down like lincoln logs. Last fall, some darn tough volunteers came through and sawed out the trees to clear a path for the trail. We were able to simply walk through the area and gape at the forces it took to bring down these trees, and the efforts it took to clear them.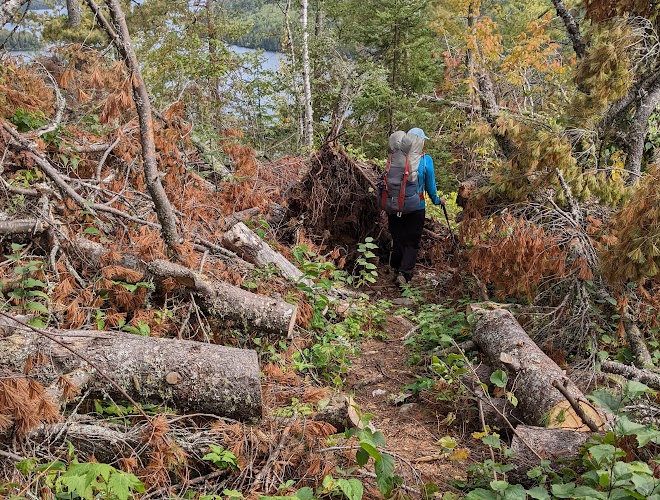 An example of the freshly cleared path.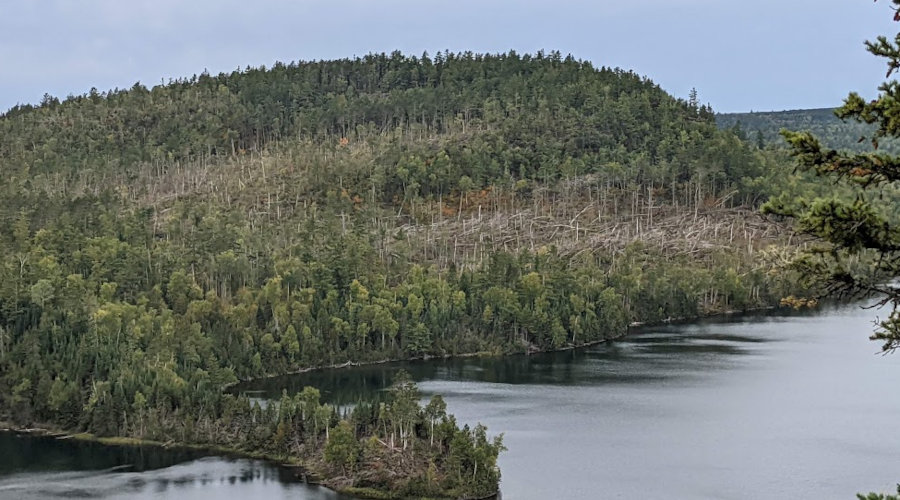 The tornado path across the hillside.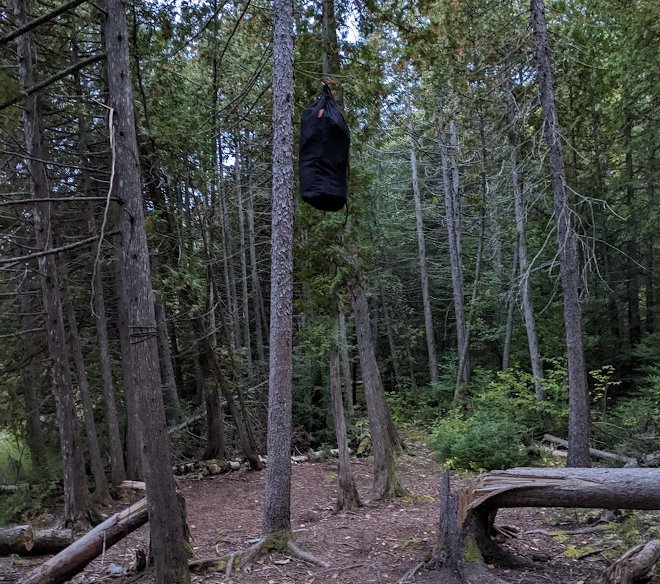 It was nice to arrive at camp with daylight left. The clouds had rolled in but the Gogebic Lake campsite is a very nice one right on the lake. Didn't really get any photos of it except our Ursack hung between two trees. We used the Major XL and could fit our 10 days of food in it, barely. There were reports of bears getting into hiker food this summer, but we only saw old bear poop on the trail on our outing. No fresh sign of any bear anywhere.
---
Sat - 09/24/2022
Day 4: Out of the Wilderness
From: Gogebic Lake To: McFarland Campground
Distance: 13.5 miles
Trail Time: 8:20 (8:10am to 4:30pm)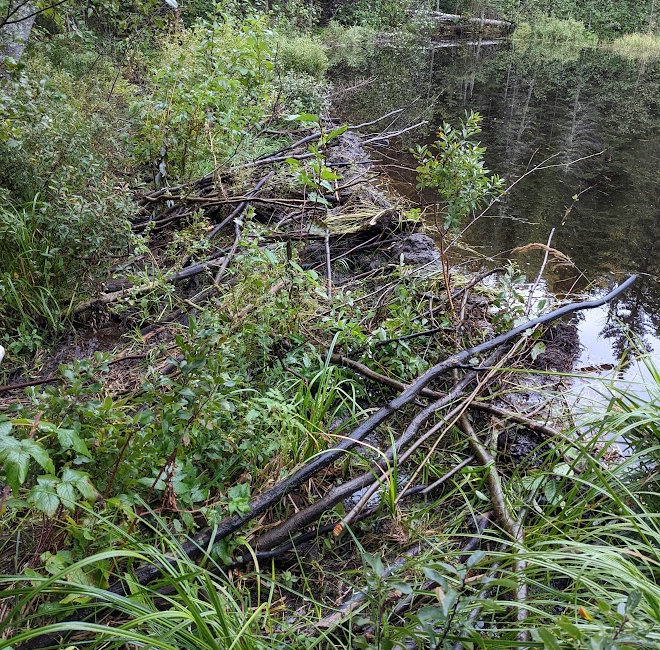 Yet another beaver dam to cross this morning. This one was pretty sloppy. After we crossed, I tossed a couple logs into the worst part of the mud for the next hikers. We did not see any actual beavers on this hike, even though there is proof of activity - we saw a lot on the Kekekabic Trail.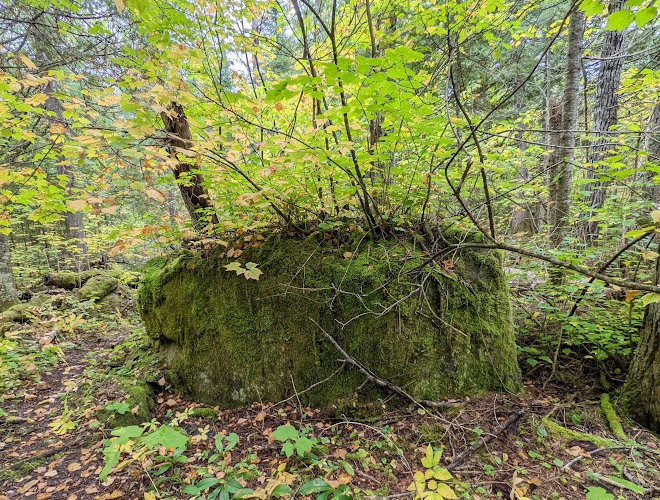 We had a bit of rain overnight and the brush was damp, so we use raingear in the morning. There were fewer vistas today and more just hiking through forest. The lack of break spots and relatively flat trail allowed us to cover extra miles.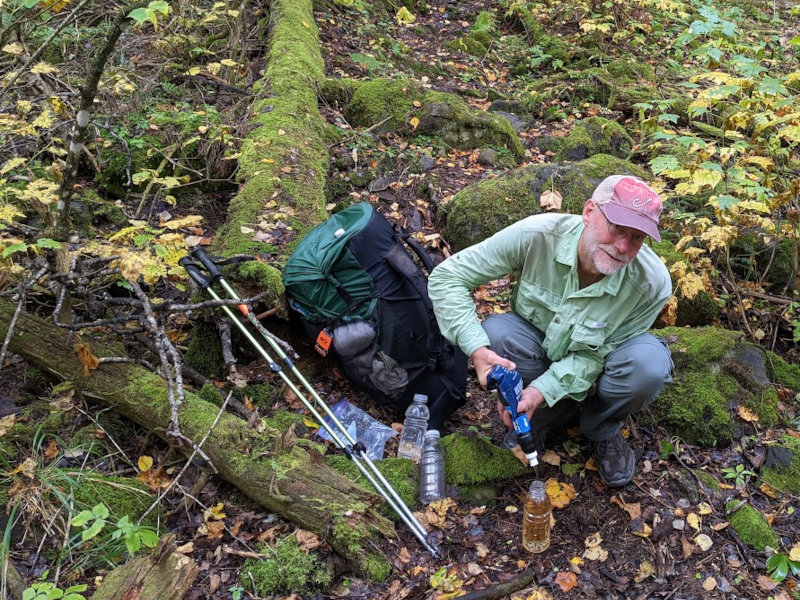 We've been using Sawyer Squeeze water filters for the past 10 years. The one that I originally started with on the Arizona Trail has finally gotten too slow, even after backflushing and cleaning. So, this was its last trip. I'm going to cut it open and see how the inside looks.
I figured this would happen, so I brought a second, new filter and it is very fast and easy. You should be aware that the brown color in much of the water in northern Minnesota is not removed by filters. It is from the decaying forest debris and is fine. There may be a bit of an off flavor to the water after filtering, but it will not make you sick like viruses or bacteria. You can see the bottle I'm filling in the photo.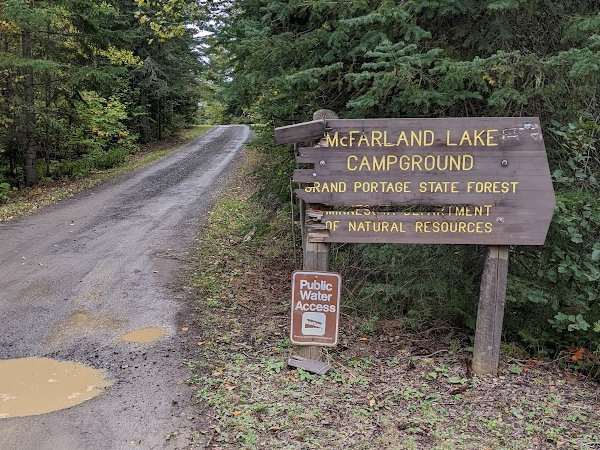 We crossed out of the wilderness boundary and suddenly the trail was clear of trees. It's easier work when gas chainsaws are allowed.
We powered the last mile or so to McFarland Campground on the Arrowhead Trail road. There were a few cars around, but no people. Completely deserted. I walked around the entire small campground and could find no information, no way to pay, nothing. So, we set up our tent and waited for a ranger or someone. No one came, so we stayed the night. Maybe we were past the general season.
There is no potable water at McFarland. It does have an outhouse and water is easy to get from the lake. Now, we wait for the rain.
---
Sun - 09/25/2022
Day 5: Rain and Moose
From: McFarland Campground To: Portage Brook
Distance: 7.7 miles
Trail Time: 3:30 (12:20pm to 3:50pm)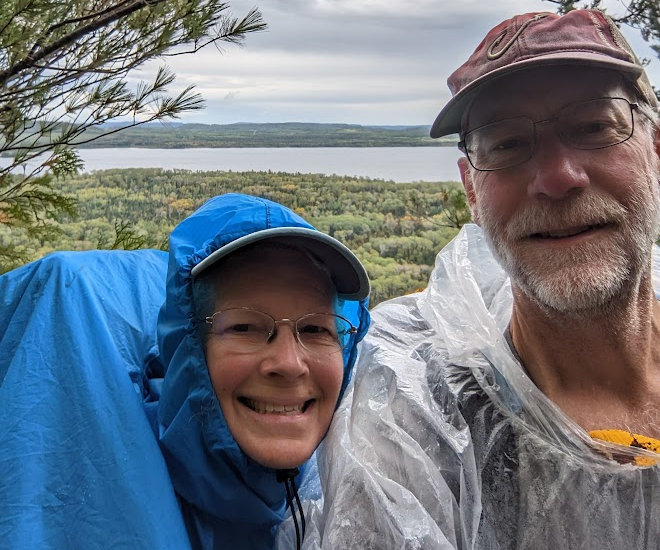 On the high vistas, the first thing we try to remember to do if there's coverage is update the weather forecast. The forecast has consistently been 100% chance of rain today until around 1pm, so we're in no hurry to get going. We considered just giving up the entire day of hiking to stay in our warm, dry tent until the morning.
But, due to sporadic clearing and severe boredom, we packed up around noon when there was no rain and hit the trail. It might as well have been raining since the thick grass and brush were still soaked, so we wore rain gear most of the day.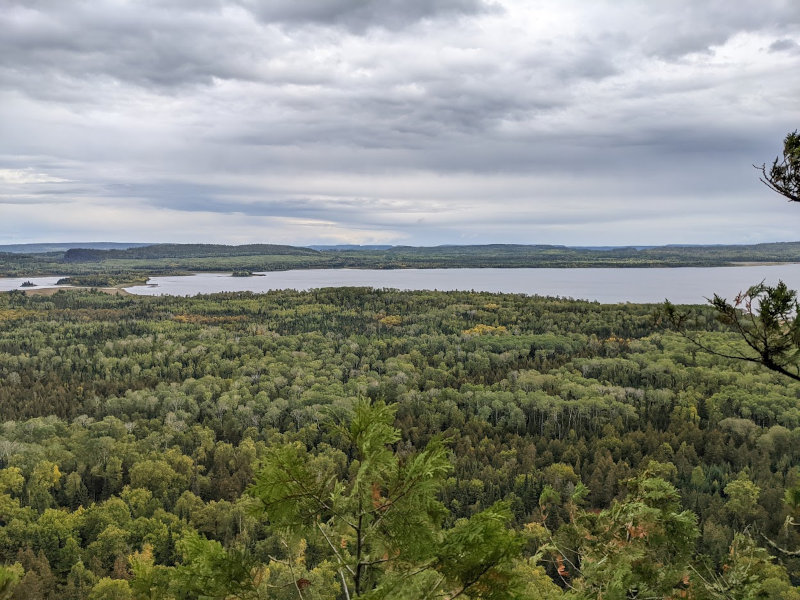 Our half-day hike was pretty uneventful. There were a couple overlooks, but maybe not vistas after so many beautiful views earlier. For the most part, we walked through forest all afternoon. The trail was very nice and clear of trees, being outside the wilderness, with one climb east of McFarland to get us up on a ridge for a couple miles. Dropping off the ridge, it was a virtually flat, easy hike along the Pigeon River (with Canada a few feet away), then the Stump River, ending at Portage Brook for the evening.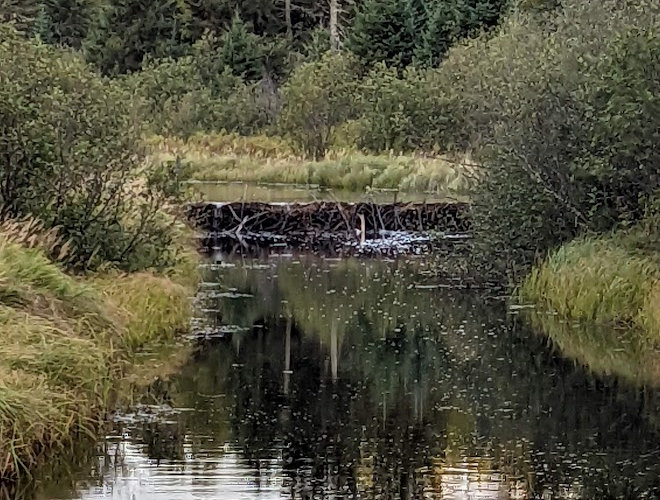 The Portage Brook had yet another beaver dam across it, but there was a separate bridge for us to use. We could have pushed another 5 miles to finish the BRT, but that would have had us putting up camp near dark, and we've got plenty of days left.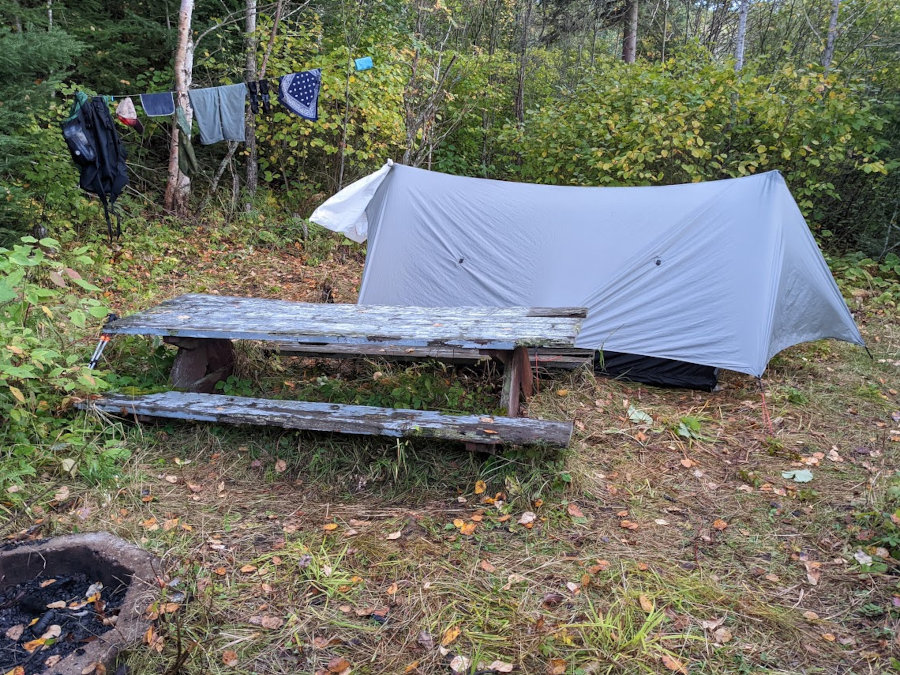 I think we found the least used campsite on the BRT at Portage Brook. It looks like an original picnic table (what's left of it), and no place for a tent. The rear end of our tent is actually right in the trail. But, it did have an old, solid, cement firering - I wonder how that got here. Once we were set up, the clouds did clear out some, so we had a nice sunset and got to dry out some soggy clothes.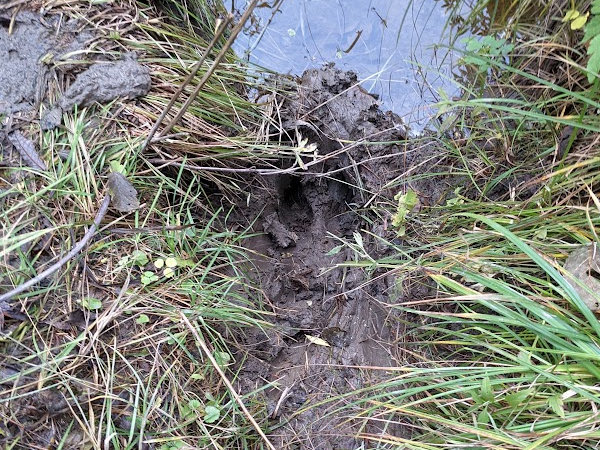 Just after dark, as we were in our tent, I heard a heavy animal walking towards our tent. Then, kind of a "Whoof" snorting noise. It sure sounded like paws and a bear noise to me. I hollered, "Hello!" and there was no sound. Figuring there's no way it's human now, I yelled, "Hey!" much louder and turned on my small light while I opened the door zipper. A rumbling of feet quickly turning and thundering back down the trail was the response. They sounded and felt very heavy, but still more like paws than hoofs.
I got out and started walking down the path. Less than 15 feet from our tent, I could see the ground churned up from the quick retreat, but couldn't see distinct tracks. So, back to bed to sleep peacefully until morning light.
Well, following the disturbed ground the 100 yards or so back to the Portage Brook crossing, this obvious track told us that it had actually been a moose. Poor guy probably walks this trail often and was like, "WTH?" when he came upon our tent right in his way. So, we did not see any moose on this trip, but we encountered one, I guess.
---
Mon - 09/26/2022
Day 6: BRT to SHT
From: Portage Brook To: East Terminus
Distance: 5 miles
Trail Time: 4:30 (7:45am to 12:15pm)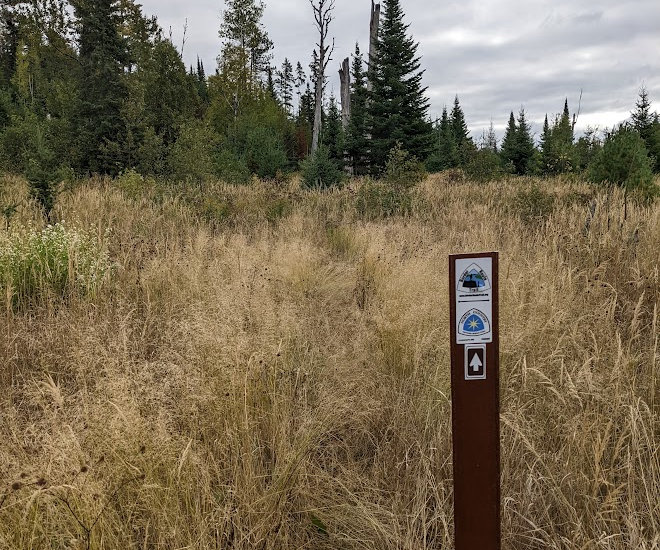 A quick 300 foot climb out of the Portage Brook valley onto yet another ridge for vistas started our day. Just after leaving camp, there were moose tracks down the middle of the trail for almost half a mile. I think he skirted around us last night and kept walking.
Once up on the ridge, we had a few vists out to Canada, but it was just a sea of green trees. The forest opened up to a large grass prairie for awhile which was a very nice change from the confines of towering trees.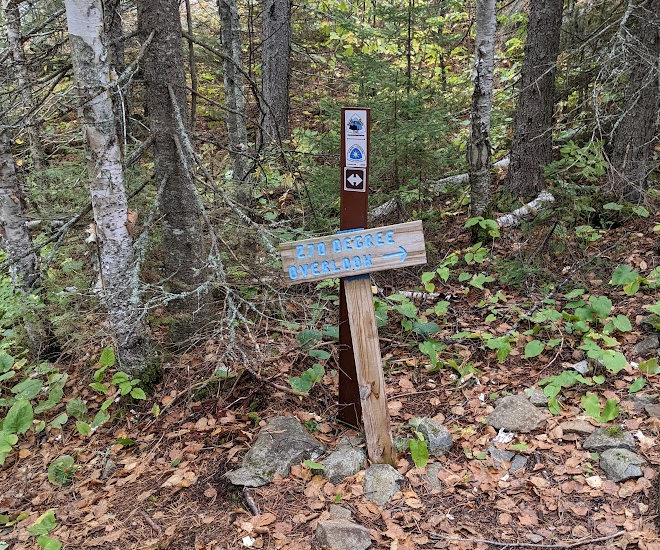 Our final short climb brought us to the final vista at 270 Overlook. For the next mile, hikers get credit for hiking on three trails at once - the Border Route Trail, Superior Hiking Trail, and North Country Trail.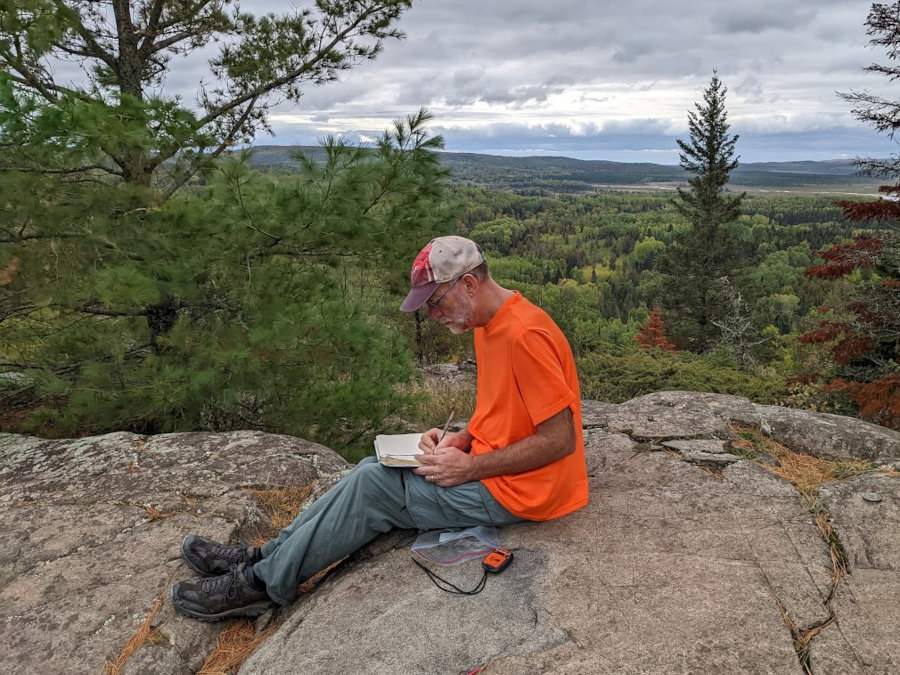 We took the trail registry and sat up on the rock expanse for a half hour or so having a snack and enjoying the overcast views. Typically, folks would hike the last mile down to Otter Lake Road and hope their shuttle finds them. That's what we did, but we are only half done with this adventure, with our SHT section still to come.
At the trailhead on the road, we met Goliath from Virginia who had just finished his NoBo SHT thru-hike and was waiting for a shuttle. It was nice to spend almost 30 minutes chatting with him before we took off to find the where the SHT peels off of the road somewhere aronud the corner. You can read all about it if you have some time to kill.
Hike On!
---
Back to Border Route Trail Info page.


Find more Hiking Resources at www.HikingDude.com
Follow Me