1000 Milers Post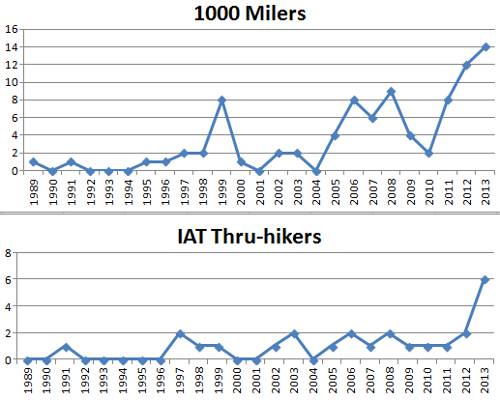 The Ice Age Trail Association (IATA) has posted the 2014 Thousand Miler Tribute booklet containing overviews from the 14 people that completed the trail over the past year. Read the
2013 1000-Milers
(1.1MB PDF) and see Papa Bear and I on pages 8, 9, and 16.
We are the #23 and #24 persons to thru-hike the Ice Age Trail, and #82 and #83 to complete the trail. 1,000 Milers includes folks that have segment hiked the trail and connecting routes since the first person in 1979.
The number of people completing the trail is steadily rising each year, in general. 2013 was the first year more than 2 people thru-hiked the IAT! Hopefully, it isn't just a spike like the 1000 Milers in 1999, but is an ongoing trend of more people enjoying this National Scenic Trail.
Hike On
Posted: 11:09 06-06-2014 1093


Find more Hiking Resources at www.HikingDude.com
Follow Me