Biking Not Hiking Post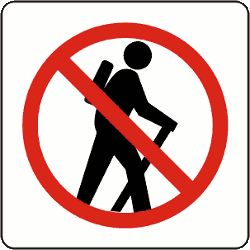 I believe that just because you take a photo doesn't mean you need to post it. Same goes with blogging. I've just been doing 5-mile morning walks with nothing interesting to report, so I've been quiet.
But, if you're interested in following a different sort of long trek, my son just started his cross-country bicycle trip from Boston to Seattle. He's using my tracking device so you can follow his progress at his
BikingDude.com
site (look familiar? :-) ). I know he'll appreciate comments as he encounters long, lonely days out there. I hope to join him for a few days when he makes it to the midwest - we'll see.
He won't start in earnest until Monday, but then the blips should really start stretching West.
In the meantime, I'm hoping to start a hiking guide writing project for a local publisher - waiting "patiently" to get the contract. :-)
I'm also preparing for a week-long backpacking trip in the Cloud Peak Wilderness in Wyoming the end of July. I'll be leading one of three groups of youth from our church heading out for adventure. After that, I'm hoping someone will want to thru-hike the Superior Hiking Trail with me the end of August. Holler if you're interested.
Posted: 12:38 05-13-2016 1275


Find more Hiking Resources at www.HikingDude.com
Follow Me