Green Belly Meal2Go Post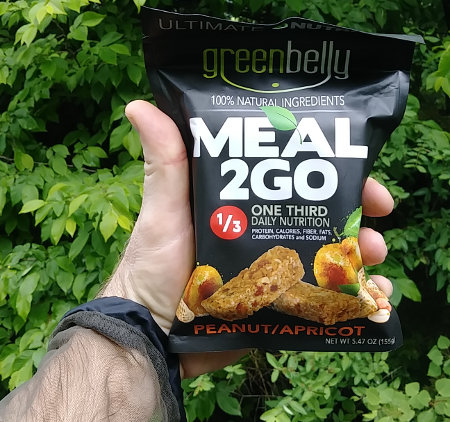 I've tried various nutrition bars for hiking energy, but they tend to be lacking in the taste department and get boring pretty quickly.
So, when Chris at
GreenBelly.co
sent me a few of his Meal2Go food bars to try, I didn't have high hopes. But, I'm always willing to try new things. Lucky for me this time.
Well, I ate 1/2 of a Peanut/Apricot bar (2 bars per pouch) about halfway through my 5-mile morning hike today. It was great! When I opened the resealable mylar pouch and took a whiff, it really smelled like fresh peanuts. The brown rice was crunchy and the tapioca syrup held the bar together, giving it a nice chewy feel. The taste was also very good, like dried fruit and nuts rather than sugar and dry flour. 3 hours later and I'm just now starting to get hungry again.
On my long backpacking treks, I'm leaning towards no-cook meals these days. I can see these Meal2Go bars being a great part of a backpacking meal plan. Eating a whole bar seems like too much to me. Since the pouches are resealable, I'd consider breaking the bars up and repackaging 1/2 a bar of each flavor into a pouch. That way, I'd get a variety of flavors while hiking through the day. They'd be a good on-trail snack for grazing as a replacement for trail mix or candy bars.
There are three flavor choices: Cranberry/Almond, Dark Chocolate/Banana, and Peanut/Apricot
The bars are 117 calories/oz in a good mix of fat, carbs, and protein. There are two bars in a pouch for 645 calories in 5.5 ounces. Each pouch itself is heavy-duty mylar with a resealable zip so they can be reused for storing other food that you open but don't finish.
I'm looking forward to trying the other flavors on more hikes soon. Find out more at
GreenBelly.co
and add some nutritious mix to your outdoors menus.
Hike On!
Posted: 12:24 05-30-2018 1449
---
Comments:
Jul 06, 2018 - Andrew Kain
Those bars sound really good, but they are super expensive...
How much does an avg meal cost on the trail for you hiking dude?
$7 seems a bit steep.
---
Jul 06, 2018 - Hiking Dude
@Andrew - On a long trek, I tend to average under $10/day for food. That includes food in towns which is much more $$$ than on the trail. I'm on the cheap side for trail food, going for high calories and not as much nutrition as I really should get.
That's why the expense of bars like these can be worth it - they are a good mix of nutrition, not just sugar. I plan to take some with me on my Superior Hiking Trail trek in a couple weeks with the hope that they give me the extra oomph to keep my speed up. We'll see.
Hike On!
---
---
Ask a Question
---


Find more Hiking Resources at www.HikingDude.com
Follow Me