Day 0: America to Africa Post
Over the next week, I'll be posting about my Trip to Africa to climb Mt. Kilimanjaro over 8 days and then experience the Tanzania for a week. My wife accompanied me, along with 20 other people, to climb the mountain so it was quite an operation!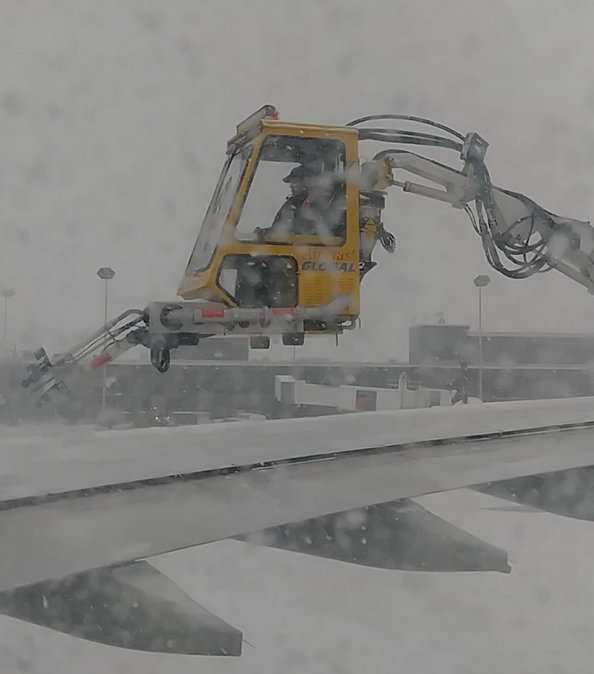 Travel to your destination is often the most expensive part of an adventure. The flight to Tanzania from Minnesota cost a lot of money and time. Our adventure started in the midst of a snowstorm, requiring de-icing of the plane. That was immediately followed by an engine problem resulting in a delay, followed by another round of de-icing. 3.5 hours after departure time, we finally pulled away from the gate. Once we were airborne, it wasn't too bad. Long flights are something of a time warp - an entire day is used up sitting, watching movies, and eating plastic food. 12 hours later, we arrived in the Netherlands.
After a quick sprint through the Amsterdam airport, another 8 hour flight got us to Kilimanjaro airport, 9 timezones in the future. The owner of our safari company and our lead climbing guide met us after fighting and clawing our way through the tangled mess of Tanzania immigration. Get your visa BEFORE your trip to avoid a LONG wait on arrival. Just like at Disney World, go as far to the left as you can in this mass of humanity that just arrived to press ahead as much as possible.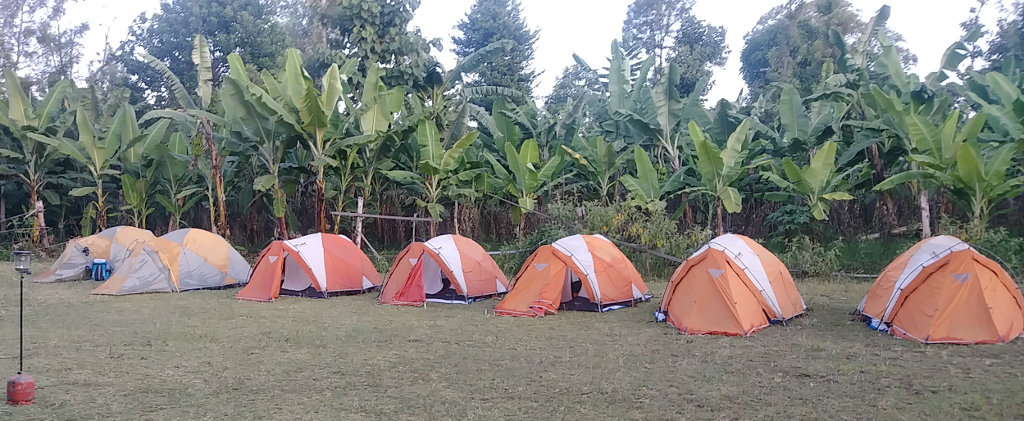 Reaching our first night's camp around 11pm, via a long, bumpy bus ride, we all just claimed tents and crashed until morning. It was nice being out in fresh, cool air with no bugs and unfamiliar stars across the sky. With the morning light, we could see that we really were in Africa - banana, acacia, and mango trees, intense sun, and a far-off glimpse of Kili.
This day was set aside to rest, explore the village, check gear, and meet our guides. I needed the day to start getting used to being pampered. Since I carry all my own gear and food on my long hikes, I knew there would be two challenges for me this time:
Having porters carry all my gear, food, tent, everything I didn't need for a day hike
Walking very, very slowly day after day due to elevation and size of our group
Expecting these things made it easier to deal with them.
The company we're using is Tanzania Choice Safaris - a Tanzania-owned family company. Kakasii and Brenda Kimaro run the company and employ many local guides, cooks, and porters to handle a successful Kilimanjaro trek. On Facebook at TCS. It quickly became clear that TCS was a good choice and they did a wonderful job throughout the entire trek.
Now that we're settled in and two sets of lost luggage finally made it from Amsterdam, we'll start the actual hiking tomorrow.
Posted: 16:20 02-25-2019 1466


Find more Hiking Resources at www.HikingDude.com
Follow Me