2021 Wyoming Adventure Post
Last you heard from me, I was done with our short Cloud Peak warm-up 2-night hike and just getting ready for my first horse ride in 12 years. I survived and made it home, so I can finally share the highlights!
Here's the 3-part map of this little adventure. Cloud Peak in the upper-right, then a 5-hour drive to Pinedale on the left, and Cirque of the Towers at the bottom.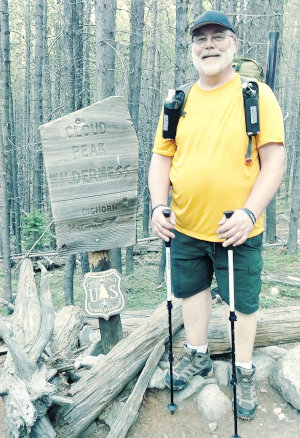 The steep and rocky hike into Cloud Peak was short but strenuous. My brother made it, and even managed a couple smiles along the way. We had nice weather while here, but the wildfire smoke was in the air from horizon to horizon.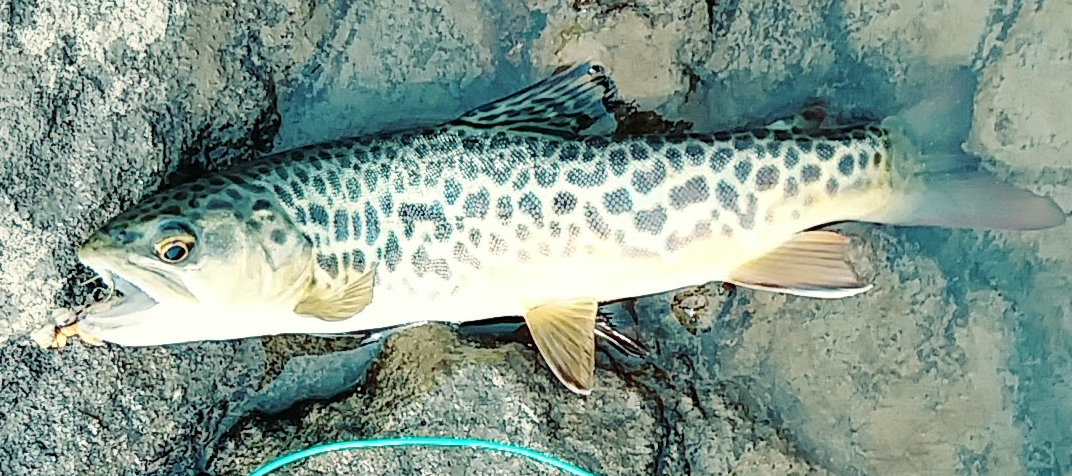 I did some research and found out that I did catch a few Tiger Trout in Long Lake. This beautiful fish is a sterile hybrid created by crossing a female brown trout with a male brook trout. They are created at WY's Story Hatchery and then stocked in a few dozen WY waters as well as other states.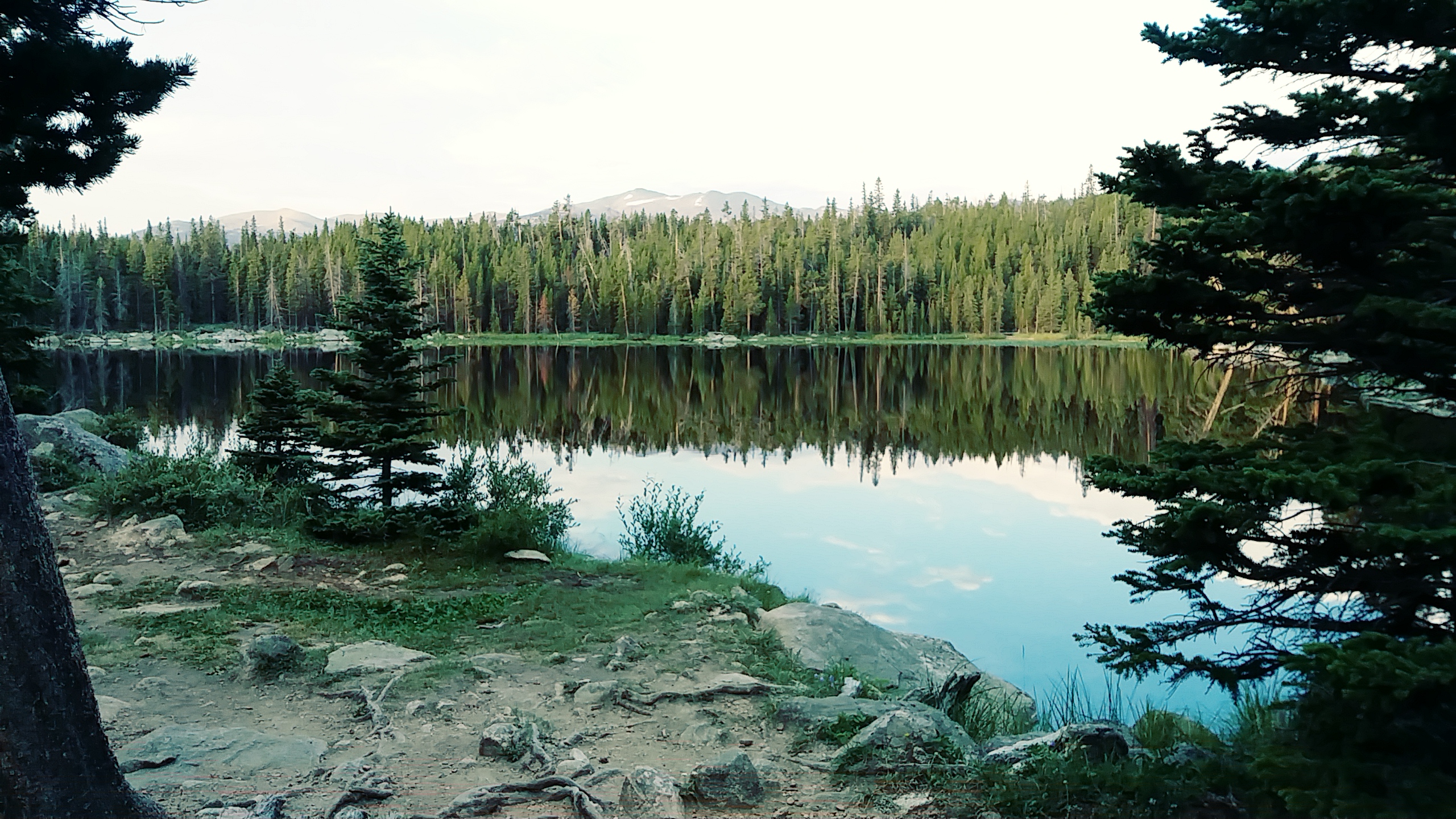 We camped two nights off the trail in the woods near Sherd Lake. Sherd was not productive at all, but our day hike to Long Lake and Ringbone Lake produced dozens of fish, mostly out of Long Lake. Also, Oliver Creek was full of brook trout that weren't picky about what they ate.
A 5-hour drive got us to Pinedale on the west side of the Wind River range. We were a day early, so we got a hotel room and had a whole day to relax. A dozen guys from across the country would all arrive over the next day. We packed our gear into duffels and delivered them to the outfitter for mules to carry in for us the next morning.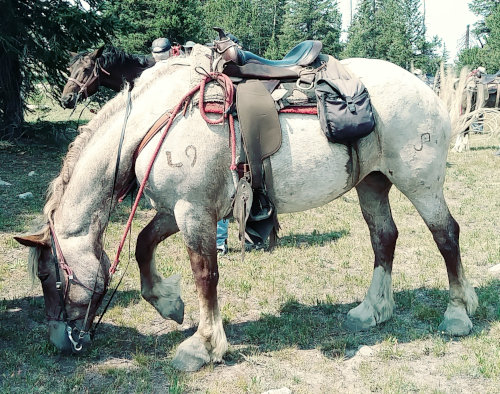 I got to spend my 5-hour trail ride on Rosie. She did a great job and didn't get up to much mischief, except she liked to brush up against trees a lot. Probably hoping to knock me off her back.
The ride was a fun experience, but got a bit tedious after a few hours. It is sure a lot faster and easier than hiking, especially going uphill. The horses just keep moving along at a steady pace all day.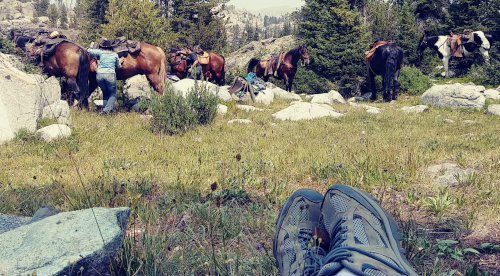 When we arrived at our camp location, the outfitters unpacked all our gear, hopped back on their horses, and we were on our own in the wilderness for the next four days. The left us at a spot they called 'Dead Fred' because their story was that one of their horses named Fred had died there a few years ago. He was trying to keep up with some mules and had an accident, breaking his neck or something. Anyway, it was a beautiful spot just off of Pole Creek and within 2 miles of six fishable lakes.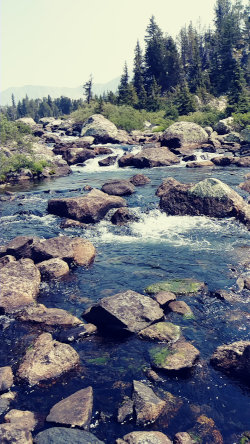 The first day, we fished Pole Creek and caught many brookies along the mile or so section. It's a wonderful creek with many small rapids and pools with aggressive fish. I used a foam black ant dry fly that worked all day.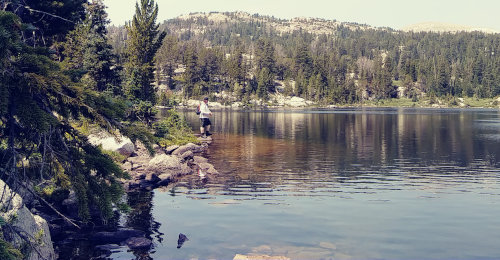 The second day, we hiked a bit over a mile to a nonamed lake right on the Continental Divide Trail. I caught two lake trout on spinners right away and then caught many brook trout on flies and spinners the rest of the day. The lake trout were deep and did not fight, but the brook trout put up a good fight. We fished the entire perimeter of the lake and climbed over a ridge to fish two other lakes which yielded a few fish each. On the way out, we tried a small but deep overflow lake. It was full of fish.
I hooked what felt like a small fighting brook trout, but then it suddenly stopped fighting and was just heavy like a log. I gradually reeled it in until I could barely make out the form of a very large fish body. Then, that fish swam away and I easily reeled the small trout in. I believe it was a lake trout that bit the small brookie in distress that was on my hook - but I guess I'll never know for sure.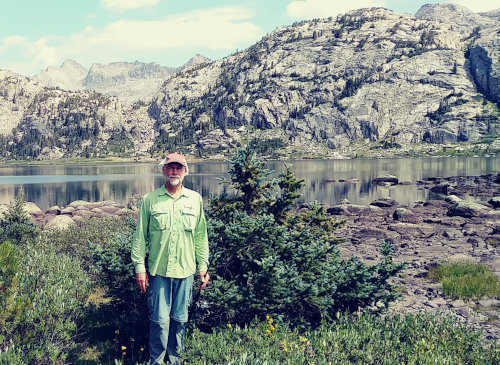 The third day, we hiked up to the two main Cook Lakes. These were big and deep with no surface activity, so I stuck to spinners. We made a large loop hike, catching a fish or two at every spot we tried. One large brookie took a hook too deep, so we carried it back to camp and shared it with the others at dinner. All the other fish were successfully released on this trip.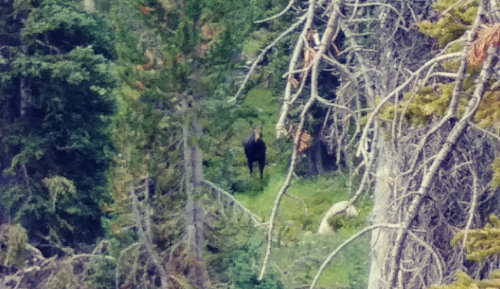 On our last day, the outfitter was scheduled to arrive between noon and 2pm. I had originally planned to hike south on the CDT to meet my next adventure buddies, but the forecast is for rain the next three days. So, I changed my route and hiked out to the trailhead and get a ride with my brother around the range to Lander. I packed up and started hiking around 9:30am, not knowing how bad the trail would be.
Along the trail, I like to think I'm pretty good at keeping my eyes and ears open. I noticed this moose off to the side as I walked by and we just watched each other for about a minute and then went about our business. Other than him, the only other wildlife was chipmunks, squirrels, and a couple deer.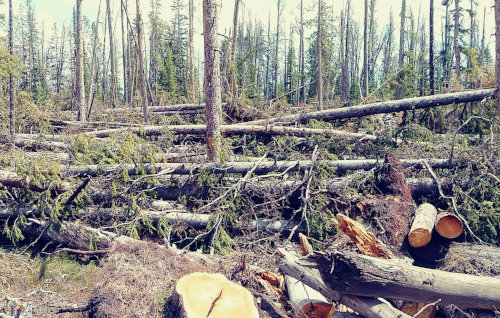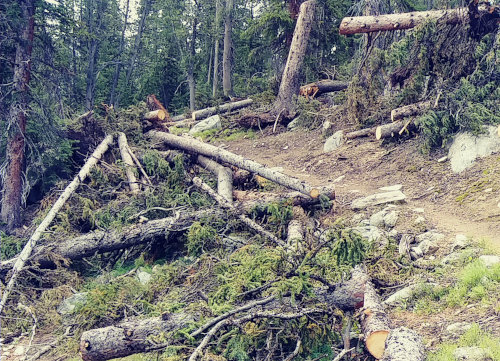 The most remote 2 miles of trail were still impacted by blowdowns from last year. On Labor Day, 2020, a huge windstorm swept through the Wind River Range, knocking over thousands of trees and many of them aimed right for the closest trail passing by. People had a rough time getting out of the wilds for awhile as the roads and then trails were cleared. The lowest 9 miles, as you can see, has all been cleared. A huge effort, especially considering all the cutting inside the wilderness area is done with non-powered saws.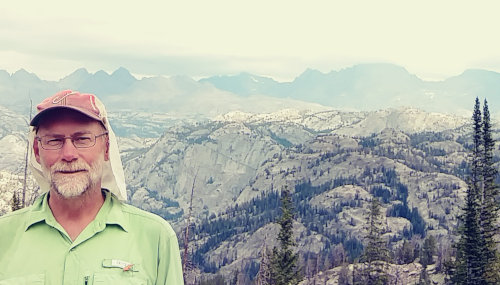 Only about 4.5 miles in from the trailhead, there is a wonderful overlook called Photographer's Point for good reason. It is a spectacular view to the north of Titcomb Basin. Gannett Peak is Wyoming's tallest and is just beyond those three peaks above my left ear.

At the trailhead, I got to relax for a couple hours as the horses sauntered out of the mountains. I actually made it out in less time than the horses! Then, we spent the night at a rented lodge to wash up and share stories before heading out.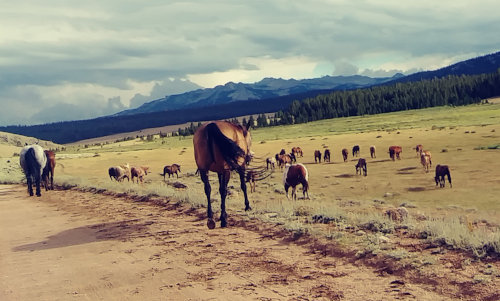 A drive south past Big Sandy trailhead and around the range to Lander on the east side got me in contact with my three friends, and sent my brother on his solo drive back to Wisconsin. We each purchased the required permits to cross the Wind River Reservation on a dirt road to get to the Dickinson trailhead and campground, and then headed up the 35 mile drive which takes 90 minutes - actually the last 17 miles takes 75 minutes, it's treacherous. A herd of outfitter horses welcomed us to the campground and we settled in for the night.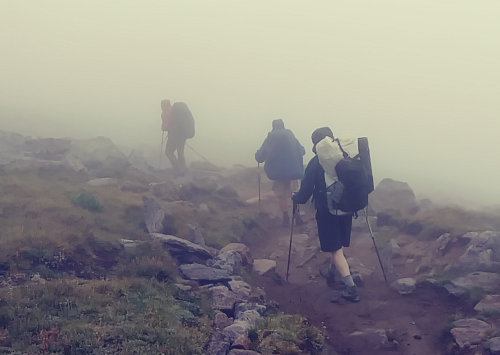 A night at the campground included a little rain and ominous clouds to start our morning hike up, up, up from 9400 feet to 11960 on the shoulder of Mt. Chevaut. The temperature was great except a bit too chilly for the top couple miles. The views were much like this until we reached the top and the clouds lifted a bit. On our way down the other side towards Valentine Lake, we saw a horse train following us, most likely with clients looking for a camping spot.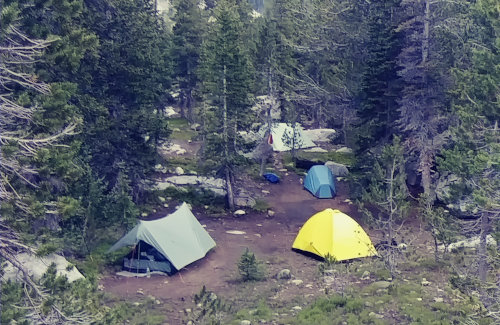 The first day's hike was pretty strenuous, so we were happy to arrive at the lake before the horses and find a great spot. When the horses came past, it was pretty evident they were intending to use this spot - whew!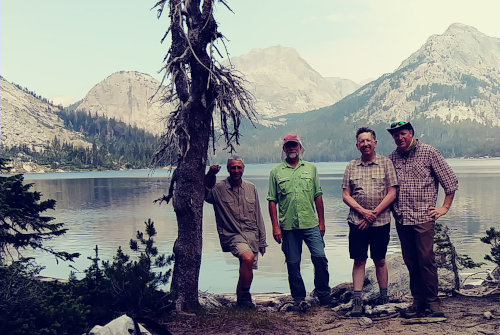 Our original plan was to do a 15 mile loop over Washakie Pass and Hailey Pass. After the first day's hike, we shortened that to 12 miles and followed the South Fork of the Little Wind River to Graves Lake, then east to Moss Lake and Dutch Oven Lake. It was a good choice. The hike was wonderful and challenging over beautiful, rough terrain. The fishing was great, too. Gaves Lake has a surprise for anyone that ventures there - a long sandy beach and crystal clear water.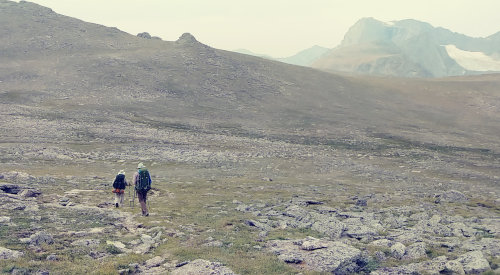 The next morning when we had to retrace our route for 3 miles so we could head south to the Cirque of the Towers. It was fine, but going over the same trail isn't too exciting. When we climbed back up to 11,000 feet, we were gifted with a long, fairly flat walk across a couple miles of tundra plateau. It was very cool and I was thankful that the weather was perfect - lightning up here would be concerning.


After traversing the plateau, we took a very nice, long rest break high on the steep hillside overlooking Lizard Head Meadows, Lizard Head (to the right), and the Cirque of the Towers in the distance. It was just a wonderful place to sit back and soak in the wilderness.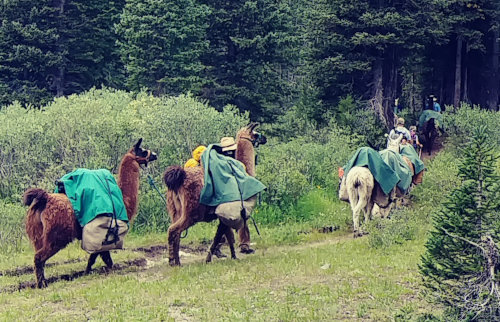 Again, we found a great campsite in the trees and set up. In the early evening, a llama train walked past. I did a little fishing and there were a few sprinkles of rain.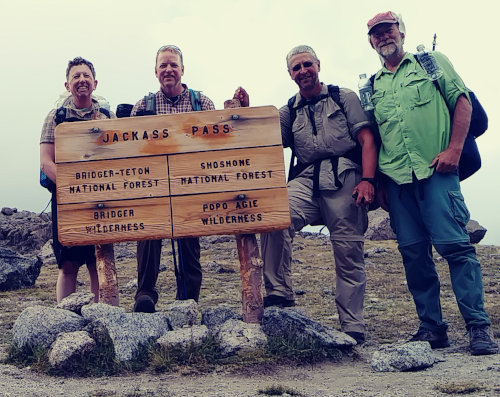 Our fourth day of hiking had us climb out of the Cirque over Jackass Pass and the Continental Divide. On the way up the climb, we crossed paths with a spread out group of macaroons with 8 or 9 dogs off leash and completely unwilling to take responsibility of controlling their animals. Another hiker that had his dog on a leash just ahead of us had three separate instances of their dogs attacking his dog. It was the worst behavior I recall ever experiencing on trail.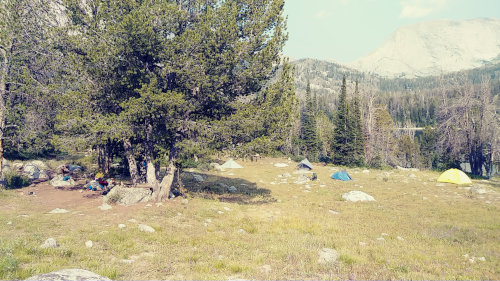 The hike was great and dropping into the Big Sandy drainage put us in our fourth basin. As expected, there were dozens and dozens of people on the trail and camping around the area. For one last time, we managed to locate a splendid spot to call home another couple nights. We did get hit with a short, intense rain, but everything dried out just fine.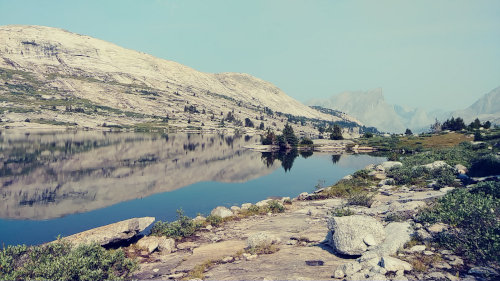 For our last full day, we did a loop hike up through Clear, Deep, Temple, Miller, and Rapid lakes. It took all day, stopping to fish at each one, and we caught fish every place we stopped. The weather was perfect all day long and we saw only a couple other people.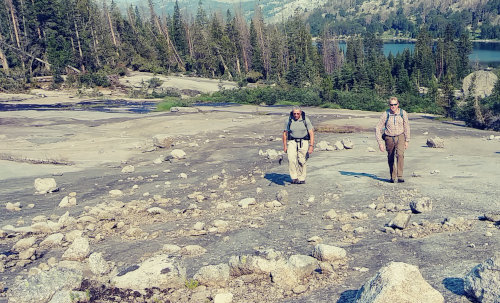 The most wonderful nature part of this trip, in my mind, was the hike between Clear Lake and Deep Lake. The path followed occasional cairns over solid bedrock for a half mile or so. The stream itself just ran over the rock with no real path cut into it yet. Hikers are pretty much free to map their own way up the broad, smooth rock face. Very cool!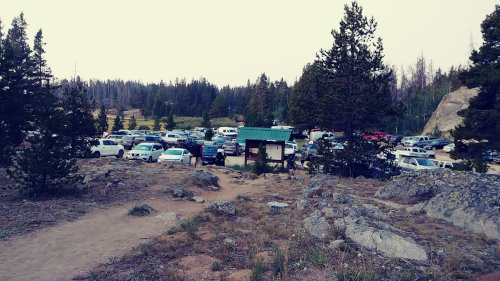 Our last day was a nice, lesisurely 7 mile hike down the Big Sandy valley to the extremely popular trailhead. The trail was cleared of hundreds of down trees, the tread was well used, the weather was most excellent, and it was almost all downhill. A great way to end our trek, passing over 60 people heading up into the mountains. Finally, after six days in the mountains, covering about 55 miles, we saw a moose! - walking through the trailhead parking lot packed with almost 200 cars. Imagine that!
We met our shuttle back to Lander, retrieved the vehicle from the Dickinson trailhead, and drove through the night to reach home around 7am. I got the midnight to 3am driving shift - an hour rain storm and two 12-mile construction zones made it a bit more exciting.
If you fish in Wyoming mountains, I would highly recommend using 'Little Jake' spinners or any terrestrial dry fly, such as grasshopper or ant. I wore out three flies and only lost one in a pine tree. I'd also recommend you remove hook barbs to reduce injury to the dozens of fish you'll catch and release.
Posted: 4:32 08-12-2021 1577
---
All Comments:
Aug 27, 2021 - Sam
Wow! That is a great place to hike and catch fish.
---
---
Ask a Question
---


Find more Hiking Resources at www.HikingDude.com
Follow Me