Rest Stops Post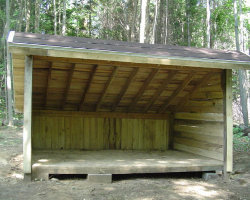 Most of the Arizona Trail takes hikers through wilderness where you can camp anyplace you wanted within 15 feet of the trail. The Superior Hiking Trail has designated campsites every few miles. Unfortunately, much of the Ice Age Trail route is through populated areas and private land. It's not proper to just drop your tent in someone's backyard or even on their back 40 acres.
Consequently, a fairly big challenge of thru-hiking the Ice Age Trail is finding places to camp for the night. The Ice Age Trail Association is working hard to create "Distributed Camping Areas" (DCAs) along the trail specifically for long-distance hikers. These DCAs are just open spaces where hikers can
legally
set up a tent - usually no water or facilities. There are only a handful of DCAs at this time, so what does a hiker do?
The IATA has some great volunteers and they've compiled a list of Trail Friends - folks that may be willing to have hikers camp on their property. I figure these wonderful people probably get asked for help often, so I've held off on contacting them. I'll call on them when it gets critical.
Instead, I've emailed Boy Scout troops and packs across Wisconsin that are in towns along the trail route. The last couple days have been great because I've received replies back from a few Scouters that have space for me to spend a night! I'm now down to less than 6 nights where I'm not sure what we'll do for camping.
I've also asked a couple friends about a stopover. If you know of anyone along the Ice Age Trail route in Wisconsin that wouldn't mind having a couple old guys crash in their yard, or hunting land, or wherever, please tell them to contact me. It would be greatly appreciated.
Hike On
Posted: 8:32 07-26-2013 968


Find more Hiking Resources at www.HikingDude.com
Follow Me