Nearly FREE Stickers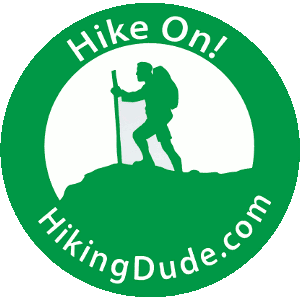 The stickers are 3 inches in diameter.
I'd love to get a photo of you and your sticker out on the trail someplace - I'll post it online with all the rest.
You can order either 1 or 2 stickers for $1.00 - that covers the envelope, USA postage, and paypal fees. I'm sorry I can't mail them to you for free.
But, if you order some Hiking Dude Handwarmers, I'll add a couple free stickers!
The stickers will be mailed to the address you give to PayPal.com
International orders have much higher postage, so Email Me for the cost.
---
All Comments:
Nov 04, 2015 - dan
Enjoy reading your monthly email and especially appreciated the blog on section hiking the AT.

Do you post on other forums about your hiking experiences...Appalachian Trail Cafe.net, Trail Journals, etc?

As I don't have a PayPal account...I know a couple of folks with issues with these folks, can you send an address and I will send you the funds for two of your stickers?

Cheers,

Dan
Tahoe Rim Trail '13
Colorado Trail East to West '14



---
Oct 19, 2017 - Brent Jones
Love the sticker.... thanks a lot
---
---
Ask a Question
---


Find more Hiking Resources at www.HikingDude.com
Follow Me