Backpacker Pucks Review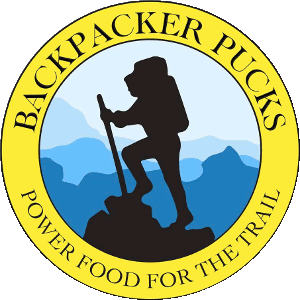 Matt at Backpacker Pucks sent me a 5-puck sample to to test and review. The value of the product is about $12 and I received no other payment for this review.
Are you wondering what a backpacker needs with a PUCK? If you follow hockey at all, you know what a Puck is. These Backpacker Pucks look a lot like hockey pucks, and I get a kick out of the appropriate name! They are dense, nutritious, non-cook, trail food made in Kansas.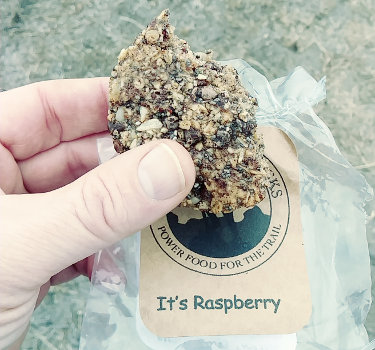 What's Desired in a Trail Snack
I'll eat pretty much anything that gives me energy while hiking long trails. A lot of calories are needed to fuel the body to walk hundreds of miles. All those calories add up to a lot of weight and a lot of volume in my pack. So, I'm always looking for food that is:
High calories - many calories in each ounce so I have a lighter pack
Dense - many calories in a small space so I can fit more in my pack
Tasty - no matter what the food is, if it doesn't taste good, it's no fun to eat
Nutritious - besides calories, my body needs fiber, vitamins, and other essential nutrition
Rugged - food takes a beating in my pack and after a few days some things are just crumbs
For example, cotton candy meets the High Calorie and Tasty needs, but not the Density or Nutritious needs.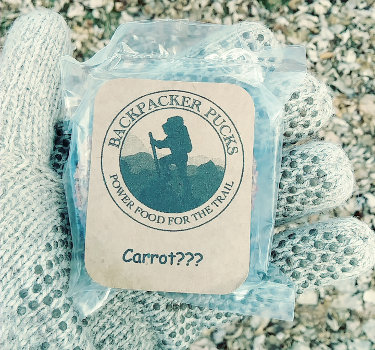 What I Think of the Backpacker Pucks
Short Story:
They are very good! Good taste, calorie dense, and simple ingredients. I could eat a couple every day for months on end.
Full Story:
There's a nice selection of puck flavors to choose from: Chocolate Cherry, Chocolate Banana, Raspberry, Apple Spice, and Carrot. That is the order of my preference after trying each of them. They all tasted good, but I like chocolate. :-)
I took one puck on each of my daily 5 to 6 mile hikes this past week and shared them with my wife, and with a friend, to get their feedback. Their preferences were similar to mine, with Carrot being least favorite, but some liked Raspberry best. Splitting one puck between two people is a very nice snack that kept us feeling satisfied for quite awhile. By myself on trail, I would eat bits of a puck while hiking rather than consuming one all at once, to keep me fueled for longer.
Rolled oats and honey are the base ingredients for all the pucks. They also all contain chia seed, flaxseed meal, and some nut butter, such as almond, sunflower, or peanut. For more natural fat calories and texture, you'll find almonds, walnuts, or sunflower seeds in each puck, too. All the flavors also have quite a big dose of spice, either cinnamon or pumpkin pie. They contain no fillers, artificial flavors, or processed sugar.
Things I like about the pucks:
Made in USA - they aren't imported so you are supporting an American business and cutting down on international transportation impacts
Small business - every purchase is important
Minimal packaging - no excess to carry and throw away, just a sealed plastic wrap on each puck
Long Storage - they have at least a one year shelf life
Things I don't like:

Really, only one thing - the price, and that's because I'm pretty cheap. :-) At $2.50/puck, the $/cal is on par with KIND Bars so it's not all that bad. If you order more than 13 pucks, you can get a 20% discount which brings the price down around the Lara Bar area. And, I think the Backpacker Pucks taste much better than KIND, Clif, or Lara bars.
This $/cal is still higher than Snickers or Peanut M&Ms, but the nutritional value is waaaay above the candy area so it's not really a comparison there.
A Bit about the Backpacker Puck company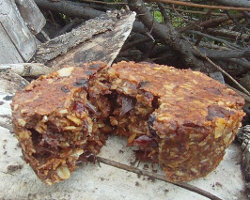 Matt started in 2013 and the evolution of his endeavor is kind of fun to see on the
Backpacker Pucks
facebook page, from the first post with the above image, through a new logo, additional flavors, and expanding his market.
It's refreshing to run into someone making the valiant attempt to turn a passion into a business. That takes commitment, perseverance, and vision on top of a needed idea.
The company is based in Olathe, Kansas. They buy all their ingredients locally, so you're getting Kansas honey in those pucks.
For something new to try on your next trek, trip, hike, or walk, go order some Pucks off of BackpackerPucks.com.
Backpacker Pucks


Find more Hiking Resources at www.HikingDude.com
Follow Me