Pacific Northwest Hike Post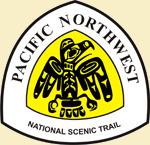 My Pacific Northwest Trail hike starts July 13.
Taking the Amtrak to Glacier National Park with my son, Josh - arriving the evening of 7/13 (if the train is on time). After camping overnight, we'll get our backcountry permits first thing in the morning, take a shuttle up the Going to the Sun road, and start hiking. About 65 days later, we hope to reach Cape Alava on the Pacific coast of Washington. Cape Alava is the westernmost point of the 48, and the western terminus of the PNT.
We welcome you to follow along in whatever way works for you:
HikingDude.com - There will be a post at the end of each day, recalling the recent adventure - includes a real-time map of our progress.
Instagram - photos of the coolest stuff will show up here.
Facebook - announcements of blog posts show up here if that is more convenient for you.
We'd love to have you follow, like, share, or comment. Whenever you leave a comment, it makes the long days on trail more fun - really! If you know someone along the
trail map
, tell them we're coming because it's a huge treat to actually meet someone. There aren't a lot of towns along the way, so this trail is very isolated.
Also, I've got Hiking Dude stickers along to give out to folks we meet, to be stuck on water bottles, bumpers, whatever.
Our general plan is to hit Bonners Ferry, ID in 2 weeks and take a week off. I've been asked to present Dutch Oven Cooking at a
Lutherhaven Weekend
for ladies, and Josh will do volunteer staff work at Lutherhaven. So, we'll spend July 28-Aug 4 in the Coeur d'Alene area.
After that, it's just feet to the ground across Washington, trying to not get lost, eaten, or dehydrated for another 900 miles.
Hike On!
Posted: 16:48 07-09-2017 1336


Find more Hiking Resources at www.HikingDude.com
Follow Me