Pacific Northwest Trail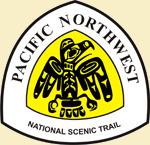 My Pacific Northwest Trail Hike
I hope to hike the Pacific Northwest Trail in an upcoming late summer. It runs through the region in which I grew up, so it would be interesting to hike through that country again.
---
Pacific Northwest Trail Statistics
States
Washington, Idaho, Montana
Distance
1200 miles -
When I complete the trail, I'll let you know how many steps it took me since I'll wear a pedometer the distance.
Total Elevation
The total cumulative elevation climbed is undocumented at this time.
Terminus
East: Glacier National Park, MT
West: Cape Alava, WA
Highest Point
Tuchuck Mountain, MT - 7751ft
Lowest Point
Pacific Ocean, Cape Alava, WA - 0ft
Map


Click for Large Map

Terrain
It's all downhill from the Continental Divide to the Pacific. :-)
The trail traverses high alpine mountains, coastal rain forests, and great pine forests over a route that receives light traffic in most sections.
The trail is not blazed like the AT or PCT and advanced navigation skills are required.
History
Conceived in 1970 by Ron Strickland.
Established as a National Scenic Trail in 2009.
First thru-hiked by 5 people in 1977.
Challenges
The Pacific Northwest is notorious for grey, dreary, drizzly weather. Possibly long stretches of rain, especially towards end of summer.
Navigation through unmarked wild lands, not just following white, blue, or yellow blazes day after day.
Grizzlies and wolves on eastern third of trail.

Time Window
June through November. Leaving too early heading west and the Montana snow will hamper progress. July and August are typically the best months for weather and bugs in the Northwest forests and on the Olympic peninsula.
Time to Hike
Typically takes 6 to 10 to weeks.
Permits
Thru-hiker Tally
Under 100.
---
Trail Links
Land Managers and Partners of the Pacific Northwest Trail
---
Comments:
May 04, 2013 - Harly Drum
Good luck and have fun. I have my PNT journal from 2005 posted on my blog. www.nwhikingblog.com
---
Mar 19, 2016 - Reed
Land Managers and Partners of the Pacific Northwest Trail include the non-profit Pacific Northwest Trail Association - pnt.org
---
---
Ask a Question
Bike
---


Find more Hiking Resources at www.HikingDude.com
Follow Me