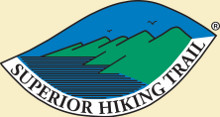 My Superior Hiking Trail Hike



I hiked the Superior Hiking Trail from September 15 to September 28, 2012.
I took 542,861 steps to travel about 251 miles.


Journal Photos Map Gear Food Expenses Supporters Stats



My Gear
My pack weighed 18 to 26 pounds, depending on how much water and food I had packed. I wore about 4 pounds of clothes and shoes.

Item
Ounces
Cost
Notes
G4 backpack
16
$40
made myself from pattern.
Comfortable, light, and plenty of room for all my gear.
Sleeping
shelter
26
$75
silnylon shelter I made, including stakes, lines, and groundsheet. Did not repel rain as expected, but otherwise has been great. I'll need to replace this before my next long trek.
sleeping quilt
40
$105
made myself from pattern. Really looking forward to sleeping in this again.
Exped Synmat 7 UL Pad
16.2
$155
comfortable, warm, light mattress for restful nights.
Exped Schnozzel Pumpbag
2.0
$25.00
Fills pad quickly with dry cold air instead of hot moist breath. Serves as inflatable pillow and storage in pack for night clothes.
Cooking
Snow Peak LiteMax stove
2.0
$45
Since this is a short trek, I'm using a canister stove instead of alcohol.
Giga Power fuel
7.0
$5
I'll only need to take one canister and it will get lighter every day. 4oz. fuel and 3oz. canister.
cook kit
5.8
$25
includes spoon, pot, foil lid, stand, windscreen, and lighter.
food cozy
.8
insulates food package while the hot water is heating it up. Saves fuel and works super.
food
0-8lb.
I'll carry 5 days of food at the most and have 2 food caches along the trail.
Water
water filter
4.2
$51.70
Sawyer filter. Using 1L dirty water bag since 2L bag leaks now. 2nd bag leaked too, so now I'm down to .5L bag and will need to purchase new ones.
water bottles
1.2
two .6L throw-out bottles - cheap, easy, light.
water bag
.9
$8
1L Platypus roll-up, just for backup.
water
1-4lb.
water is plentiful, so no need to carry much. 2.2lb/L
Clothes
down coat
21
$120
my only down item and I love it.
BSA wicking t-shirt
11.2
$20
light, synthetic - 2 shirts
arm warmers
3.8
$9
made from kneelength socks for chilly evenings and mornings, instead of long-sleeve shirt
gaiters
1.5
$19
Dirty Girl gaiters. Didn't need them this time, just extra weight.
BSA zip-off pants
17.2
light and sturdy
BSA socks
5.7
3pr. hiking socks
shoes
32.5
$60
New Balance 606 - heavier than my previous two pair :-( but they are comfortable so far :-)
underwear
4.2
2pr.
BSA hat
3.5
baseball style
bandanna
1.0
long underwear
12.4
top & bottom - did not use bottoms at all
Electronics
cellphone
4.3
borrowed, for daily blogs and pics.
camera
5.4
old digital SONY. forgot battery so only had cellphone pics half of trip.
tracker
5.1
pings to satellite with my location.
Other
pedometer
.6
$25
track my steps, just for fun
rain poncho
3.4
$4
cheap disposable to cover me and pack from rain - taking 2. Used 3 days just fine.
maps
2
$2.50
poor set of 5 maps for entire trail. It's well-marked and maps aren't needed.
1st aid kit
2.3
not used
pad repair kit
.4
not used
compass
1.1
not used
knife
1.1
tiny, single blade. not used
toothbrush
1.3
includes paste
ear plugs
0
not used
50ft. core
1.5
hanging food to protect from animals
toilet kit
2.8
TP, Purell - campsites have pit toilets so no trowel
trek poles
19.4
$30
The tips are shot after AZT and SHT, but I'll get another few hundred miles from them. Use to support shelter also.
headlamp
.5
$11
Awesome photon light, with spare batteries. One set of batteries lasted entire trip.
Stick Pic
.4
self-pictures and videos
misc.
2.8
2 garbage bags, whistle, clippers, thermometer
Total
18.5lbs
4lbs worn, not in pack
14.5lb pack weight
2 to 10lb food & water
17 to 27lb - total weight

My Food
My daily menu was:

Breakfast: 2 poptarts - 400 calories
Snacks: granola, raisins, sunflower kernels, 2 Snickers - 1000 calories
Dinner: Knorr noodles, salmon or tuna or chicken pouch, 1 oz. olive oil - 700 calories
Drink: mostly water, gatorade - 100 calories
Daily vitamin

That is about 2200 calories/day. I had peanut butter and honey and crackers also, but I was just not very hungry on this trip. I didn't walk many miles each day for the first week since I was with other people and then my hiking hunger didn't get a chance to kick in before I finished.
I lost about 5 pounds over the two weeks.
My Expenses
The total trip cost. Towns are VERY expensive with hotels and restaurants so avoiding them helps keep costs down. Since this trail was so short, the travel to trail costs are high per mile of trail.

gas for drive to trail and back - $140
gear - $130 - shoes, shirt, pumpbag
SHTA membership and maps - $42
food - $80
state park camping - $20 (1 nite, ouch!)
Grand Marais hotel - $44
gift for Duluth house - $22
Duluth food - $18
misc - $6
Total - $500 - about $2/mile
$1.50/mile without gear.

You Asked
questions you asked about my hike. Got one? - Ask It



---




Superior Hiking Trail Statistics

States
Minnesota
Distance
310 miles - the trail is complete except for 20 miles by Duluth which is closed. There was extensive flooding in spring of 2012 so about 12 miles of trail by Duluth is closed. So, I ended my hike at the Normanna Road trailhead which completes the northern portion of the SHT at 250 miles. I plan to hike from Normanna Road to Jay Cooke State Park next October when the trail is finished and open.
Total Elevation
around 20,000feet. It's a fairly short trail with not a lot of high points, but lots of 100-500foot ups and downs.
Terminus
North: Otter Lake Road by Canadian border
South: Jay Cooke State Park
Highest Point
Rosebush Ridge, 1829ft
Lowest Point
Lake Superior, 602ft
Map


Click for Large Map

Terrain
There are no high elevations or long, steep climbs, but the trail follows the ins and outs and ups and downs of creeks running from the ridge into Lake Superior. This makes the trail fairly rugged and inclined much of the time.
Extensive erosion due to no use of switchbacks has made much of the trail exposed roots and rocks so it's a tough tread.
The trail is marked with blue blazes and prolific signage. It is a highly used trail with about 90 established campsites along its length. These sites must be used, but in the Superior National Forest dispersed camping is legal.
History
Started in mid-1980s. Superior Hiking Trail Association started in 1986.
First thru-hiked by Paul Hlina in 1995.
Challenges
Bears, wolves, moose, and other animals may be encountered.
Sudden weather changes due to proximity to Lake Superior.
Time Window
April through October. Summer has humidity, mosquitos, and black flies. Late August through September are the best bet with October bringing cold and rain season.
Time to Hike
Typically takes 2 to 4 weeks. Speed record is 4 days set by Erik Kaitala in 2005, but that was when there was only 205 miles of trail.
Permits
There are no fees or permits required to hike the Superior Hiking Trail.
Thru-hiker Tally
No Idea. No records kept.



---




Trail Links

Agencies
Superior Hiking Trail Association
---
Comments:
Sep 12, 2012 - Laura Sheffield
What is the greatest pleasure of this trail? and What would have made your trip even better?
---
Sep 13, 2012 - Hiking Dude
Laura - I leave tomorrow so I'll answer your questions in two weeks when I'm back home. :-)
---
Sep 16, 2012 - Bryan Ebert
Can't wait to meet up with you on Thursday, looking forward to hiking with you for a couple of days!
---
Oct 17, 2012 - Hiking Dude
Laura - I was pleasantly surprised at all the beautiful overlooks along the SHT. Hard to pick a favorite, but the view of the Poplar River valley was great.
It would have been difficult to make this trek any better. I carried more food than needed, shelter did not shed rain very well, and water filter had problems but all those were small and easily fixed. The fall colors were wonderful, no bugs, no humidity, great people, and little rain so I'd certainly say September is a great time to hike this trail.
One tip would be to pay little attention to the elevation charts on the SHTA maps. They make it seem like you need climbing gear to do this trail and are very misleading as to the ruggedness of the trail. Most of the Ups and Downs are short and not very steep. I think a compass and the set of 50cent maps are all you need for navigation.
---
Nov 03, 2012 - Papa Bear
Good website! Congrats on finishing!
---
Jan 31, 2013 - Take Two
Thanks for the info, Hiking Dude. Would you tell about resupply logistics? Did you have to hike far from the trail to get your drops (where did you drop) or were there spots along the way to stock up?
---
Feb 01, 2013 - Hiking Dude
Take Two - I mention my food caches in my Journal link above on Day 6 and Day 11.
Since the trail parallels the north shore of Lake Superior, it is crossed occasionally by roads heading inland from Highway 61 that follows the shore. My wife drove me up to Canada so we left a cache where Lax Lake Rd crosses by Silver Bay and where the Caribou Trail crosses by Lutsen. I started with 5 days of food and each of these caches had 5 days - but it was waaaaay more than I really needed.
I put all the food in a 2.5 gallon ziploc, put that inside a green garbage bag, and hung that on a line from a tree limb. I located the cache about 30 yards off the trail on the west side of the road crossing - so I would cross the road THEN look for the cache. Having food waiting practically right on the trail is super easy. For food drops, see www.shta.org/FAQ/ThroughHike.php
---
Feb 01, 2013 - Take Two
Oh - I see your journal - seems like you had a steady supply of trail magic to help you through also :-] Thanks for the response and tips.
---
Mar 25, 2013 - Alicia
I'm looking for a weekend type trip for April. Is the SHT navigable for this time of year? I am used to longer trips in the warmer months but never something this early..
---
Mar 26, 2013 - Hiking Dude
Alicia - Chances are high that the SHT will be snow-covered through April, or very muddy if we get some steady warm weather. The Arizona Trail would be a better bet for April, or southern part of Appalachian Trail.
---
Aug 12, 2013 - Erik Schwebach
Small world, I took a look at your photos and sure enough I remember running into you on the trail in Crosby Manitou State Park, would have been late afternoon on Sept. 23rd. Congrats on completing the whole thing.
---
Mar 05, 2014 - Lowell
How did you determine your total distance? I am wondering because I have heard a rumor that in the SHT book they count all of the spur trails in their total milage... Preping to thru-hike it this fall! Thanks for your time and effort going into this web page.

---
Mar 24, 2014 - Hiker Huey
Hiking Dude,
Great info. I hope to hike the SHT in August.
In case you hadn't discovered it yet, Sawyer has come out with new bags that don't leak like the original ones. Recommend tossing all of your old ones and buying the improved version. I haven't had any problems since I did.
Can anyone tell me if it's better to go NOBO or SOBO? Any reason to go one vs the other?
Thanx
Hiker Huey
---
Mar 24, 2014 - Hiking Dude
@Huey - I do have the new Sawyer bags now, too.
Regarding NOBO or SOBO, it just made more sense to me to be walking back towards civilization rather than off into the wilderness. Also, the farther south you go, the more people there are - in case you run into problems later in your hike. Finally, not knowing exactly when you'll finish, arranging a pick-up at the northern end takes more effort, I think.
---
Mar 25, 2014 - Hiker Huey
Hiking Dude
Thanx for the advice on the direction to hike. It makes good sense.

---
Mar 25, 2014 - gene
whats the best time in summer for the least bugs?
---
Mar 25, 2014 - Hiking Dude
@gene - The later, the better. Bugs are worst after the snow melts and things warm up into May and June. August and September are the best with many life cycles being completed and generally drier air. September is practically bug-free.
---