Day 4: Lava Tower Post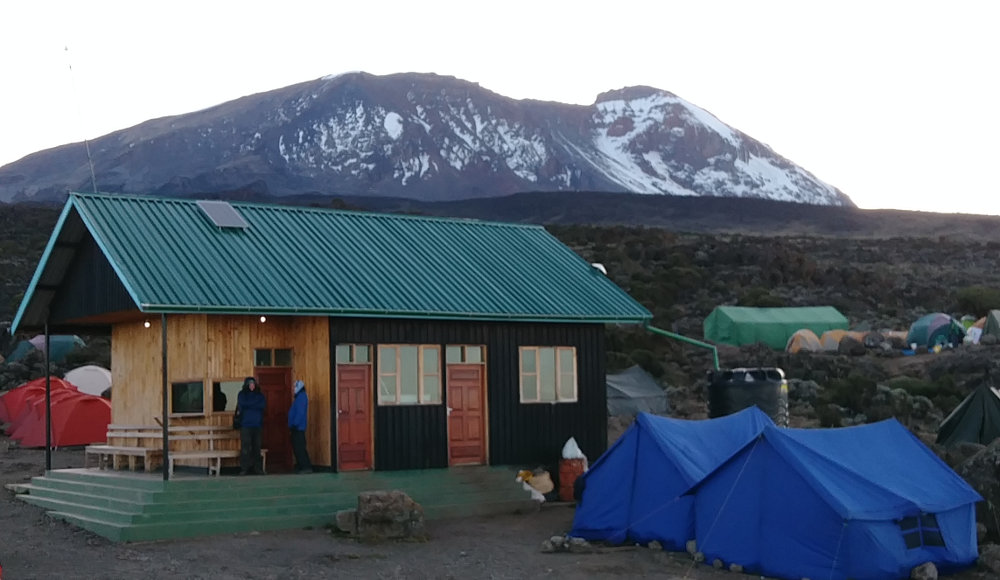 For sure, we're spoiled now. Three days of perfect weather, great views of the mountain, wonderful food, easy hiking, good sleep, it's all going wonderfully. We were even treated to the sun rising from behind Kibo in another clear sky day. Ok, hang on, you know it's going to change...
The usual morning coffee, hot water for washing, and over-indulgent breakfast prepared us to start our daily walk around 9am. Today, we headed up the hillside at our typical Pole Pole pace, making way for porters as they sped past with our gear, tents, food, and toilets. In this wide open, vegetation free, expanse of mountain desert, the support crew has many paths past us so they pay us little mind. We do our best to share a friendly "Jambo" and step out of the way.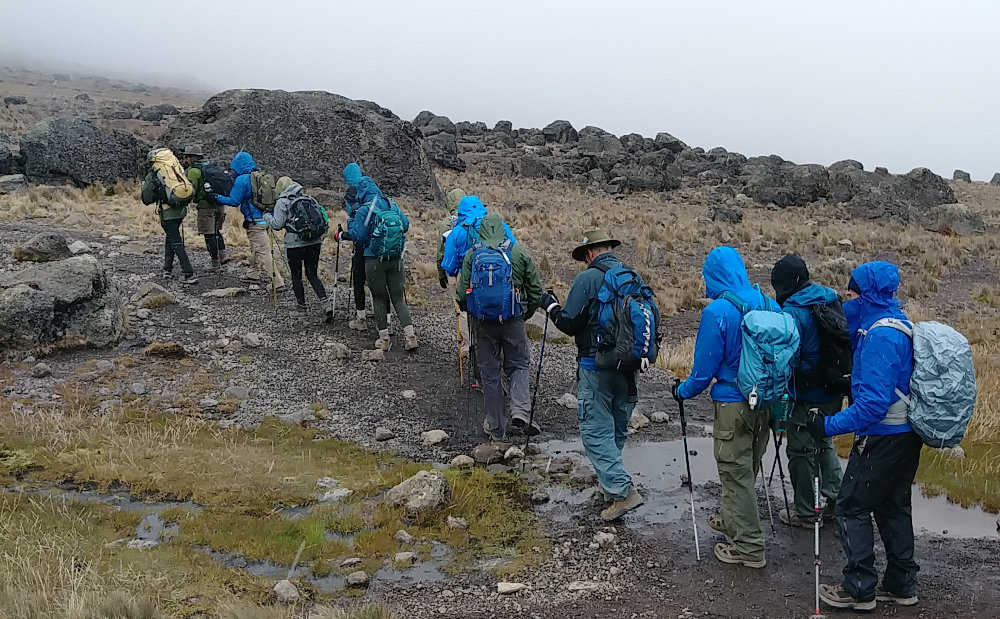 Up we go, heading for the highest point any of us have ever been. I've hiked a bit over 14,000 feet, but we'll top out above 15,000 today. Along the way, clouds form below us and begin blowing UP the hillside towards us. These are the same clouds we've seen every day since arriving, only now we are above and then IN them. The mist is chilly and most everyone puts on warmer layers and raingear. We are so high that the air is cold enough to freeze the moisture and we are pelted with hail. This only lasts off and on for an hour or so.
There is not much scenery with the encompassing clouds and desolate landscape, but it is still a great day. It doesn't take much imagination to feel you are visiting a different world. We walk on, mostly over a long, gradual rise to our lunch stop destination.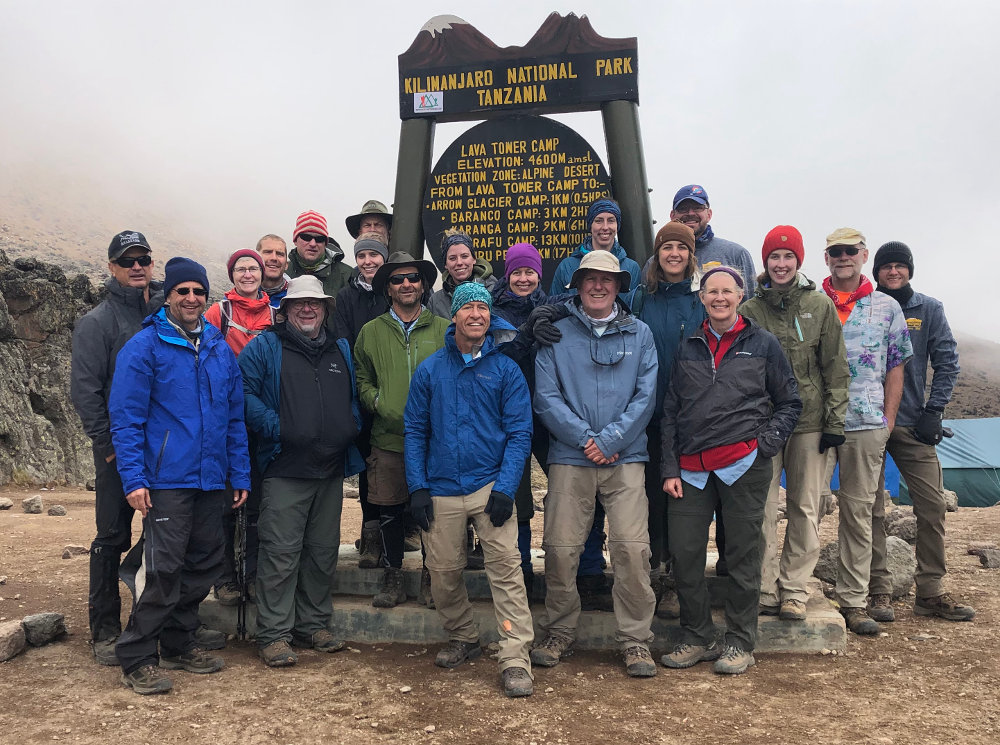 Lava Tower is a well-known stopping point. On this day, it marks the highpoint of our climb and from here we will drop down, losing all the elevation we gained today to this point. Today is designed to be an acclimatization hike. We hike up to get our bodies used to the thinner air, and then descend to sleep for the night. Actually, no one complains of any altitude problems, so we're doing just fine so far.
As I mentioned, some of us tend to enjoy cooler temperatures over warmer. In the photo, you can see one person in short sleeves - Yes, I was comfortable and felt just fine. :-) But, I did have my raincoat on earlier during the hail - because my wife gave me "that look" letting me know I was being weird. This turns out to be the only bad weather day we have the entire trek and it wasn't really even enough to cause concern - the wind on summit day was awesome, but no really "bad weather".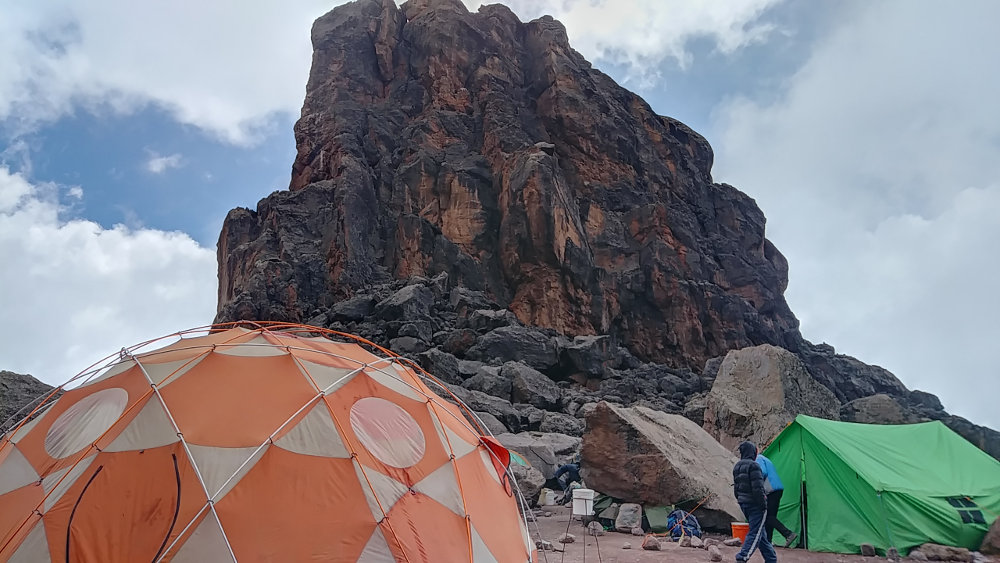 Here at Lava Tower, our crew had gone ahead to set up the kitchen, toilets, and Thunder Dome. I was just expecting a simple snack as we had the previous day at Cathedral Point, but this was over the top. I can't say enough times how pleased our group is with Tanzania Choice Safaris as our outfitter. The tower itself is an especially hard pack of volcano lava that has not eroded with the rest of the mountain, causing an impressive butte. People can arrange climbs of the tower as part of their adventure on Kili.
After our wonderful lunch, we had to force ourselves back into the clouds from our comfortable dining tent to continue the hike to camp. This half of the hike was nearly all downhill, so it was mostly a matter of watching our footing on the rocky trail. There were a couple ups and downs along the way, but not too bad. We descended through a forest of Dendrosenecio Kilimanjari trees - more commonly called Senecio trees. Our guide for the day, Augustine, took time to explain how to tell the age of the trees, but I'm not sure any of us actually understood it all - something about each hip was 25 years, and some trees were over 100 years old.
Each day, we had a different guide leading us, and a second as the caboose. This was something to look forward to each day as it gave us opportunity to meet a few Tanzanians and learn from them. They all spoke English and were very friendly and helpful. Our lead guide, Festo Mtui, would visit us somewhere on the trail each day, sometimes joining us for an hour or so, sometimes longer. Keep in mind, this one man was managing a team of 80+ workers and keeping 22 clients safe, happy, and comfortable.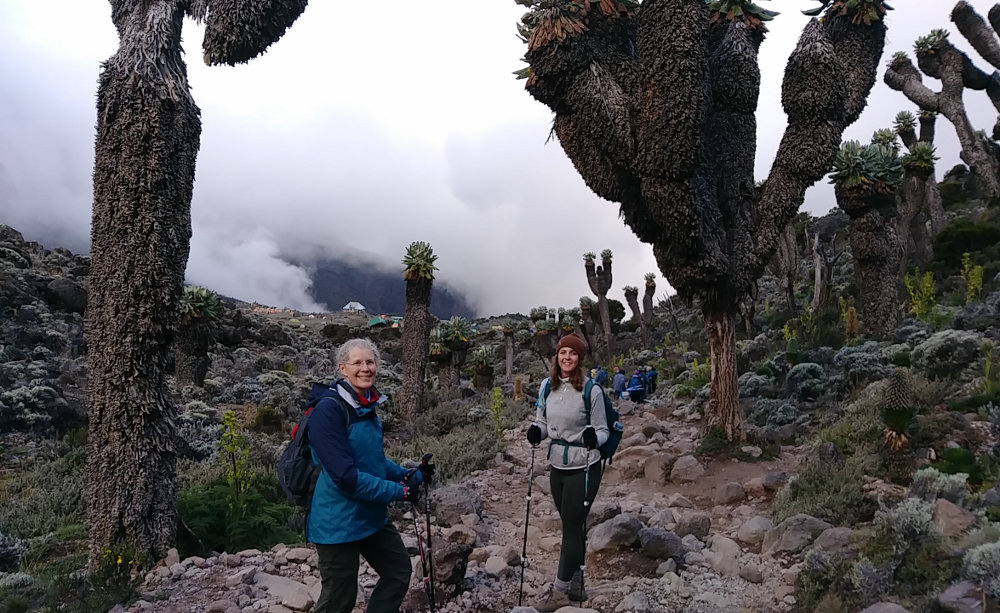 Our day came to a close at Baranco Camp, at about the same elevation we started this morning. In this photo, you can see the Senecio trees and camp in the distance. When we reached camp, the support crew was all assembled and sang a wonderful, energetic, welcoming song as a nice treat.
We hiked from 12800ft up to 15000ft and back down to 13100ft over a distance of about 6.25 miles.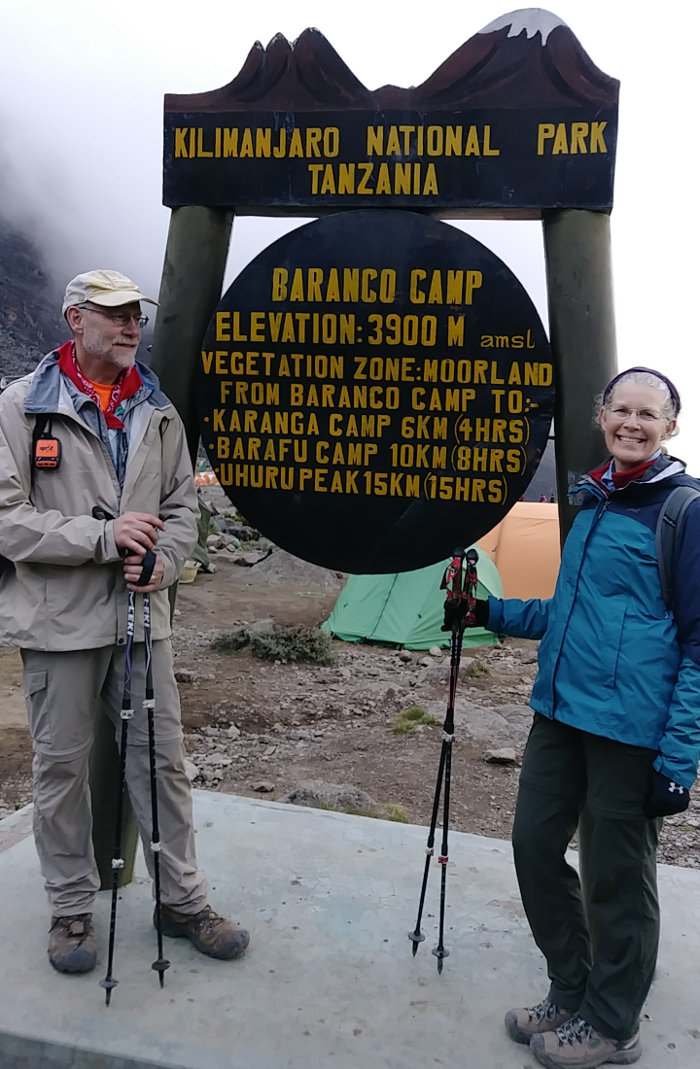 Posted: 14:26 03-01-2019 1470


Find more Hiking Resources at www.HikingDude.com
Follow Me