Virtual AZ Trail Thru-hike Post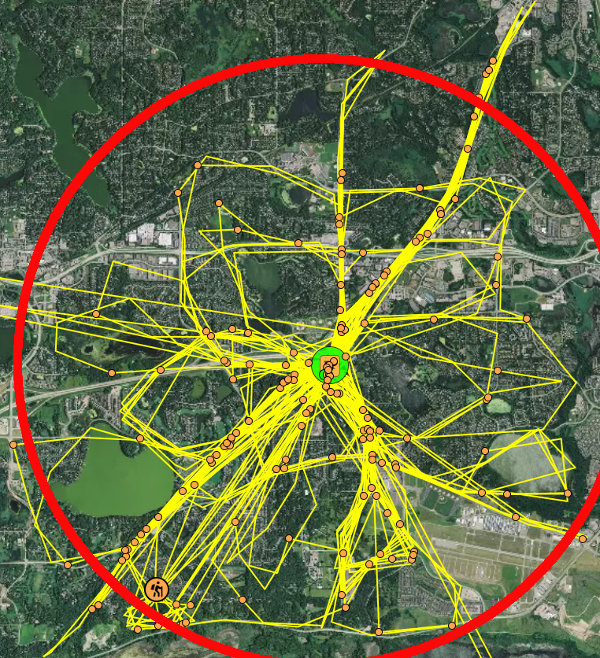 I just completed my
SECOND
thru-hike of the year! I'm so proud! :-)
I admit that when I posted about my virtual SHT thru-hike back in March I figured life would be normalized by now. Oops! With the pandemic persisting, the National Scenic Trail organizations continue to recommend local hiking.
So, I continue to put in my 5 to 7 miles most mornings and that has finally added up to 800 miles - the length of the Arizona Trail. You can see in the image above that I've covered and re-covered most of my local area. The red circle is about 6 miles in diameter. I hiked for 90 to 100 minutes 5 times a week for 27 weeks.
I know it's not as interesting as a long trail, but better than nothing. Now, I'm working on either the Pacific Northwest Trail, ice Age Trail, or Florida Trail - I haven't decided yet but they are all similar lengths. And, I have about 350 miles or so to complete them.
By the way, I've also picked up over 350 pounds of trash over my 800 miles as a 2020 GroundsKeeper through Granite Gear. Might as well accomplish something while walking.
You can do a Virtual Thru Hike too!
You can virtually hike your trail of choice while staying safe and doing some good where you live. Here's how:
Get up early while it's still cool and the trails are less crowded. Around 7:30am, our trails just fill up, so I go at 6:30.
Use gmap.pedometer.com to figure out an 8-mile route around your community.
Hike this route in 2.5 hours.
Get home by 9am for a shower.
Repeat 5 times a week, making new routes.
Take a bag along and pick up litter.
Easy Peasy
Hike On!
Posted: 16:30 07-27-2020 1507


Find more Hiking Resources at www.HikingDude.com
Follow Me