DIY Food Cozy Post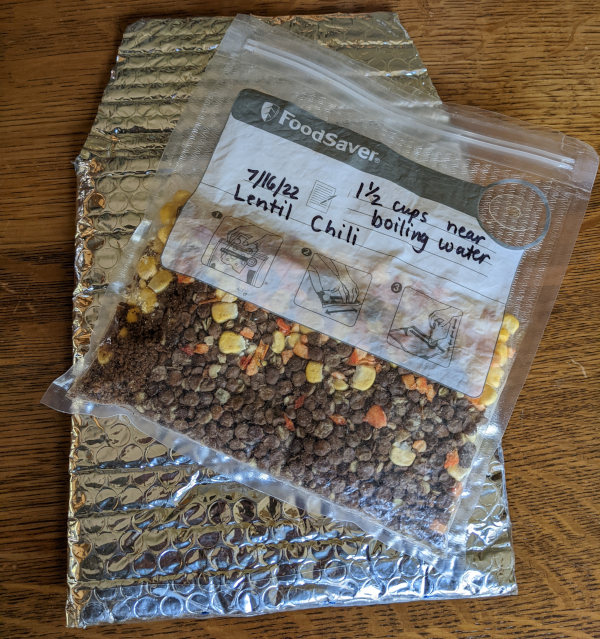 With my new multi-day hiking partner (my wife) preferring hot dinner meals and insisting on hot coffee in the morning, I'm resigned to carrying a stove again. That means a pot, windscreen, and fuel, too. The fuel is heavy so I want to be as efficient with it as I can.
We're just boiling water and adding it to dehydrated food, so the two points of efficiency are preventing the flame heat from escaping and then preventing the heat in the water from escaping.
A super light aluminum foil windscreen helps with the first. It prevents wind from blowing the heat away and lets it reach the water better.
To prevent lose of heat from the water, we're using new cozies. Rather than pouring the dried food into the water in the pot and letting it rehydrate while simmering for 15 minutes, a food cozy rehydrates the food and keeps it hot without using extra fuel. Plus, it means no clean up of the pot is needed. And, if you just eat out of the bags, the only dirty item is your spoon. (We take our food bags home dirty, wash them, and use them multiple times.)
Once the water is boiling, we turn off the stove, pour the hot water into the food bag that is inside the food cozy, stir it up, and let it sit for 15 minutes.
Even at near freezing temps, the rehydrated food is still too hot to eat. But, you could put the cozies together and wrap in another insulating layer such as a shirt, stocking hat, or sleeping bag - even better, hold it against your body under your clothes!
These food cozies are very easy and inexpensive to make. I've shared the steps with photos for our New, Improved Food Cozy and hope you have fun making your own.
PS: On our recent Border Route Trail hike, we took two 100 gram canisters and had about 35 grams left in one at the end. I think we used more fuel than necessary, so I'm working on a better windscreen design. Also, one larger canister has a better fuel to packaging ratio and that would save some pack weight.
Hike On!
Posted: 13:10 10-11-2022 1605


Find more Hiking Resources at www.HikingDude.com
Follow Me