Arizona Trail Thru-Hike Journal

I hiked along the 800-mile Arizona Trail from March 17 to April 28, 2012 traveling from the Mexico border near the Coronado National Monument to the Utah border about 40 miles west of Page, AZ. This trek took 33 days of hiking and 10 days of rest due to weather and tired legs.
These pages are a composite journal of my adventure. Starting with my daily blog entries, I've added more pictures, details, and things I learned on the trail. You can click any picture to view a larger version of it, if you want.
I hope you enjoy the tale, learn a bit about planning your own hike, and pick up a tip or two. Please holler if you have questions or want more information about something you read here.
---
Day 01 to 11 - Mexico to Molino Basin
Day 12 to 20 - Molino Basin to Roosevelt
Day 21 to 31 - Roosevelt to Mogollon Rim
Day 32 to 43 - Mogollon Rim to Utah
---
04/06/2012
Day 21 - Into the Wilderness
I walked 41713 steps and covered about 16 miles today.
We packed up and were on our way when Ben asked if we'd like some breakfast. Well, what self-respecting thru-hiker would ever turn down a meal?
So, here I am having bacon and eggs on the beach beside a beautiful lake, in the desert, with the sun just rising. Oh, the people you meet!
Ben lives here out of his little pick-up, enjoying life fishing and chatting with his neighbors. I could think of a lot worse ways to live out a life.
We visited the Forest Service information center in Roosevelt at 8am which means two things:
I didn't need to push myself to get here yesterday because I could have visited the marina this morning.
Our start on the trail is late so we won't make many miles.
After two long hike days, it's fine with me to keep today a bit shorter. The hike was short, but definitely not easy. We rose out of Roosevelt right up into the Four Peaks Wilderness. The trail through Four Peaks is by far the worst section of trail so far - it is completely overgrown for many miles. Not just overgrown, overgrown with prickly, scratchy, grabby, thorny brush that you have to force your way through with your trek poles. Overgrown so much that you can't see your hiking buddy just 10 feet ahead of you. And, the word on the street is that the Mazatzal Wilderness up ahead is worse.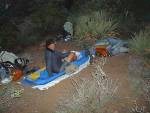 There was over 3000ft of elevation and we're camped at over a mile high on a spot on the trail called Black Bear Saddle. I hope they named this one incorrectly since we're out in the open, right on the trail. We do have a gorgeous view of the Four Peaks just west of us though, so that's a nice bonus.
The temp is down to 37 and it's just 8pm so I get to find out how well my quilt works.
Camp is on the only slightly level place around this entire mountain we've climbed. There's no room to set up tents so we are sleeping open to the stars and critters.
I'm just about in the middle of the Four Peaks Wilderness. Tomorrow, Pigeon Spring is 5 miles down the trail and our best bet for water. If it's dry, we may need to hike with no water for another 10 miles.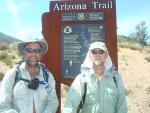 I've been using the solar charger provided by
Northern Star Council
to keep this phone going so I can blog and it has worked wonderfully. Arizona is a perfect place for solar!
Also, I've gotten some fun pics of myself by attaching my
Stick Pic
to my trek pole. It's like having another person there to take your picture.
---
04/07/2012
Day 22 - Out of the Wilderness
I walked 52982 steps and covered about 23 miles today.
Well, at least I know AZ has some good shots and they can hit a sign. I guess no matter where you go, there are folks that just don't have anything better to do than destroy property.
I followed the tracks of an elk on the trail for a few hours through the Four Peaks Wilderness, but never saw it. High hopes for viewing elk past Flagstaff. Today, the goal is Sycamore Creek and good water!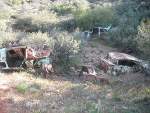 Thanks to 10 easy miles on forest road, we reached Sycamore Creek tonight with an hour of daylight. That made it easier to set up camp, get water, and cook dinner. Lots of water flowing in the creek and we made camp on a nice spot just north of the creek crossing. I can occasionally hear a vehicle on the highway so we're very close to Sunflower. It's still a very short evening and I'm in my bed before 9pm. Since hiking starts again by 6:30 in the morning, the rest is needed. We've been trying to get our days started earlier to use the cool air and stretch the miles a bit.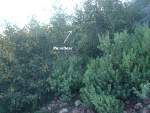 There was some awful overgrowth on the trail yesterday and today, making it very tough going much of the time. Unfortunately, it sounds like the Mazatzal Wilderness is worse and we hit it tomorrow.
If all goes well tomorrow, I should cross the 400mile mark and be halfway to Utah.
Another milestone happened today. I pooped in the woods for the first time on the trek! For about the first 365 miles, I've been fortunate to pass a toilet or be on a rest day when I had to go. PapaBear and I were wondering if I might be the first thru-hiker to do the entire trail without digging a hole, but today destroyed that record attempt. With no foreseen facilities for the next two days, I didn't quit reach the halfway point - but it might still be the longest stretch. :-)
---
04/08/2012
Day 23 - Happy Easter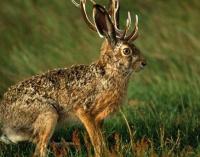 I walked 45651 steps and covered about 14 miles today.
Many, many adventures on this Easter.
Up at 5 so we can hike early and long today. It's 27 miles to the next probable water so we won't get there today but we 'll get as close as we can. That means loading heavy with water from Sycamore Creek now for a long hike.
The temperature is just 28 this a.m. down low by the creek, but I had my best night's rest so far.
Tip:
[Cold air really does sink, especially when there is little wind. If you set up camp in a canyon, hollow, or gully, you'll probably be in the coldest air in the morning. Try to be on a flat area up the side of a hill to stay a bit warmer, but not on the top of a ridge if lightning is possible.]
This was the strangest Easter ever. The day started poorly when I led us under the highway by Sunflower at the wrong spot. This added almost a mile to our route.
I don't expect many of you to believe what happened next, but I'll tell you anyway.
While hiking north of Sunflower, I stopped to get some badly needed water as you can see in this picture. This water hole was not mentioned on my AZ Trail maps so I was surprised to find it. PapaBear was taking the photo so no one was watching our packs - bad mistake. Just as I finished filling my water bag, I heard some rustling by our packs.
I looked up and saw a flash of orange as some animal took off through the bush with my Spot tracking device. You can see the track of this date - Check out my
trail map
.
Not wanting to continue the hike without my Spot for emergencies, we took off to the west following the tracks. This took us way off route as the map shows.
Check out the next post to find out what happened.
While following the tracks, we noticed many trees like this one that had been clawed down.
We soon found a rancher and asked about the tracks. He let us know that they were made by the meanest, orneriest, thieving varmint in Arizona - the Jackalope. He also said they often steal Easter eggs, toys, trinkets, and tools.
So, we tracked him nearly 2 miles until we finally found my Spot caught on the end of a prickly thorn bush. We never did find the jackalope.
It took us another couple miles to get back to the trail and continue on our way.
If you're ever in this area, don't leave your gear unattended!
We got a nice length of smooth trail and reached McFarland Canyon where we met Theopholis and Theadora. They are a couple traveling the trail at about 10-15 miles per day and searching for spiritual growth. We had a nice visit with them and, after talking longer than expected, decided to cut our day short. This is a highly impacted camping area with flat spots, water, fire ring, and plenty of dead wood around so we camped here and even had a small campfire. Tomorrow will be a long, difficult day with tons of uphill and rough trail. At least we had plenty of water today which was a nice treat. Even here at McFarland Canyon there are small pools of water in the creekbed.
I didn't hit the 400 mile mark today, but tomorrow will do it. That's a good thing because my feet are starting to complain about my shoes wearing out. I've got some pretty serious blistering on the top of my big left toe.
---
04/09/2012
Day 24 - Mazatzal Wilderness
I walked 48684 steps and covered about 21 miles today.
Half Way!!
I crossed the halfway point today in miles, maps, and passages. The passages are rated Easy, Moderate, and Strenuous. Of the 16 strenuous, we've completed 11. Of the 13 easy, we've done only 2. It looks like more of the passages ahead are 'easy' rather than 'strenuous' like we've been having.
These days have been through some fairly rugged mountains. I've noticed that about 80% of the mountains in Arizona are left-handed. I'm always walking around a mountain with the slope up to my left and down to my right. I think this has contributed to my left shoe wearing out more and now that the right side of the left heel is gone, the lean to the right is even more exaggerated. I'm heading into the flattopped mesa country tomorrow. The differing environments have been great to traverse.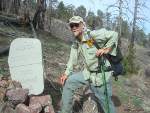 Everything I heard and read before my trek was that the worst part of the trail was the Mazatzal Wilderness - rough, overgrown, impossible to follow. Well, some amazing efforts by an army of volunteers has made an astounding transformation of this section of trail. There are a couple brushy spots but the vast majority of the trail is cleared and open, the tread, slope, and grade have been great. Compared to the Four Peaks Wilderness just before this, it's a wunderful trail. So,
Thanks
to the Mazatzal Wilderness and Passage #23 volunteers!
In the recent past, there was a big fire in the Mazatzal wilderness. It seems the majority of forested land in Arizona has burned in the last couple decades and, being so arid, it takes a long time to reforest.
This picture is near the top of Mazatzal Peak at around 7200 feet.
We're at Horse Camp Seep tonight where we ran into Fireweed, another AZ Trail thru-hiker, already having set up her tent. I recall a few posts from her on the AZ Trail forums. Fireweed is on her own and seems to love being out on the trail by herself. This camp area is terrific and there is a plethora of flowing water in the creek. We had yet another campfire this evening and the weather looks promising for the next couple days. I do seem to be getting low on food and there's still quite a way to go until Pine. I hope I have enough.
It was a good day.
---
04/10/2012
Day 25 - LF Ranch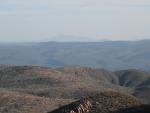 I walked 43412 steps and covered about 18 miles today.
This was my first view of the San Francisco mountains way up by Flagstaff which still about 150 trail miles away! You might be able to see the light blue peaks on the horizon.
I'm hoping to reach Flag in 7 days but just heard this morning from Fireweed's weather radio that another storm with possible snow is heading in for the weekend. That might slow us down. I've figured out that you need to keep goals and plans very flexible on the trail.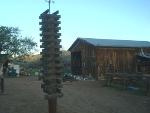 We're spending the night camping at
LF Ranch
after a shortened day. It's a nice change to stop at 3:30 rather than our normal 'just by sunset' time. I really need to tell you more about this place...
The ranch is down in the valley by the East Verde river with mountains all around. This is a real, working ranch. It's not a dude ranch, bed-n-breakfast, or hostel. The sign on the dirt road is a rough, routed, wooden sign. When you approach the ranch, you might be tempted to turn around and walk away - there's lots of used up equipment, tools, and containers around, making it look somewhat run-down. Then, the dogs let Maryann know you're here - not just two dogs, at least five of them. One's pretty old so may not be around when you stop to visit, though.
Be sure to notice all the solar power around. Besides solar, propane is also used which is quite expensive to bring in so consider being as conservative as you can while guests here.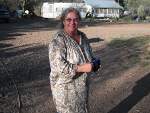 Maryann runs the ranch - all by herself with help from her horses and dogs. She raises cows on 37,000 acres, has a flock of chickens, a vegetable garden, and a bunch of peacocks - they all contribute to the meals. Maryann says the peacock tastes like pheasant.
Maryann is pretty quiet to start, a matter-of-fact, no-nonsense rancher. After awhile, and maybe with a bit of prodding, she's got lots of stories from her adventures - hunting cougar, bear, snowstorms, drought, wildfire, pretty much anything about the wilderness surrounding her ranch you could think of asking about, she's experienced it.
By morning, you understand that Maryann absolutely loves her life out here. She's got her niche in the world and is living as she wants. At some point, maybe as you look over your shoulder from the ridge leaving the ranch, you realize how lucky you've been to get to share a taste of ranch life in rugged Arizona. Sure, it's not for you, but it's quite a life!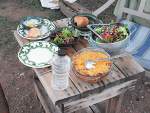 Speaking of taste, Maryann provides visitors with either a tent spot or bunkhouse, hot showers, and great meals - all at reasonable prices. You really do need to contact her a few days before you arrive so she can get supplies from town for meals. Running to town isn't the same out here - it's a 3 hour trip over rough road to Payson.
We didn't give her fair warning, but she still managed to "rustle up something", in her words. This was our wonderful dinner, served outdoors in the setting sun - spaghetti, home-made bread, garden salad, melted butter. There was more than two thru-hikers could eat and it was soooooo good! When I say "garden salad", I mean greens pulled from her garden right then. And, when I say "home-made bread", I mean made by Maryann in her oven and served hot.
PapaBear has a peeve about restaurants that say "home-made" on their menu and we all know darn well it's made right there at the restaurant. This was really a "home-made" meal.
While we were waiting for dinner, we were treated to tangelos from her dad's trees in Maricopa - aaaaah, they were great! Oh, 'beer' came up in conversation, and she just happened to have one bottle in her fridge so she included that.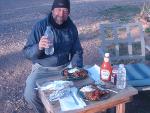 For breakfast, we had fresh eggs (4 each), hashbrowns, and bacon. When I say "fresh", I mean taken from the hen a couple minutes earlier.
It was great that we stopped here since it covered two meals and I'm just about out of food. Another example of how things tend to work out.
It was sure refreshing to have a couple hours to wash and relax in the afternoon to prepare for the next long hike.
Tip:
[When hiking, you may encounter a gate across your path. Whether open or not, the common action is to close it after passing through.
Maryann taught me that is not the correct thing to do. Sometimes, hikers may accidentally leave a gate open instead of closing it. If that happens, livestock may escape and run wild. The rancher then has to round up the strays - a real hassle.
But if a gate is closed when the rancher wanted it open, livestock may be denied access to vital water and die - that's much worse.
So, leave open gates open and closed gates closed once you pass through.]
---
04/11/2012
Day 26 - Pine
I walked 50684 steps and covered about 23 miles today.
After a delicious ranch breakfast, we got a slightly late start on our long hike to Pine. It started with a long, steep climb and continued with many miles of very rocky trail.
I learned why they call the area Hardscrabble Mesa. Fortunately, the weather was cool today so the only water stop we needed was at this cool box spring called White Rock Spring.
A wonderful Boy Scout volunteer is allowing us to use his cabin for a rest day in Pine - yet another example of the amazingly generous people I've met on this trek.
It's actually not a cabin - it's practically my dream house! Log cabin with three stories and just beautiful. We even got to watch a movie on Netflix this evening - wow!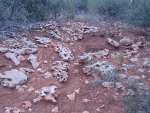 Tomorrow brings me a day of rest which my sore feet and legs will appreciate. There's only about 360 miles left of the trail so I think I'll make it - especially with all the support that folks along the trail are willing to share.
There was one interesting place on the trail today. It's called
the Bone Yard
. The rocks are very cool and they do remind me of dinosaur bones, skulls, and such. It could be kind of creepy at night, but during the day it was just interesting.
---
04/12/2012
Day 27 - Zero in Pine
Wonderful, relaxing, belly-filling day in Pine with no miles on the trail.
Did laundry and picked up bounce box at the post office. It has gear items, consumables, and some food just in case Pine has no real groceries. As it turns out, the Pine market is acceptable for resupplying the four or five days to Flagstaff.
Ate breakfast at HB's (a small restaurant) and then headed to the library to borrow the internet. Not long after we arrived, Kyle showed up having driven down from Flagstaff.
Kyle is the son of the Scouter that owns the cabin we've invaded. Kyle thru-hiked the AZ Trail in 2008 and is the youngest to have done that, at 19 years old. He's a great young man, Eagle Scout, and on staff at Philmont Scout Ranch for a few years - he's going back this summer of 2012 also. He was a wonderful host, chauffeur, and trail expert. Yet another wonderful person I've gotten to meet on the trail.

Kyle drove us to Payson to shop where we had lunch at Subway. Back at Pine, we had hamburgers for dinner and watched Butch Cassidy and the Sundance Kid.
PapaBear and I combined our extra gear into one box and Kyle took it down the trail to Flagstaff for us when he left tonight, so all we need to do is hike 126 miles to pick it up again.
I'm looking forward to a good long hike tomorrow, hopefully reaching the top of the Mogollon Rim. The feet and legs are pretty good - just some stubborn blisters on top of big left toe, sore spot under right foot, and tight right knee. My wife has sent a new pair of shoes to Flagstaff, but sending them here would have been better - my bad.
---
04/13/2012
Day 28 - Mogollon Rim
I walked 48438 steps and covered about 21 miles today.
On our way to higher elevations today. Hiked east below the Mogollon Rim for about 19 miles going in and out of draws, through burned sections, brushy sections, and cool forested sections. There were many beautiful views like this one. Stopped for lunch right by the entrance to BSA Camp Geronimo.
I've been looking forward to reaching the top of the Mogollon Rim for quite awhile. It's a distinct border between environments, rising a couple thousand feet, and the high mesas should be flatter, cooler, and easier hiking.
But, a snow storm is forecast for tonight so the first few days up high might be a challenge. It's been a very cloudy day but only an occasional drip of rain. Fortunately, there's a roofed shelter on top where we might hole up overnight if the snow materializes (and tomorrow if the weather really sours).
Met a couple backpackers and a guy preparing the Highline Trail for a 50-mile trail race next weekend. This guy just had his 75th birthday last week and has done the Western States 100 trail run 13 times. He'll be running in the race next weekend. I'm such a newbie.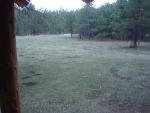 We reached the top and found the shelter at about 6:15pm as the wind picked up, the temperature began dropping, and the snow began. For a Friday the 13th, it wasn't too bad of a day.
The stay in Pine was fabulous - just like being on vacation at a mountain resort in a pine forest. I'll never stop being amazed at the generosity and hospitality of Scout families and others I meet.
---
04/14/2012
Day 29 - Winter in AZ
The view that greeted me this morning! Compare this to the same view last night just above. At least 5 inches of snow fell and more keeps coming this morning.
Around 10am, we hear a car door slam - then again. Looking outside, there's a truck parked right beside us. We greet this person and find out his trail name is Chumley and he's driven up to the Rim from Tempe just to take advantage of doing a dayhike in snow in April, which is a rare opportunity. So, he takes off on his hike.
The temperature inside the cabin is 25 degrees and it doesn't budge all day. We stay wrapped in our bags and eat bits all day.
Last night, PapaBear complained a bit about a rash on his chest. It didn't look too bad, but it has spread a bit today.
As the snow continues to build up and the temperature doesn't budge, we figure out that we're not going to be hiking for at least two days while the snow hopefully melts. Two more days holed up in this cold, drafty, boring spot will be miserable - especially when the "Pine Resort" is just down the hill. We develop a plan to persuade Chumley to give us a lift down to Pine and then we'll figure out how to get back up here later.
With our plan ready, we wait for Chumley to return. And we wait. And we wait. As the dark sky becomes darker and the time gets later, we start to wonder, then worry. Having no idea where he went to hike, we can't go out looking for him, but by now the sun has set and it is officially 'evening'. Suddenly, I hear a car door again - it's him! He's back! I rush outside and welcome him back and he comes into the cabin after peeling off his snowcovered clothes.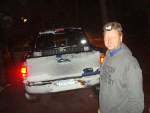 It turns out that Chumley had quite an adventure of his own, trudging through deeper and deeper snow, but he's willing to take us down to Pine. We all pile in his truck, skitter down the snowed-in back roads through drifts and an occasional herd of elk playing in the fresh snow, and reach Pine around 8pm. He wants to get back to Tempe so refuses our offer to take him to dinner. We resort to pizza and Netflix for the night. :-)
Now, we're right back where we were three days ago except now PapaBear has a very bad rash and we've no idea how long the snow will stick around.
---
04/15/2012
Day 30 - Life in Pine
The current plan is to rest one more day tomorrow and resume hiking from the rim top on Tuesday with high hopes that Monday is hot and dry and reduces the snow depth.
I did walk 4 miles today, taking my pack into town to buy groceries and look around but not much open in Pine on Sunday. I'm also working on gaining some weight back - I'm getting to be a pretty good eater!
PapaBear is in pain and resting. It's a beautiful, sunny Sunday here but the top of the Rim is white.
Here's a pic of warmer days and fresher legs. That's me on the very first day at the Mexico border - don't I look clean and fresh? :-) I've hiked about 480 miles of the AZ Trail since then and have about 330 left to go. It's been 30 days since I started this little adventure and I've learned a tremendous amount on the trail. The most important thing I've discovered is:
Things tend to work out.
From finding a much needed water source to someone sharing their dinner to magically getting a ride out of a snowstorm, I've experienced many instances of unexpected 'goodness' for a loss of a more descriptive word.
Chumley is yet another helpful soul in a long, growing list of people that have provided unexpected support.
---
04/16/2012
Day 31 - Shingles
I convinced PapaBear that walking to the doctor in Pine would be a good idea since the rash is even worse today. It's been 3 days with no improvement. We hiked into town and Kyle drove by just as we got to the medical building - he came from Flagstaff to see if he could help out.
The medical folks told PapaBear it could be poison ivy, poison oak, some other 'poison', or maybe shingles. They told him to go to a doctor in Payson, 15 miles away - Kyle to the rescue again by driving us to Payson. The wonderful doctors there weren't sure either so they gave him a handful of prescriptions which should cover every possible thing. Walking into the Safeway store to use their pharmacy, over the door was a sign: "Shingles Vaccines Here" - how ironic.
While waiting for the prescriptions to be filled, we invaded Pizza Hut with their all-you-can-eat buffet. I got my money's worth by putting down 19 slices and 3 big Mt. Dews, plus 2 slices of their dessert pizza. I know their slices are pretty small, but I was proud of myself. Hey, see how I spell desert and dessert the correct way? :-)

Don't use the Payson library for Internet - they charge $2/hour for out of county people. Most unfriendly library I've been in.

Anyway, another change in plans. There's no way PapaBear can continue hiking. Tomorrow, Kyle gives me a ride up the Rim and then heads to Phoenix with PapaBear. Kyle will visit his family and PapaBear will rest up with his while I hike on alone again. The hope now is that PapaBear will heal enough in the next few days to join me at Flagstaff and hike on from there. Then, we could come back and do the Rim to Flagstaff part at the end. At least it was another hot, sunny day so all the snow should be gone.
---
Continue with:
Day 32 to 43 - Mogollon Rim to Utah
---
All Comments:
Jun 13, 2015 - Michael H
I enjoyed reading about your hike! Thanks for sharing....
---
---
Ask a Question
---


Find more Hiking Resources at www.HikingDude.com
Follow Me