StrongVolt Solar Charger Post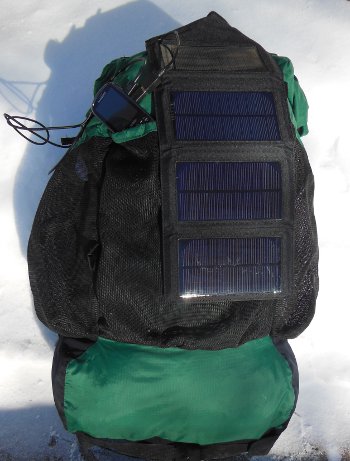 I love the sun! Just love it! One of the best things about moving from Oregon to Minnesota is that there is sunshine during the winter months here. Sure, it's too cold to be out enjoying it sometimes, but it's still bright and cheery.
Besides the attitude uplift that the sun provides, it also provides free power. I love FREE, too! I've installed solar panels on my home and love my negative electric bill each month - even winter. Being able to harness and utilize that energy pouring from the sky makes sense.
So, why not do the same thing while out in the wild? Portable solar chargers are available to charge all your e-gadgets, including phones, cameras, GPSs, iPads/Pods/Nanos/..., and most anything else you have. I've used three different products over my long hikes, the most recent being the StrongVolt 7W
solar charger
on my Ice Age Trail hike.
This photo is the StrongVolt charger on my backpack after a recent winter practice hike, and I'd like to tell you a bit more about this charger.
StrongVolt's Solar:7 converts sunlight directly into electricity via four monocrystalline solar panels that fold into a tough, compact package. Electric output is through a USB cable at up to 5.5V which should suffice for your phone, tablet, or GPS.
It's simple to use - just unfold, connect device, and lay it in the sun with the panels facing the sun as directly as possible. There are two reinforced grommets on the case which makes it perfect for hanging from a backpack. That's how I used it so I could charge while hiking and waste no time. I also poked holes in the lower two corners and anchored them to my pack so it did not flop around.
This charger worked well on my long Ice Age Trail hike for my Samsung Gravity phone, keeping it supplied with free power. Since I mostly used my phone in the evening to blog, I didn't need it during the day and could leave it plugged in as I hiked and it charged. I also used it to charge my Nikon CoolPix S9300 camera.
Like any other solar charger, hiking through forest canopy doesn't work very well. Since you'll probably stop for a lunch break around mid-day, when the sun is highest, that's a great time to lay out your charger in a sunny spot and soak up the energy.
StrongVolt also offers 3w, 5w, and 10w portable chargers. The 10w version is just an ounce heavier, and only $15 more than this 7w version.
There are three things to consider when comparing this charger to others I've used.
It contains no battery storage. You charge a device when sunlight is available. Checking into this with StrongVolt, they do have a 4 oz. battery pack product. That solves this problem - just hook the battery to the charger during the day, then charge your device whenever you want. If you're out on a 3 day or less trip, you might just take the charged battery pack instead.
It's relatively heavy. At a bit over 11 oz., this is 3 oz. heavier than my other charger (which includes a battery pack and has flexible panels). Including the extra battery pack makes it about twice as heavy as my other one. This is really only a long-distance hiker concern. A half-pound won't bother most people out enjoying a backpacking trip.
The solar panels are crystalline, rather than flexible which makes them more fragile. Fortunately, the rugged case provides protection at the expense of weight.
Overall, this charger is a nice product. It's well made, inexpensive, and makes use of that solar energy being wasted each day. There's no reason you can't set it in a window at home when you're not out hiking and use it instead of paying for electricity created by polluting power plants.
If you don't have a portable solar charger yet, put it on your birthday list. StrongVolt sells this 7W version for $59.99 and they include free shipping and 100% money back guarantee. That's a good price point compared to other chargers.
Disclosure: Strongvolt provided me with a no-cost sample charger to test and share my impressions.
Posted: 10:31 01-23-2014 1073


Find more Hiking Resources at www.HikingDude.com
Follow Me