Mile... Mile and a Half Post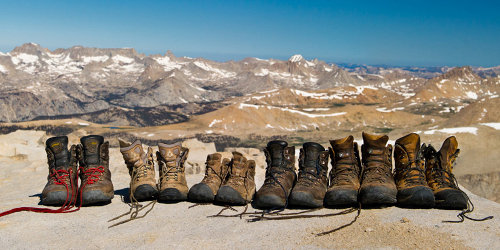 "How much farther?"
"Oh, a mile... mile and half."
If you've ever, ever, ever done any long backpacking trips, you understand that question and response!
At any point on the trail, saying the destination is 8 miles or 5 hours away can be just devastating to morale. A mile... mile and a half isn't so far and we probably don't really know exactly how far it is.
It doesn't really matter anyway. We're out here to get away from deadlines, timelines, calculations, and machinations. So, the title of this entertaining 87 minute film, "Mile... Mile and a Half" perfectly sets the tone for the visually inspiring trek along one of the nation's most beautiful trails - the John Muir Trail.
I've had people mention I should wear a Go camera on my hat while hiking so I could post videos of my hikes on YouTube. My response is "How BORING would that be?" Mile after endless mile of trail with some cool views and quick glimpses of wild animals. To create an interesting movie that documents the challenges, rewards, camaraderie, scenery, and
LIFE
of a trail requires someone more artistic and imaginative than me.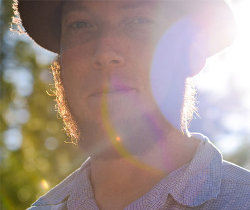 Fortunately, the team at Passion River Films took on the task. Their film does an excellent job at capturing the feelings of life on a long trail and throws in some spectacular views for armchair hikers.
Creating a film like this requires a lot of equipment. Heavy equipment! When you watch this film, you'll be surprised at the weight these people lugged over the mountains! That's one reason why, by far, my favorite character was Durand Trench, the sound guy. The amount of hi-tech stuff he muled across the Sierras is impressive. Best scene, besides all the times he jumped into frigid lakes, was his attempt to capture frogs singing.
I think Durand would be a way fun guy to hike with!
I certainly don't want to tell their entire story, but the general plot is: a group hikes the rigorous John Muir Trail to the highest point in the lower 48, in a year with extremely deep snowpack, meeting fellow backpackers along the way.
It's a simple plot that allows this bunch of artists to draft hiking into art - pretty cool. I enjoyed the quick 87 minutes, and I think you will too.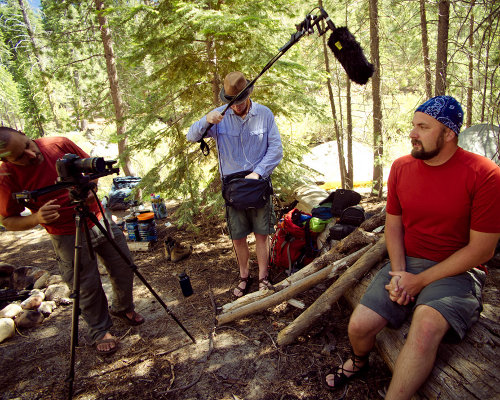 Wanting to get another perspective, since I've not hiked the JMT (yet), I let my Scouting friend that has hiked the trail a couple times watch it. He actually hiked part of the JMT less than 2 weeks before this film crew and wound up bailing out due to deep snow. Luckily, two weeks of July sun melted a lot away.
Anyway, here's what he said:
"Beautifully crafted by a talented group. I enjoyed it a lot because there were numerous spots in the film I had camped, stopped at or had taken photographs. They did a really nice job of catching the scenic qualities of the trail and the diverse types who inhabit the Sierras."
I, personally, would have liked a bit more information about the trail, the folks that built it, the history, the environment, and such. A minor wish.
There was one other bit at the end of the film that I appreciated - a quick acknowledgement that the group failed to adhere to
Leave No Trace
principles at all times. I admit I kept my eyes open for blatant "bad hiker" behavior in the film, but saw no major problems. By adding that blip, the film might turn some viewer onto LNT and ethical choices in the backcountry.
Buy the film, or get more information, at
The Muir Project
.
Posted: 15:02 01-23-2014 1074


Find more Hiking Resources at www.HikingDude.com
Follow Me