Good Deed Fail Post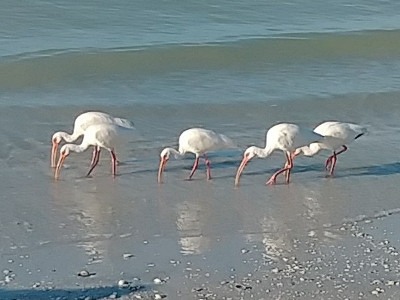 Sometimes best intentions don't turn out so well.
This morning, I hiked 7.5 miles around the island, including a nice, long walk up the beach at low tide. My plan was to keep an eye out for trash and pick up what I could find. To be prepared, I grabbed a plastic grocery bag and stuffed it in my pocket.
The hike was wonderful with water birds like these, some pelicans diving for fish, some big white fish doing big leaps with a couple fishermen trying to catch them, a couple joggers, lots of shell collectors, and hardly any trash at all.
I did manage to find an old rusty bottle cap and put it in my trash bag. Then, I stuffed the bag back in my pocket. When we reached the north end of the beach, there was a garbage can, so I figured I would deposit that one bit of litter.
When I reached in my pocket - no bag! I checked all my pockets - nothing. Somewhere along the beach, it had fallen out unnoticed.
With all the walkers on the beach, I'm very surprised someone didn't holler at me when it dropped. But, I'm sure someone picked it up. So, not only did I not find any trash to pick up (good thing), I actually made the place worse by unknowing dropping litter. Super Fail! Now, I have search harder for more trash to make up for today. Oh well!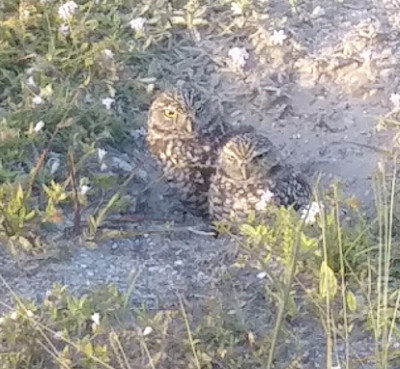 Other than that, today's hike was great. Saw these burrowing owls again today, as well as dozens of other kinds of birds, from little brown chirpers up to big osprey, with ducks, cormorans, and gulls thrown in.
We did get the start of a couple blisters since quite a bit of walking on sidewalks is required to reach any trails or sand.
You can track my
hike progress
to see my route.
Hike On
Posted: 15:24 01-15-2020 1495


Find more Hiking Resources at www.HikingDude.com
Follow Me