2 Weeks to IAT Post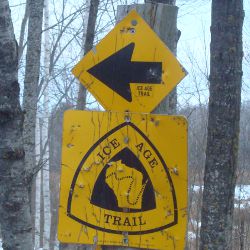 I have about two weeks until my 1,100 mile Ice Age Trail thru-hike across Wisconsin begins! Am I excited? You Betcha!
My friend that I met on the Arizona Trail last year will be arriving from Seattle by train on July 30. We'll then review our gear, get food in order, and drive to Wisconsin. I hope to start hiking by August 3 or 4, heading West from Sturgeon Bay. Well, actually heading South for the first week, then a U-shape to the West, then another week heading North, then 2 weeks heading West. It's not really a very straight trail since it follows the last glacial terrain.
For the past couple months, I've been ramping up my hiking. Nearly every morning, I've been getting on the trail by my house. Starting with 4-mile hikes, each week I've added a mile. This week, I'm doing 10 miles each morning and that should be good enough. I feel in good hiking shape, even though I've still got 5 pounds that I don't need. But, that will go away soon enough on the IAT.
I know these last couple weeks will be hectic with last-minute preparation, but once I'm on the trail all I have to do is walk. That will be a welcome change to the busy lead up time.
Hike On
Posted: 12:42 07-17-2013 963


Find more Hiking Resources at www.HikingDude.com
Follow Me