Hike Schedule Post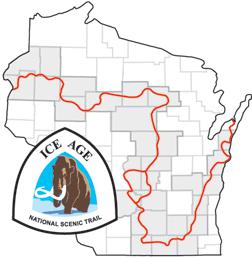 I've made a rough schedule for my Ice Age Trail hike. Even before I start hiking, I know I won't keep to the schedule, but it's good to have a general plan with approximate miles per day and areas where I'll be spending the night.
See
the schedule
. As long as PapaBear and I stay healthy, I expect we'll complete the trail 4 or 5 days sooner than scheduled - but we'll see.
Camping along the trail will be a challenge since much of the trail is through private and populated land. I'm looking for people that would let a couple vagabonds camp on their property. So, if you or someone you know is along the trail, please holler!
It's only about 260 miles straight across Wisconsin. From the map, you can see the Ice Age Trail takes a serpentine path that more than quadruples its mileage. Of all the National Scenic Trails, it takes more miles to cover less distance than any other. Others, such as Pacific Crest and Appalachian, are pretty much a straight shot from end to end.
Hike On
Posted: 6:46 07-19-2013 964


Find more Hiking Resources at www.HikingDude.com
Follow Me