Day 17: Bushwhacks, Eagles, and Slides Post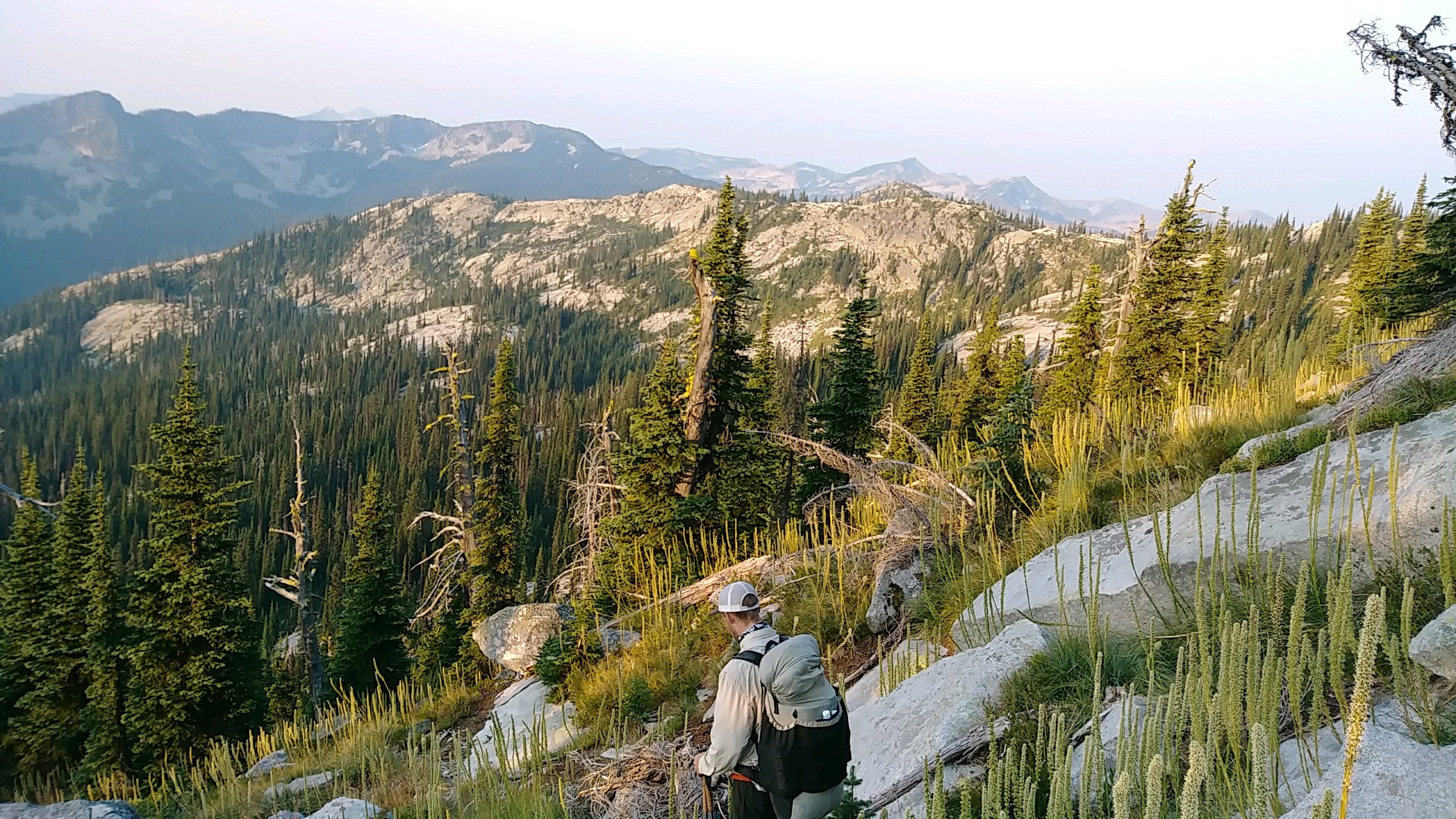 I walked 46800 steps on the trail today.
I traveled about 14 miles today.
8/6/17 Our day started with a 600ft climb up from pyramid lake to the end of the trail - literally.  From there we navigated 6 miles with no real trail - it was very slow difficult going but a wonderful experience!  Except for the fact that Josh got stung by some nasty bee or wasp on his leg. This is Josh lagging the way with no trail to follow. At the end, we came to a creek that flowed over solid rock, making a natural water slide.  We decided to spend an extra 45 minutes playing here because it was so cool.  As we hiked down a couple miles and neared the trailhead, we encountered dozens of people hiking up.  It turns out that there are some VERY popular water slides lower on the creek. Refreshed from our swim, our afternoon entailed a 3300ft climb up Lookout Mountain - on a dusty old overgrown atv track on the hot south side with little shade.  I sweated the whole way but we were fortunate to have 3 nice water sources on the way up so staying hydrated was not a problem.  Also, halfway up the climb a juvenile eagle took off from the path no more than 10 yards in front of us.  He flew right past us and sailed down the trail - very cool! Every day my shirt and pants are soaked with sweat.  Today, we reached our campsite so late they had no time to dry.  I'll try drying them as we hike tomorrow. Our camp was at a small lake at the source of Lucky Creek. We were lucky to find it. Our maps, our app, and our data book had no help in figuring out where the trail was and how to find the camp.  I was just lucky (after spending a lot of time on dead ends) to notice a small side trail and give it a try.  The location was a beautiful end to a great day of hiking.
Posted: 22:12 08-09-2017 1371


Find more Hiking Resources at www.HikingDude.com
Follow Me