Day 18: Washington Post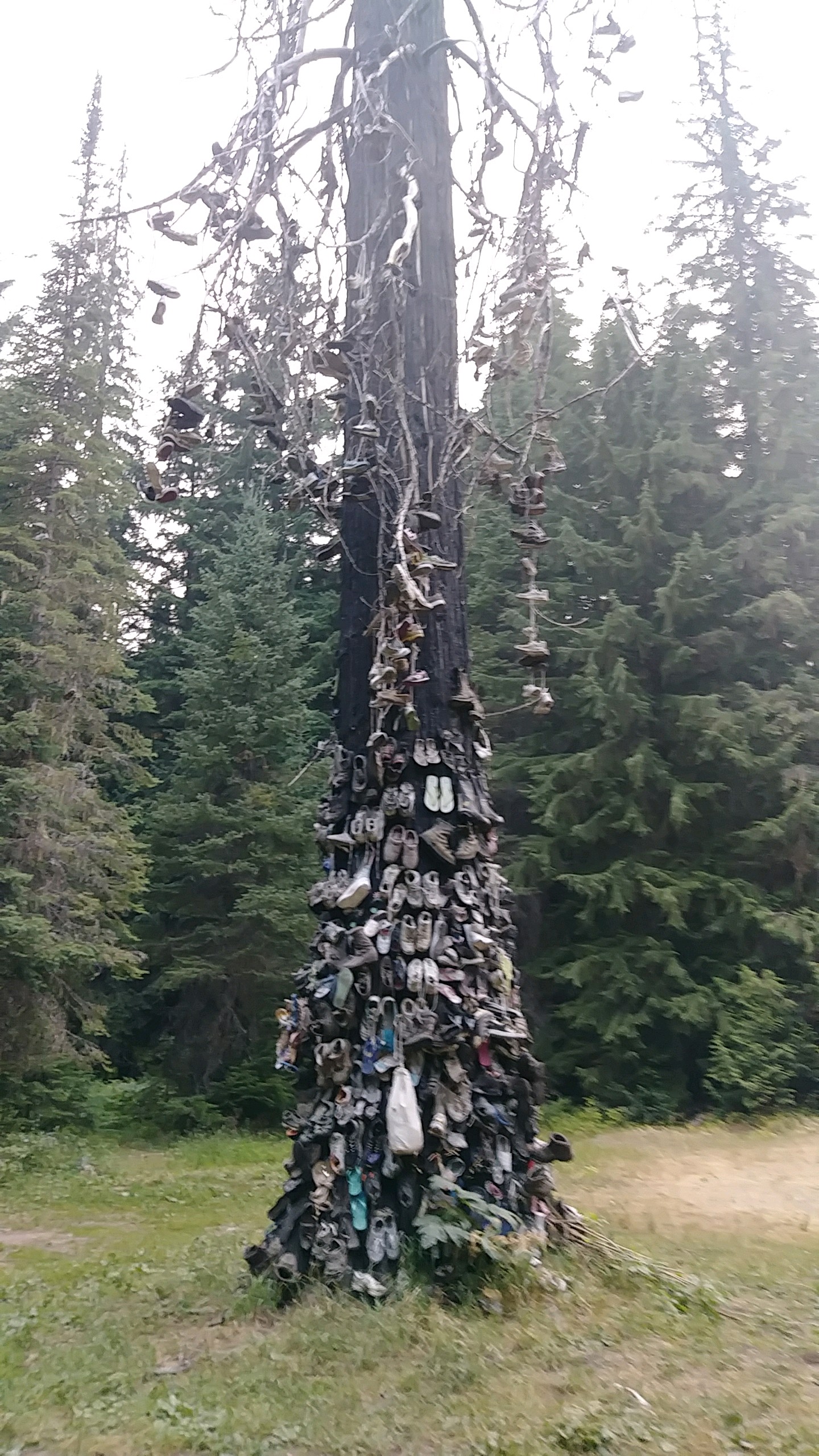 I walked 57300 steps on the trail today.
I traveled about 27 miles today.
8/7/17 To make up for the last two days of big climbs, today was almost all downhill or gently rising. The day started with snacking on huckleberries as we walked and spooked two elk off the trail.  Early on, our trail crossed a road and stopped.  Our app, map, and book made no note of walking the road or tricky turn so (after searching up and down the road for any clues) we plunged down the steep forested hillside knowing we would eventually run into the trail on a road below us. It worked and only cost a few scratches. The rest of the trail was very nice and mellow, passing along Priest Lake and through a huge old cedar forest.  To keep up with Josh, I got stung in the back of my head - man that hurts! We met a trail crew putting in a boardwalk.  We also met a couple on the shore of Priest Lake and chatted with them awhile. Now, we are on the roadwalk from Hades.  There is a large fire burning that has closed the PNT and its alternate routes.  So, we are doing some 50 or 60 mile detour to reach Metaline Falls.  The roads are all dust and there has been plenty of cough cough traffic.  One very nice logger slowed way down and said hi as he passed. Around 1pm we crossed a wonderful looking river so we stopped for about 45 minutes to eat, get water, skip rocks and rinse off.  It was great! But cold!  A very strange man stopped his pickup on the bridge and began a conversation with us about how the world is pretty much going down the toilet. He finally left. As our feet were dragging and my knees were aching, we found a spot to camp.  Right on the creek across from the dusty road and there is the strangest Shoe Tree here.  For some reason, there are hundreds of shoes thrown into an old burned cedar tree.  Weird. The smoke is very bad and bits of ash rained on us at times. And, we crossed into Washington this afternoon!
Posted: 22:19 08-09-2017 1372


Find more Hiking Resources at www.HikingDude.com
Follow Me