ScoutStrong PALA Award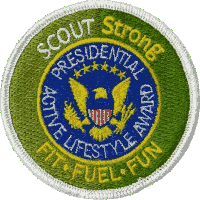 Any Scout or Scouter can earn the ScoutStrong Presidential Active Lifestyle Award by being active for a short time every day for six weeks. The goal is to promote ongoing physical fitness and health through regular, simple activity.
While hiking the Arizona Trail, I racked up a lot of hours of activity and earned my PALA.
40 people took the challenge and I selected the random prize winners for this challenge:
---
After my Superior Hiking Trail trek in September, 2012, I selected the random prize winner for this challenge:
---
Once you complete the ScoutStrong PALA requirements, you can get a special patch at your Scout Shop and you can get one from the President's Challenge. See ScoutStrong Overview PDF file.
---
All Comments:
Mar 01, 2012 - Eric Taylor
I have to tell you, I have used your website for 6 years now, your knowledge is so powerful not only does it help the boys but us as leaders also. Pages like this and the Webelos test pages etc are a ton of fun for the boys. I have relly enjoyed this resources you offer. Thank you and enjoy your Trip in Az. -eric taylor, ASM T534, Mechanicsville, Va. Battlefield District, Heart of Va. Council.
---
Apr 06, 2012 - Ira Martin
My Son and I challenged our pack with the Scoutstrong challenge. In the last few months very few have stepped forward. Thanks for giving us a second venue! Twin Rivers Council Pack #4018 Saratoga Springs NY
---
Apr 27, 2012 - Faith Anderson
Paul, I was very excited to see your ScoutStrong challenge on the NSC website. Thanks for promoting fitness to our scouts and scouters. Your name had been mentioned to me earlier by Heidi Groven as a possible resource for our PowderHorn course Aug 1-5. When are you hiking the IceAge Trail in August? If the timing works would you have time on Sunday Aug 5 to talk about your long distance hiking at base Camp. We are closing out our course there and will be hosting a high adventure fair open to all of NSC scouts/scouters that day. Please let me know if this is something that you would be interested in Faith Anderson 952-898-1311 (day) 651-459-8616 (eve)
---
Jun 06, 2014 - Jim B
Completed ScoutStrong Challenge today!
---
Jun 09, 2014 - Hiking Dude
@Jim - Hey, great job! Don't stop there, though.
---
Jan 29, 2017 - JoAnna Kwaloff
Have you considered opening this up to Girl Scouts as well? Girls love to hike too!
---
---
Ask a Question
---


Find more Hiking Resources at www.HikingDude.com
Follow Me