Hiking Feet Problems

Blisters are the most common problem with feet when hiking, but there are other concerns as well. Impacting hard, rough terrain for miles on end is hard on feet. Just plain old tired out, sore, aching feet can make the end of a hike pretty miserable. Our feet take a lot of punishment while hiking and an urban or sedentary body will feel that punishment much more than someone who has conditioned his feet to the work.
Feet Conditioning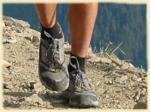 Just regular walking every day does a great job in preparing your entire body for an extended hike. It improves your breathing, endurance, muscle strength, and conditions your feet. In addition to walking, try these tips:
Treat any foot fungus before beginning a hiking program. See a doctor if you need more than over-the-counter medicines.
Use Benzoin on the bottoms of your feet to toughen the skin.
Wear your new hiking boots on at least 10 5-mile break-in hikes before going on a long all-day hike. Make sure boot and foot are fitted and matched up comfortably. Even your old favorite boots should be worn on a couple short hikes if you haven't used them since last summer.
Walk barefoot around your home and outside when you can. This will toughen the skin of your feet. Be careful of stepping on sharp things and stinging insects, of course.
Wear supportive, comfortable sandals or other open shoes to help keep your feet dry when just walking around town.
Thick calluses or corns can crack and become a problem. Keep your foot skin tough but elastic by using skin cream. You need the callus as padding against blisters, but you may want to remove excessive callus build-up.
Keep your toenails trimmed and free from ingrown parts or sharp edges that can irritate skin and wear out expensive hiking socks.
Feet Protection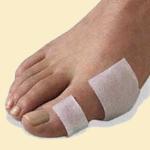 When you start your hike, its a good idea to protect your feet from blisters and other problems before they develop.
Wear well-fitting hiking boots. They should not chafe or have pressure points because that will cause blisters. They should be watertight to keep out moisture but breathable to allow foot sweat to escape. They should also have a scree collar to keep out debris.
Use thick impact-absorbing insoles.
Wear clean, dry, soft hiking socks with no seams that rub on your feet. A polypropylene sock liner that you replace when your feet get damp helps keep feet dry, free from blisters, and less likely to grow fungus. Do not wear cotton socks since they just soak up and retain moisture.
Air out your feet at least at the lunch break, but more often if possible, to keep them clean, cool, and dry. Include a soaking in a stream if available, but be sure to let them dry well before hiking again.
Stop and remove dirt, sand, or debris that gets in your boots. Stop now, not a mile down the trail or when its time for lunch.
Stop and rest your feet when they feel hot, tired, or sore. Remove your boots to allow your feet to cool down and dry off. Alter your hiking pace or adjust the tightness of your boots.
If hot spots persist, cover them with moleskin before they become blisters.
Blisters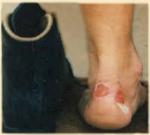 Blisters are certainly the most common problem for hikers. Lack of conditioning and improper caring for your feet while hiking are the major cause of these avoidable pains. Blisters are caused by:
Heat - generated from your foot rubbing against your sock which is being pressed by your boot.
Moisture - softens the skin, resulting in less protection. It also reduces the ability of soft socks to smoothly slide on skin, causing more friction.
Grit - sand, dirt, gravel in your boot will increase the friction in concentrated spots, generating more heat.
So, to prevent blisters, all you need to do is remove dirt, moisture, and heat from your feet. Keep your feet cool, dry, and clean. Following the Feet Conditioning and Feet Protection tips above will do that.
How to Treat Blisters
:
If the blister has not torn and is full of liquid, pierce it from the side with a sterile needle at its base. Let all the fluid run out.
If the blister has torn already, carefully cut away the loose skin of the blister and treat the area with antiseptic.
Allow the blister to dry and harden in the open air for as long as you can.
When you need to resume hiking, put a bandaid or gauze over a torn blister.
Put a layer of moleskin over the blister area. You may cut a doughnut shaped piece of moleskin that fits around the blister rather than directly on it.
Check the blister at each stop and give it as much time to dry off as you can whenever you can. Keep it clean and sterilized to prevent infection.
Do not pierce intact blisters that are deep, rather than just the top few layers of skin. Just apply a moleskin doughnut to relieve the friction and monitor the blister.
Or, read more about:

Knee & Leg Problems

Giardia
---
All Comments:
Apr 19, 2012 - Shanae
I was wearing cowgirl boots with no socks for awhile and It caused blisters. one is ripped open and is SUPPER sensitive. if anything a sock or a bandage touchess it. it hurts really bad. :( and I have a blister on the left and its not popped and it really dosnt hurt. should i leave it alone and let it pop on its own?
---
Jun 13, 2012 - Jason
We are attempting the Tour of Mont Blanc prior to summit and walking the TMB expect a few blisters. Will let you all know how it goes. www.justgiving.com/2012MontBlanc
---
Jul 25, 2012 - Terra
Best of luck Jason! Get yourself some GurneyGoo ( www.pxtkayaks.com/categories/Health/ ) before you go, your feet will love you for it.
---
Jan 20, 2013 - Hikes for advice
I had a HUGE blister on my left foot; I was climbing a ladder and it popped and ripped. Raw skin really hurts!!! Putting antiseptic on it helps soooooo much.
---
Feb 25, 2013 - Catherine
Hi, I'm doing the London to Brighton trek, 100k over 30 hrs. No sleep. Been wearing my 1000 mile hiking sock which has a inner liner but find after a 10mile walk the hard skin on my feet go white and soft as if I've been n the bath for ages. How can I prevent this, chg my socks after 8miles?
---
Feb 26, 2013 - Hiking Dude
Catherine - It sounds like your feet are sweating and the moisture can not escape your shoe. Changing your socks is a good idea to try. Take a couple extra pair and change them at 3 and 6 miles. Or, look into changing shoes to something that breaths better - leather hiking boots don't let out moisture like mesh trail shoes.
---
Jul 20, 2013 - SIU_Avalanche
Thanks for the info!! Just getting back into hiking with my son and Scouts - did 3.5 miles (25lb packs)with him yesterday and developed a blister on my heel. What type of locations carry "moleskin"?
---
Jul 20, 2013 - Hiking Dude
@SIU - Pretty much any store with an outdoors section or first aid section has moleskin. REI, Dick's, Target, Gander Mountain, Wal-mart. I've found that moleskin, though adhesive, does not stick well by itself. Covering it with a strip of medical tape or duct tape helps.
---
Jan 25, 2014 - ellie
zinc oxide tape is good for strapping up your feet before you set off as it reduces friction on your skin. I also find compeed great after a trek so your normal shoes dont rub.
---
May 20, 2014 - Helen
My daughter has just done her D of E practise walk 25K and she has severe blisters on her heals and arch of her feet What can I do to prevent this from happening again when she does the actual walk. I was thinking of strapping her feet up like a boxer does with his or her hands but I am unsure if this will make matters worse. Your advice will be much appreciated.
---
May 20, 2014 - Hiking Dude
@Helen - This entire page IS my advice. I doubt your daughter did much of the foot conditioning or protection tips listed above. Layering your daughter's feet in tape would just increase the pressure that caused the blisters.
---
Jun 08, 2014 - Jerry Harp
Abrasions are caused by skin rubbing against socks or shoe lining. Blisters are the result of a separation of outer/inner layers of skin caused by constant impact motion. Rub thumb/index finger together to get the idea. Abrasions can be prevented with strategically placed tape or lubrication. Blisters....IDK, and neither does anyone else. Some are prone, some are not. Do all Hiking Dude suggest and hope for the best.
---
Jun 25, 2014 - Leah
Could you comment on hiking in rainy or muddy conditions? I had trouble with this on my recent 4 day hike. It was so muddy on the trail that I would have needed 10+ sock changes each day. It was also foggy/misty most of the time so even when I took breaks and removed my socks and shoes (including pulling inserts from my shoes and opening them wide) they didn't seem to be drier. I think my errors were not wearing liners, and not wearing mesh trail shoes. I could have done a better job of dealing with hotspots if I'd brought more first aid supplies. But if the choices are hiking with wet feet or not hiking at all I'd typically deal with the blisters.
---
Jun 26, 2014 - Vlad
Just letting you know that there is new polymer based technology in preventing blisters. It is like a second skin that covers your whole foot. It works by gripping the skin (similar to applying tape) on the inner side whilst absorbing friction (similar to a liner sock but smoother) on the outer side. Check them out www.armaskin.com Money back guarantee if you get blisters whilst wearing this anti-blister second skin socks.
---
Jul 06, 2014 - miki
my daughter has very narrow feet. we have purchased the best boots we could afford, she has prepared her feet (she does alot hiking), uses good socks, has even tried tape and still she gets massive heel blisters everytime she hikes. any further suggestions?
---
Jul 20, 2014 - Hiking Dude
@miki - I've been trying out a new product called ArmaSkin. They are a very interesting kind of sock that guaranteed to prevent blisters. Over the past week using them, I've not gotten any blisters. See
Armaskin.com
.
---
Aug 03, 2014 - Mac clarke
Hi..We hike daily to prepare with pack for 75 km hike at West Coast trail, B.C. I continue to get sore toes (underneath) when it is hot. I have great boots, proper socks, enough room in boots, ultra light packing and when temperatures get hotter my under toes ache terribly. Only when I take my boot off and cool them, does the pain go away. Do you know any other tricks to prevent the ache? Thank you very much..
---
Aug 07, 2014 - Carol
Hi - I have been hiking for years but a couple of years ago had a bunion sorted on my right foot. Now i have problems with my left toes - the underneath of the toes get blisters and hurt - I try to protect them with gel tubing but still they hurt although no blister - what else can I do? Thank you
---
Aug 07, 2014 - Hiking Dude
@Mac and Carol - If your feet are in pain and you are going to continue hiking, then you should ask a doctor for help. Supportive shoes, comfortable socks, extra supportive shoe liner pads, walking slower, carrying less weight, and walking shorter distances are all things that may help, but podiatrists are experts on foot problems.
---
Aug 10, 2014 - Carol
Many thanks for your help
---
Aug 18, 2014 - Christine Jones
Hi, just back from a 2 week walking holiday in North Wales, and I have quite a few blisters. Wearing my usual Boots, good walking socks, plenty of talc on my feet, and always take them off when we stop for something to eat. 2 large blisters on on foot, after 1 walk of 7 miles, and 2 blisters on other foot also after another 6 mile walk. Any help, would be very grateful. Thanks
---
Aug 21, 2014 - Hiking Dude
@Christine - Blisters are pretty simple. That area of tissue is being repeated impacted or rubbed and it is not used to the abuse. Doing shorter walks, in the same shoes you plan to wear on a longer walk and carrying the same load, to get your feet used to the impact is the best thing to do to prevent blisters. Sounds to me like the second foot got blisters because you were favoring the first blistered foot which caused more wear on the second. One small problem often grows to more problems in that way.
---
Sep 04, 2014 - Peter
I like walking on a tread mill machine at our gym I suffer with soft heel and all the bottom.is there such a thing outhier as a jelly sock or something that will stop this getting so painful
---
Sep 04, 2014 - Hiking Dude
@Peter - There are lots of products available to help with foot pain. My first stop would be my doctor to hear what s/he has to offer. Or, search online. But, I've been fortunate to never have need of them yet so I can offer no personal recommendations.
---
Sep 05, 2014 - doghiker
Many good suggestions in the preceding comments--have tried many of these myself. I suggest the book "Fixing your Feet" by John Vonhof, multiple editions, for an exhaustive illustrated reference on both preventing and treating blisters. Found a few excellent tips in there that I had not tried before; still occasionally get foot blisters, but not as often and not as severe.
---
Sep 08, 2014 - Bruce P
I am a cyclist that had surgery and am limited to walking for about 3 weeks. I had old running shoes and began walking up to 6 miles/day. I developed a blister below the ball of my big toe (one foot on the instep side). Bought new shoes, running socks and 2nd skin blister pads. Should I leave the blister pads on my skin as the best healing solution for many days or do something else... walked today and hurt again ,,,,the pad is stuck pretty well to the blister area...I think the blister broke on its own yesterday before I put the pad on
---
Sep 13, 2014 - Rick Collier
Checked out Armaskin website and am very interested, but does anyone on here have experience with them? I have narrow, low volume feet, good boots, good socks and still get heel blisters on one foot. Hiking Dude, how do rate Armaskin liner socks given your use since your post in July? Thanks!
---
Nov 18, 2014 - Al Robertson
Here's what seems to be a ridiculous solution to blisters on the soles of my feet. The blisters I get are almost always the dry type. I use cheap stick anti-perspirant to coat my soles and toes. Then my feet don't sweat. Then I don't get blisters. It also tends to hold socks in place. The idea just came to me, after about 40 years of experimenting with sock and insole combinations.
---
Nov 28, 2014 - Di
Many years ago my father taught me that you always wear two pairs of socks, on long hikes I wear a very thin pair of cotton socks with thick merino hiking socks on top and have only had a blister when I left off the cotton liner socks. Yes feet do get warm on 34 c days but preferable to sores and blisters. Hope this helps.
---
Dec 01, 2014 - Katrina
Thank you for the link on Amraskin socks! I just ordered a pair and can't wait to receive them. My last long overnight hike of 30km gave my feet an unusual beating and the blisters took off layers of skin. I have pampered my feet since (over 2 months), but now whenever I wear random shoes, flip flops or go barefoot my feet are so tender. Hoping these socks will allow me to still snowshoe and hike through the winter. Thanks!
---
Dec 16, 2014 - Rick Collier
Follow up to previous comment. Tried out the Armaskins on a few training hikes prior to and then during a 7 day backpack in the Grand Canyon. No blisters! Also used performance insoles and paid attention to boot lacing (cinching the top laces for a snug fit). So far I am impressed with the product.
---
Jan 05, 2015 - Angelica
Hi, I am doing the megatransect in August. It will be my first time hiking, but planning to do a lot of training for it. I would like to start taking care of my feet with all the advices above, but please do not hesitate to add some. My skin is very sensitive. I already order some socks (injinji brand), and i will get the gurney goo. You mentioned the Benzoin...where can i find that one? is it a cream or an oil? Thank you for all the help you can provide.
---
Jan 05, 2015 - Hiking Dude
@Angelica - It's found at pharmacies and is usually a liquid in a bottle.
---
Feb 12, 2015 - nathan
i have just started preparing for the London to brighton trek and am trying to get my feet condition sorted well in advance. i am currently walking 9 miles in walking boots (mesh) and have tried running socks thick running socks and thin training socks but am suffering with blisters mainly on the balls of my feet. i compete at kickboxing so regular have bare feet but do get a lot of hard skin. can you reccommend any walking socks worth trying? does spray skin work or is it a temp solution? my walking boots are quite new approx 20 miles of use but i have also tried the same walk in trainers with no difference. i usually do any off road challenges (3 peaks, para 10) in hi tec magnum army boots but dont think these would be ideal as most of this treck will be on path? any advice would be great thanks.
---
Feb 12, 2015 - Hiking Dude
@nathan - the ball of your foot takes a lot of pressure. It could be that your calluses are causing a spot of extra pressure. It could be that your feet are sweating a lot. It could be that your shoes are allowing too much slipping around. You could try something like "HikeGoo" to reduce friction. You could tighten your shoes. You could walk slower. You could try "ArmaSkin" socks. You could try inserting more cushioning insoles.
---
Feb 13, 2015 - nathan
thanks for the info, just ordered some Armaskin socks so i will report back after a few wears. will also get some Benzoin as well. Cheers!
---
Feb 17, 2015 - Sandy
I bought a new pair of hiking boots(Merrell) because my Oboz start getting slippery on rocks and a little too stiff for shorter hikes. With minimum break-in I did numerous hikes (5 to 15mi) with the Oboz and my feet were fine. However when I did a 6mi and 8mi with the Merrell, my toes hurt + got blisters. The Merrell does have a smaller toe box compare to the Oboz but it doesn't bug me much when I walk. If I add an insole it will make the toe box even smaller, is there anything I can do? I really don't like returning used item even tho REI has a generous policy.
---
Feb 19, 2015 - Linda
Just on holiday in Scotland doing some walking after 2 days of walking I have blisters on my feet. Any ideas what can help to carry on with the walking.
---
Feb 21, 2015 - nathan
Hi following on from previous post. Can anyone recommend how to use the benzoin oil? I have a 100ml but it says 5 drops to 10ml of i presume water? It states not to put onto the skin non diluted? Still waiting for my armaskin socks to arrive.
---
Feb 22, 2015 - Hiking Dude
@nathan - Tincture of benzoin can be used for blister prevention or for treating a blister. I've not used it, and it seems like a harsh solution to me. A
google search
for 'benzoin for blisters' provides many examples, many from military forums, that can explain how it is used.
---
Feb 22, 2015 - Hiking Dude
@Linda - Once you have blisters, you can either stop for a few days while they heal or keep walking on them. If you use the same footwear and continue what you were doing, they will probably just get worse. Draining the blister, protecting with moleskin and tape, and keeping it dry are the general treatment steps. You could try other socks and shoes.
---
Mar 24, 2015 - nathan
Hi after using the Armaskin sock inserts for a 10 mile and most recently 16 mile trek i can pleasently confirm i have not had any blisters!!! seem to work perfectly and have not developed any hot spots at all. only thing i would say is if you dislike the sensation of your feet moving on shoes these will not be very comfortable as there is a noticable slipping sensation when you walk which i guess is the whole idea as the friction stays against the sock and not your feet. i did try wearing a thicker sock but found it instantly uncomfortable with my toes against the top of my boot so went back to a standard sock to go over the insert. so far well worth the money and i am very pleased.
---
May 04, 2015 - Rebecca
I just recently hiked in a pair of well worn in hiking shoes for days hikes...these same ones I hiked across the grand canyon in twice. I put them on last week for a 6 mile hike in Red Rock, Nevada area and got a huge blister! I am baffled... They are just as comfortable but does it mean I need new shoes?
---
May 17, 2015 - Sinead
HI there, I'll be doing the camino frances at the end of June. I just bought a pair of salomon hiking shoes, I was recommended to buy 1 and 2/3 sizes bigger than I normally wear. On the first day I used them, I wore them with hiking socks, however, now I have blisters on both heels. There was a bit of slipping while I was walking. I have pretty narrow heels. Is this normal? Should I bring them back and exchange them for a smaller size?
---
May 21, 2015 - Hiking Dude
@Sinead - Whenever you wear shoes that are too big, or too small, I would expect discomfort and blisters. Many people say that your feet swell while on a long distance hike after days of walking, thus the 'size bigger' advice. But, that doesn't mean oversized shoes are going to fit your feet right now. Some people start with shoes that fit now and change to a larger pair later in the trek when these start feeling too tight. So, if you like these oversized shoes you have, you could keep them and get a new, smaller size that fits well and save the big ones for later in your adventure.
---
Mar 03, 2016 - Sandra D
I have purchased the Armaskin socks today ready for 6 days in Fiordland, New Zealand.I am hoping these will assist with the heel blisters. We use sheep wool (raw) for the toes,intertwined between the toes and it works a treat. The lanolin from the wool is natural and the wool protective and soft. At the end of the hike it has become felt.I have found it can be purchased online..hikers wool.
---
Mar 07, 2016 - Ron
Thanks for this good chat site and advice Hiking Dude and others. Preparing for the west coast trail and have already experienced blisters on both feet at the heel. New boots. Will try the Armskin socks.
---
May 19, 2016 - Helen
I am preparing for a 96 mile walk at the end of July. I am troubled with side blisters on every walk. Hiking boots and walking shoes where bought and fit at a professional store,they feel extremely comfortable except for the side of heel blisters. Now i will try some of the things you have mentioned and hope for some relief.Thanks for sharing.
---
May 19, 2016 - Hiking Dude
@Helen - Good luck with your walk! I've been so fortunate to not have a blistering problem. I do know of people that have cut out a section of shoe that rubbed too hard on looooong hikes, to provide relief to a specific trouble spot. Or, a quick visit to a foot doctor could be helpful if this is an ongoing concern.

I really, really, really want to hike throughout Great Britain, from Hadrian's Wall to South Downs Way. My fingers are crossed that I'll get to some day, but no real planning yet. The TGO Challenge would also be a fun trek, I think.
---
May 21, 2016 - Natalia Byrne
I am about to do my Duke of Ed Silver walk, which is around 30-35 km. On my practice walk i got the worst blisters but i did not wear hiking socks and it was my first time walking in my hiking shoes. I have done quite some milage in these boots now, and am going to get proper socks today. i was just wondering, if I should look for any type of sock in particular because i still have scars from my blisters from April!
You're advice would be greatly appreciated
---
May 24, 2016 - Hiking Dude
@Natalie - Wearing a polypropylene liner sock and a wool hiking sock works for many people. Also, stopping and checking your feet after a couple miles to see if any hot or sore spots are developing is a good idea. You can protect those spots with mole skin or tape before a blister develops.
---
Jun 15, 2016 - Claire
Hi there, I'm doing the 3 peaks challenge on Saturday and I have a hot spot underneath my baby toe where the skin pinches. There's a bit of hard skin there now. During my training last week I applied a compede plaster but that pinched also and another blister formed underneath the hard skin. What do you recommend please?
---
Jun 15, 2016 - Hiking Dude
@Claire - I'd recommend everything in the content of the page above. There are many things you can do to prevent and to treat blisters. It may be as simple as wearing "Injini" style socks or as involved as cutting away the extra hard skin and letting it heal before doing more hiking.
Good luck with your hike challenge. It's only a blister so, if you can deal with the discomfort on your hike, you can worry about repairing the skin later.
---
Jul 16, 2016 - Regena
Problem with the ball of my feet just before the bottom of my toes so I went to my foot doctor. The only word I could use to describe th feeling was "raw" but it was not raw anywhere. Upon examination the MD decided it was slight arthritis in that particular area. My boots are Keens with some mesh and water resistant . These have a large enough toe box for my feet. The MD gave me horseshoe shaped felt pads that are sticky in one side and you place them on the ball of your foot making sure the " u " shape part of it is where the sorest place feels. Thie Md explained that this takes the pressure off the sore area. Just enough cushioning to keep toes and foot from sliding forward going downhill. They are thin enough not to take up extra space in the toe box. I wear a thin sock and then a thicker ( but not too thick) sock on top. This keeps foot from sling around. Always wear shoes in store prior to buying. My store let me go up and down stairs to see where they would bend. Good luck!

---
Aug 01, 2016 - David
when my wife and I hike more than 8 or 10 miles she tends to lose toenails and its painfull, we are hiking Yosemite's half dome in September, any ideas?
---
Aug 02, 2016 - Hiking Dude
@David - If I lost toenails and was in pain doing an activity, I would stop doing that activity until I figured out what is wrong. It could be anything from just poor footwear to a medical condition. Seeing a doctor or physical trainer might be a good idea. Or, just walk less than 8 miles at a time.
---
Dec 10, 2016 - Jeremy Dugdale
I'm doing a 74 mile trek in 1 go on January 21st, trekking throughout the day and night to raise funds for Macmillan cancer support.
I'm in training and did a 15 mile trek last Sunday in 5 hours 45 minutes with a 10 minute stop every hour.
Had a couple of blisters on my right foot, 1 on my little toe and a big 1 underneath my toes.
Wore 2 pairs of socks , 1 thin and 1 thick.
Any advice on socks to prevent blisters .
Thanks
Jeremy

---
Dec 12, 2016 - Hiking Dude
@Jeremy - Socks are not going to prevent blisters if you pound your feet for 74 miles straight without a lot of prep. You'll need to toughen the skin by doing lots of walking beforehand.
Polypropylene liner socks and wool outer socks do the best for most people.
---
Feb 11, 2017 - Pamela Siemsen
I got shoes fitted just to wear every day when I walk. I am Type II diabetic since June 2016. I have walked every day 7 days a week since June. This past week I got blisters on each foot on the end of the toes in the middle. Several months ago I lost toe nails on each foot the toe next to the little toe. Dr. suggested purchasing a pair of good walking sandals with an open toe of course. I did that & the first time I wore them I walked 4 miles at the YMCA as I like to do every day & I also use the NuStep machine 40 minutes. I wear good fitting socks. When I got home I had large blood blisters on the outside of both big toes. Now, what should I do? The sandals fit great & the blisters are not painful. My concern is I am a diabetic. Any suggestions???
---
Feb 12, 2017 - Gary Kuykendall
Love this page, it's very informative
---
Mar 22, 2017 - Steve
Got w new job that requires work boots daily. Got 2 blisters on the back of my heels from them and I have to wear them every day for around 10 hours. Any tips you can give me so they can eventually heal? Concerned they will never go away since I'm in them so often. Thank you for any help you can give me, it can be pretty brutal at times.
---
Mar 23, 2017 - Hiking Dude
@Steve - Sounds like a better fitting boot would be best.
You could cut a doughnut shape from moleskin so the inside of the doughnut is the size of the blister. Place this over the blister to cushion the pressure point and stop the friction. Maybe put some antibiotic cream in the doughnut hole and add a layer of duct tape over it to hold the cream and moleskin in place.
Take the boots off whenever you can during the day to let feet dry. Keep feet uncovered as soon as you leave work and until you have to put the boots back on, so the skin can heal.

---
May 16, 2017 - ash
i have a spot on my little toe on my right foot. i had gotten new cowgirl boots and i wear them every where i go i noticed the blister and then it had bust open and it healed but there's a hard spot where it was and some times it will hurt when i have been wearing my boots. the boots fit good and i have pleanty of room in them. how do i complatly get rid of it?
---
May 18, 2017 - Bree
I walk 4-5 1/2 miles everyday for exercise and I seem to be getting blisters on the bottom of my feet and toes and my lower heel, but mainly on my left foot. I drain them to make them feel better, but I'm not stopping my walking. I have also bought new walking shoes, but this happens with any and all the tennis shoes that I have worn.Any suggestions on how to stop/prevent these from reoccurring would be much appreciated. Thank you
---
May 21, 2017 - phyllis kennedy
my grandson has to wear heavy boots, works 12 hr shifts and he has blister's all over his feet what so you suggest help please
---
May 29, 2017 - Hiking Dude
@Everyone - Really, just read the page content for what advice I can give about preventing, detecting, and treating blisters. If you have feet problems, you should check with a doctor. Or, there are products at your local pharmacy to toughen skin, dry skin, repair skin, make skin soft, whatever you want to do to your skin.

Blisters are caused by friction from something rubbing on soft skin - either stop the rubbing or toughen the skin.
---
May 29, 2017 - steph
Hi Hiking Dude, I fear I have happened upon your page about half an hour too late. Did 18 miles yesterday in preparation for 26mile hike next weekend here in Scotland. I got a single blister within very thick callus on the ball of my foot. Ive punctured it, but then set about removing a lot of the thick calluses I have on both my heels and pressure points on balls of feet. Well... not completely removed but its a lot lot thinner than it was before. I did this as it was beginning to pinch and feel sore day-to-day. Anyway as I was doing it I sort of thought 'uh oh maybe I needed this as protection...' ...have I really messed up my walking feet before the big day? I know you've written today to just read the page, I just want you opinion on calluses specifically! Thank you!!! Very useful page!
---
---
Ask a Question
---


Find more Hiking Resources at www.HikingDude.com
Follow Me