North Country Trail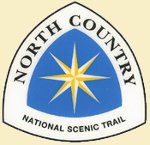 My North Country Trail Hike
I hope to hike the North Country Trail before I'm too old. We'll see.
---
North Country Trail Statistics
States
North Dakota, Minnesota, Wisconsin, Michigan, Ohip, Pennsylvania, New York
Distance
4600 miles - much of the trail is not yet complete and trail reroutes happen so this is an estimate of the trail length.
When I complete the trail, I'll let you know how many steps it took me since I'll wear a pedometer the distance.
Total Elevation
unknown since the trail is not complete
Terminus
West: Lake Sakakawea State Park in ND
East: Crown Point State Park in NY
Highest Point
Lowest Point
Map


Click for Large Map

Terrain
Most of the trail traverses northeastern forest with very little elevation. The western portion opens up to the great plains. The trail is well-used in few sections, with about 40% of it still unrouted which requires road walking.
History
designated as a National Scenic Trail in 1980.
Challenges
Humidity, heat, and insects during the summer months. Completing before winter.
Time Window
As early as you can handle the snow and cold. February or March. A flip-flop hike starting around Cincinnati heading east starts and ends at the most southern part of the trail, hopefully resulting in milder weather early and late in the hike. Otherwise, an eastbound hike tends to have wind at your back most of the time.
Time to Hike
There is no typical time since so few have attempted it and so much of the trail is incomplete. But, 4600 miles at about 20mpd would require 7 to 9 months.
Permits
Thru-hiker Tally
less than 10, no award or recognition for thru-hiking or section hiking. Ed Talone (1994), Andrew Skurka (2005), Eb Eberhard (2009) are three known thru-hikes, Ed Talone being recognized as the first.



---




Trail Links

Full Maps
NPS map
Agencies
North Country Trail Association
Land Managers and Partners of the North Country Trail
---
All Comments:
May 02, 2018 - Cody
My friend Jake and I are leaving in mid June from the Manistee National Forest and hiking the NCT toward North Dakota!
---
Aug 31, 2020 - Suzanne Riley
So did you make it? How far did you get? I'm looking for some inspiration and realism. Wishing you the best. Thank you!
---
Aug 31, 2020 - Hiking Dude
@Suzanne - I haven't started this one yet. I have hiked about 300 miles of it in MN, but that's all.
---
Jan 05, 2021 - JERRY FRICK
In the late 70's early 80's a girl stopped at the post office in Walkerville, Michigan (a mail stop) looking for a place to camp for the night. She camped in our backyard. She was writing a book about the trail for a small town news paper. She said it had never been hiked all the way before. A friend of hers got hurt on a bike in Ohio and was joining her at the Straits. She started with a group with snow on the ground and a lot of them quit. She sent us a card that they made it to the end in October. We lost track of her name. Would like to know who she was.

---
Jan 05, 2021 - Hiking Dude
@Jerry - The list of people known to have completed the NCT can be found
here
.
---
Jan 12, 2022 - Barbara Hairston
is the trail marked? I have walked the Dayton Ohio area and not seen any signs
---
Jan 19, 2022 - Hiking Dude
@Barbara - On such a long trail as the NCT, different sections are more advanced in development than others. Some sections are very well blazed while others are blazeless. Having a detailed map, paper or digital, is super helpful.
---
---
Ask a Question
---


Find more Hiking Resources at www.HikingDude.com
Follow Me